Caprese salad is one of my all time
favourite
salads. Fresh tomatoes and basil plucked off the plants in my back yard paired with fresh mozzarella and a maybe, just maybe a drizzle of balsamic reduction. Ummm...yum, nothing better!
Although, in my humble opinion, it truly doesn't get much better than that I decided to twist things up a bit. Instead of tomatoes, I combined delicious watermelons and sweet berries and subbed those for the classic tomato option. I have to admit, I was skeptical at first. Well, until the first bite...and then I was SOLD!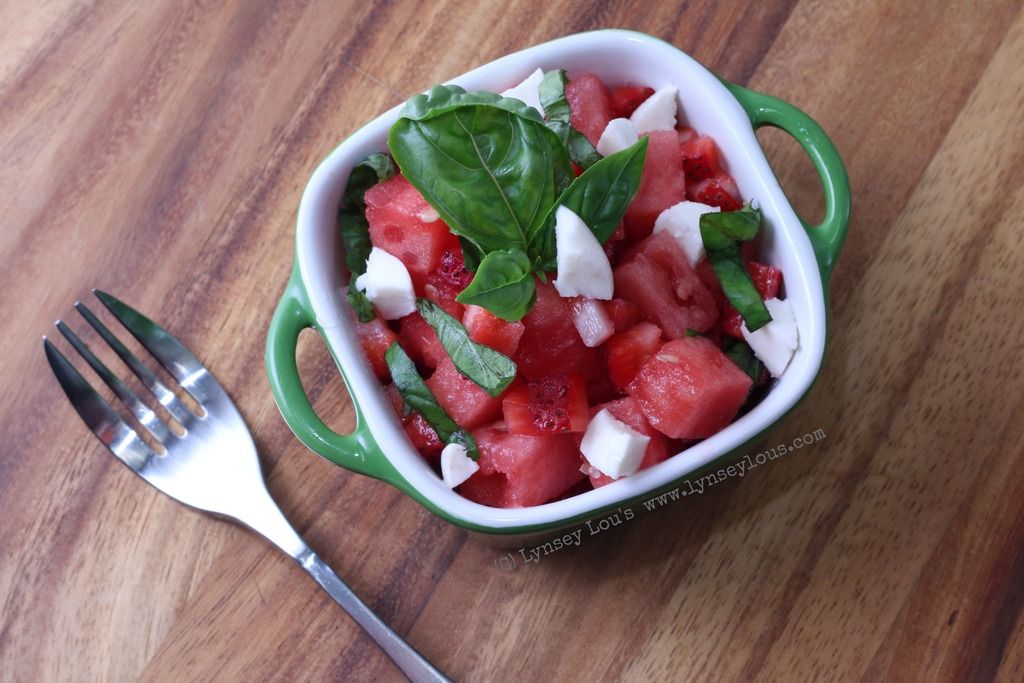 This salad is summer perfection. Juicy watermelons, sweet strawberries, creamy mozzarella and earthy basil. It doesn't get much fresher than this.
I love the simplicity and ease of this salad. It comes together in about 15 minutes, and the bulk of the time is spent on cutting up the watermelon! I love how quickly this comes together.
Friends, I could eat this salad by the bowlful. Right when I dished mine up I added a pinch of salt to the mix, but that is totally optional. I honestly could make a meal out of it, but it would also pair well with grilled chicken, atop a bed of baby spinach or be a hit at your summer picnics.
Watermelon Caprese Salad
Ingredients:
4 Cups watermelon, seeded and chopped
1 1/4 Cup strawberries, stems removed and chopped
1 1/4 Cups fresh mozzarella, cubed
1/4 Cup basil, chiffoned
Directions:
Combine all ingredients in a bowl and stir to combine. Allow to chill for about 10 minutes then serve.
Recipe source: A Lynsey Original