Lasagna is one of my favorite meals. But, not just any lasagna, my MaMaw's lasagna. There's something about hers that's incomparable to others. I'm not sure what it is about hers, but it's ruined me. I hate to say it, but I'm a lasagna snob. One difference I can pinpoint about hers is it's extremely cheesy. I mean, you honestly cannot go wrong with extra cheese. Am I right?
As delicious as lasagna is, I must say, it is a very time consuming labor of love. Making the sauce, cooking the meat, preparing the pasta and shredding all the cheese. After all that, then there's the layering process, followed by the baking. I'm not saying it's not worth it, but sometimes, there just isn't time for all that.
So, what to do, what to do when that craving for cheesy, meaty lasagna arises and you just don't have time for that. Well folks, I have the answer. Lasagna soup. Yup, everything you love about that baked pasta goodness, all in one pot without all that layering and time consuming preparation.
Before you scroll down and look at the length of the list of ingredients and declare me insane for labeling this recipe quick and easy. I have to say, it is quick, it is easy and honestly it's not a ton of ingredients. The bulk of this list is spices, spices that you probably have on hand at this very moment. So, continue reading, peruse the list of ingredients and give this recipe a fair shot. I promise, it truly is easy and a heck of a lot less time consuming than traditional lasagna.
This soup has a rich tomato base, thanks in part to the two types of canned tomatoes as well as the tomato paste. That provides a delicious and flavorful base for the seasonings, beef and pasta. It gives the soup the taste of being simmered all day, but honestly after about 20 minutes of simmering the soup is ready to be served and topped with a dollop of a delicious ricotta and parmesan cheese mixture.
All these elements are exactly what you'd enjoy in the traditional layered lasagna dish. This soup gives you everything you want in about half the time and half the work. Serve a big bowl of this soup with some cheesy garlic bread and you have a complete meal that is hearty, delicious and filling and will quickly become a family favorite.
Lasagna Soup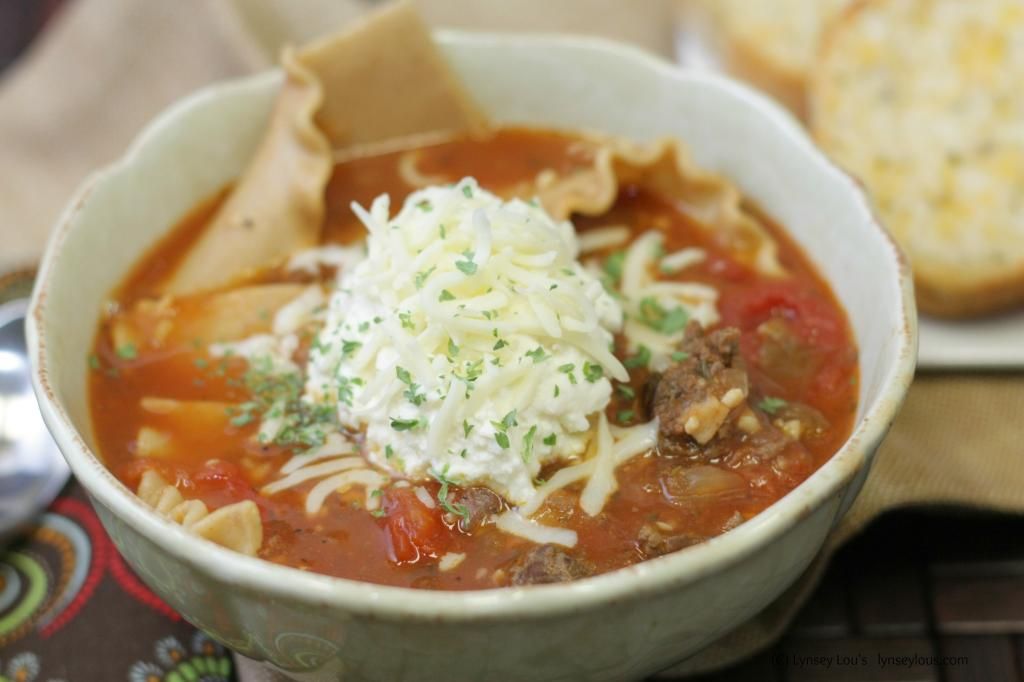 Ingredients:
2 Tbsp extra virgin olive oil, divided
1 Lb ground beef
1 Large onion, diced
5 Garlic cloves, minced
4 Cups chicken broth
1 (14.5 oz) Can stewed tomatoes
1 (14.5 oz) Can diced tomatoes
1 Can tomato paste
1 3/4 Tsp dried basil
3/4 Tsp dried oregano
2 Tsp dried parsley
1/2 Tsp dried thyme
1 Tsp sugar
Salt and freshly ground black pepper, to taste
8 Lasagna noodles, broken into bite size pieces
1 1/4 Cups shredded mozzarella
1/2 Cup finely shredded parmesan
8 Oz Ricotta cheese
Directions:
Pour one tablespoon of olive oil in a large pot and place over medium-high heat. Once the oil is hot, add the ground beef and break apart with a spoon. Cook until browned, stirring occasionally. Drain the majority of the fat from the beef. Season with salt and pepper and set aside.
Heat the remaining tablespoon of olive oil and add the onion. Saute until it begins to soften and turn translucent, about 3 minutes. Add the garlic and cook an additional 30 seconds, until it becomes fragrant. Add the chicken broth, tomatoes, tomato paste, dried herbs, sugar and ground beef and stir to combine. Season with salt and pepper. Bring mixture to a boil, then reduce to a simmer. Cover and simmer for about 20 minutes.
Meanwhile, prepare the lasagna according to package instructions. Once cooked, reserved 1 cup of pasta water and then drain the pasta.
Add the cooked pasta to the soup along with about 1/2 a cup of the reserved pasta water. Stir, add additional water if more liquid is needed.
Meanwhile, combine mozzarella, parmesan and ricotta in a small bowl and mix to combine.
Ladle the soup into bowls, top with cheese mixture and sprinkle with additional parsley, if desired.
Recipe source: slightly adapted from
Cooking Classy