There are several recipes out there that claim to be "the best" or "the ultimate", but that is a claim I don't make lightly. But just like anything, if you read or here that one particular recipe is "the best ____" ever then there has to be at least some truth to that claim. Wouldn't you agree?
Well, this particular cookie has been deemed the best ever sugar cookie by countless blogs and
reviews. These cookies originated from a little town in Utah from
Swig
; a sweet shop that specializes not only in the infamous sugar cookie but several specialty sodas (the dirty Coke is a list topper) and other treats. I read that someone literally drove 5 hours and waited at least another 30 minutes in line just to get one of these amazing cookies. That alone was enough to spike my interest. So, after reading the umpteenth review about just how good these cookies were I decided it was time to give them a try.
Now, before we go any further I have to say I've never tried the original swig sugar cookie. I honestly can't tell you how these compare the actual cookie from the shop. I can however tell you that these are a monster of a cookie. They are huge and picture perfect.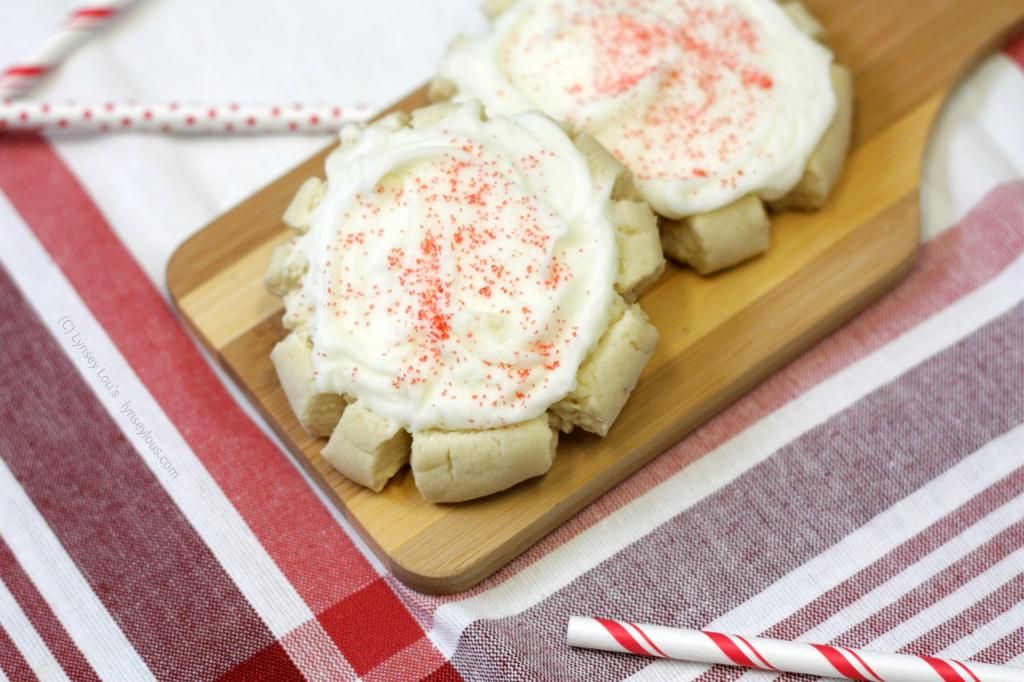 The cookies themselves aren't overly sweet. The edges have a rough, crinkle like finish. They are slightly crunchy due to a light sugar topping that is applied when the cookies are flattened, but the insides are light, fluffy and just downright delicious. The cookie itself is good, but it's the frosting that puts them over the top. The sour cream frosting I could literally eat by the spoonfuls. The signature Swig frosting is pink, however I didn't have any food coloring on hand when I made them so I opted for basic, white frosting with pink sugar sprinkles and it was delish.
These cookies were amazing. My hopes and expectations were definitely met and they were all they were hyped up to be. I love the rustic, crinkled edges. I've never seen another cookie those edges. Then a hefty scoop of that amazing frosting is slathered over the top of those perfect cookies and it's pure perfection.
These cookies not only look like they came from a bakery, they taste like it too! If you have any events or parties (Valentine's) coming up and you need to bring a dessert that will wow then look no further. These cookies are what you've been looking for. They would also be terrific treats or favors. Whatever you do, just be sure to make these and keep at least 3 or so for yourself.
Knockoff Swigg Sugar Cookies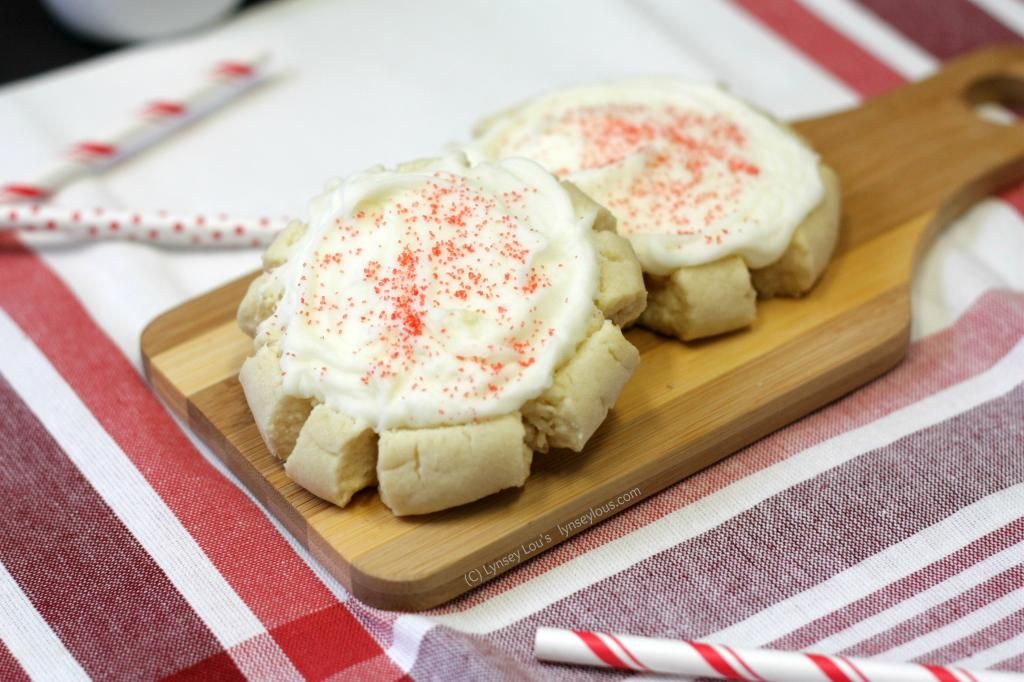 Ingredients:
For the cookies-
1 Cup (2 sticks) unsalted butter, softened
3/4 Cup canola oil
1 1/4 Cup granulated sugar, plus another 1/4 cup for topping
1/2 Cup powdered sugar
1 Tbsp water
1 Tsp vanilla extract
2 Eggs
1 Tsp baking soda
1 Tsp salt
5 1/2 Cups flour
For the frosting-
1/2 Cup (1 stick) unsalted butter, room temperature
1/2 Cup sour cream
5 Cups powdered sugar
1/2 Tsp vanilla
Red or pink food coloring
Directions:
Preheat oven to 350.
Place butter in a large mixing bowl and beat on high until light yellow and creamy. Add canola oil, granulated sugar, powdered sugar, water and vanilla and beat on high until light and fluffy, about 3-4 minutes. Add eggs, one at a time mixing well after each addition.
Add baking soda and salt and mix until just combined. Slowly add the flour and mix until just combined.
Pour remaining 1/4 cup of sugar on a small plate and set aside. Shape dough into golf ball sized balls. Place dough on a cookie sheet that is lined with a silicone baking mat or sprayed with non-stick cooking spray. Leave about 2-3 inches between each cookie. Depending on the size of your cookie sheet you'll be able to fit 6-8 cookies on the pan. Dip a flat-bottomed cup in the plate of sugar then gently press the dough until it's about 1/2 inch thick and the edges are crinkled. Dip glass in the sugar before pressing each cookie.
Place in the preheated oven and bake for 8-10 minutes. The cookies will look under cooked, they won't really have any color to them. They should look firm, so keep a close eye on them as you do not want them to over bake.
For a true Swig cookie, allow the cookies to cool in the refrigerator. ( I wasn't able to serve them in true Swig fashion since I was making them to take to a function. I will try the Swig style next time!)
For the frosting-
Place butter, sour cream, sugar and vanilla in a large bowl and beat on high until light and fluffy. If the frosting is too tick add milk about a tablespoon at a time. Add just enough food coloring to tint the frosting to a light pink color.
The Swig style is to frost the cookies, chilled, as served. Like I said, I took these to an event so I just frosted them all at once after they cooled. However you decide to frost them, I know you will thoroughly enjoy them.
Yields 2 dozen.