So, I'm a little behind jumping on the dutch baby wagon. Over the past several years, yes years, I've seen so many amazing looking dutch baby recipes popping up all over the internet. At every sighting I tell myself, I
need
to make one of these and now. But for some reason or another, the recipe has gotten pushed to the wayside.
Well, all that changed this passed weekend. Since Valentines fell on a Saturday this year I wanted a full day of delicious, indulgent food for myself and my guys to enjoy. I had supper nailed down, but breakfast was still way up in the air.
Do I make waffles? Oh, or cinnamon rolls. What about pancakes? Donuts even. My brain quickly got overwhelmed and I didn't help matters when I took to
Pinterest
. Oh, how I love
Pinterset
, it's a world full of inspiration, ideas and anything you could possibly need. But, it's also a great way to get an already overwhelmed brain even more anxious and overwhelmed. Which in my case is exactly what it did.
I think my biggest issue in all of this was over-thinking things. Trying too hard to make it something so special. So I finally decided to take a step, realize that although the food is important, time with my family was definitely the priority today...and everyday. And that's when it hit my. The dutch baby that had gotten pushed aside so many times.
It was a recipe I hadn't made before. Was a pancake, which both my boys love. And, it was easy and wouldn't require me to be in the kitchen the bulk of the morning. So, it was a win win.
I am so glad I
finally
got around to making this and it couldn't have been any better timing had I actually planned it. It's so fluffy, slightly crunch on the outside and the inside is an amazing custard-like filling. It's absolutely amazing. We topped ours with a dusting of powdered sugar and some fresh fruit; you could also drizzle it with some maple syrup, a splash of fresh orange or lemon juice.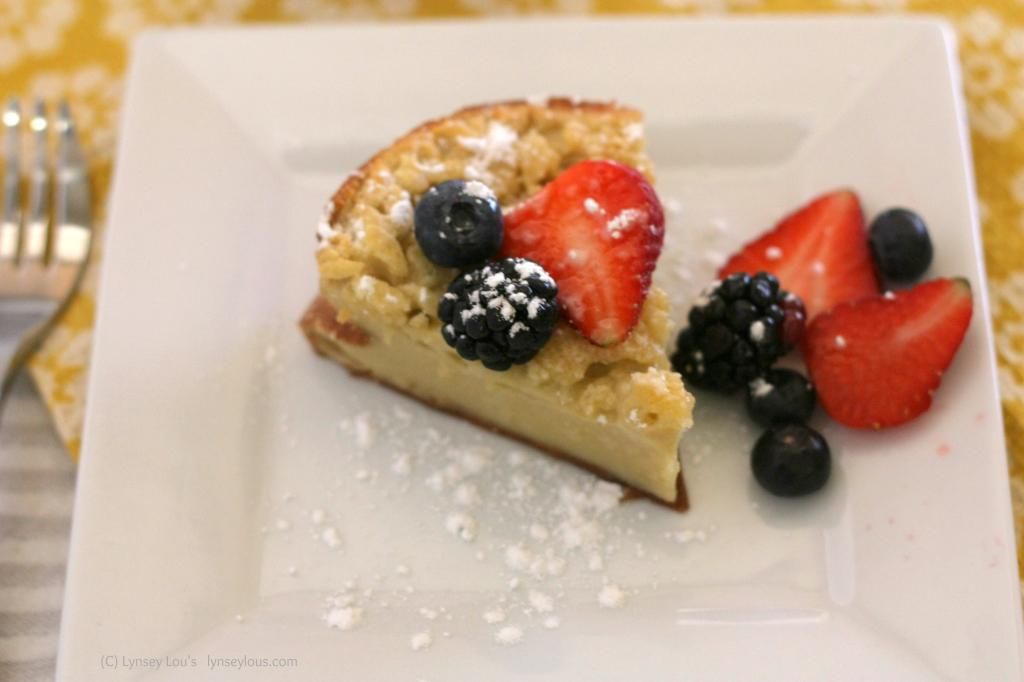 This is one of those breakfasts that is so simple to throw together; the ingredients are mixed and ready to go in under 5 minutes, about 20 minutes of baking time and you're all set. It's incredibly impressive, so could be served to guests for breakfast or brunch but is easy enough for a quick fix on a weekend or even a weekday. Serve alone or with some crispy, salty bacon.
I couldn't imagine a more delicious and perfect breakfast for Valentine's or any special occasion. To make this breakfast a little more special (and bubbly) we sipped on mimosas (and Tucker has sparkling grape juice) while we ate these perfect dutch babies.
So, note to self, and all you other overachievers out there; don't over-think it. Keep it simple and remember the most important part is being able to spend time with your family. Sometimes simple is best!
Dutch Baby Pancake
Ingredients:
1/4 Cup unsalted butter
3 Eggs
3/4 Cup skim or non-fat milk
1/2 Cup flour
1/4 Cup cornstarch
2 Tsp sugar
Pinch salt
1 Tsp vanilla
Directions:
Preheat oven to 425. While oven is preheating, place butter in a 2 quart baking dish and place in the oven.
Meanwhile, place eggs in a blender and blend. Add the milk and pulse until blended. Add the flour, cornstarch, sugar, salt and vanilla and blend until combined, about 30 seconds.
Pour the preheated container with the melted butter. Return to the oven and bake until puffy and brown, about 20 minutes.
To serve: top with a dusting of powdered sugar.
a squeeze of fresh orange or lemon juice
fresh fruit
syrup
Heidi (at
Foodie Crush
) found a few useful tips from
Cook's Illustrated
for making the perfect dutch baby; use a pan with sloped sides for a more even bake, something such as a cast iron skillet. Use non-fat or skim milk to make the batter more crisp and light. Substitute 1/4 cup of flour for cornstarch for added crispness. To avoid sticking, brush the inside of the baking dish with vegetable oil then use butter for added flavor.
She also has a chart for adaptations that vary according to baking vessel size.
Recipe source: Slightly adapted from
Foodie Crush