A few weeks ago we went to visit my brother-in-law and sister-in-law. It was a jam packed weekend filled with amazing food, tailgating, and calling the hogs...WPS! In between all that we managed to find a little downtime which was perfect for Tucker, his daddy and his Uncle Mo to play Legos! While the boys were playing my sister-in-law and I had some time to catch up.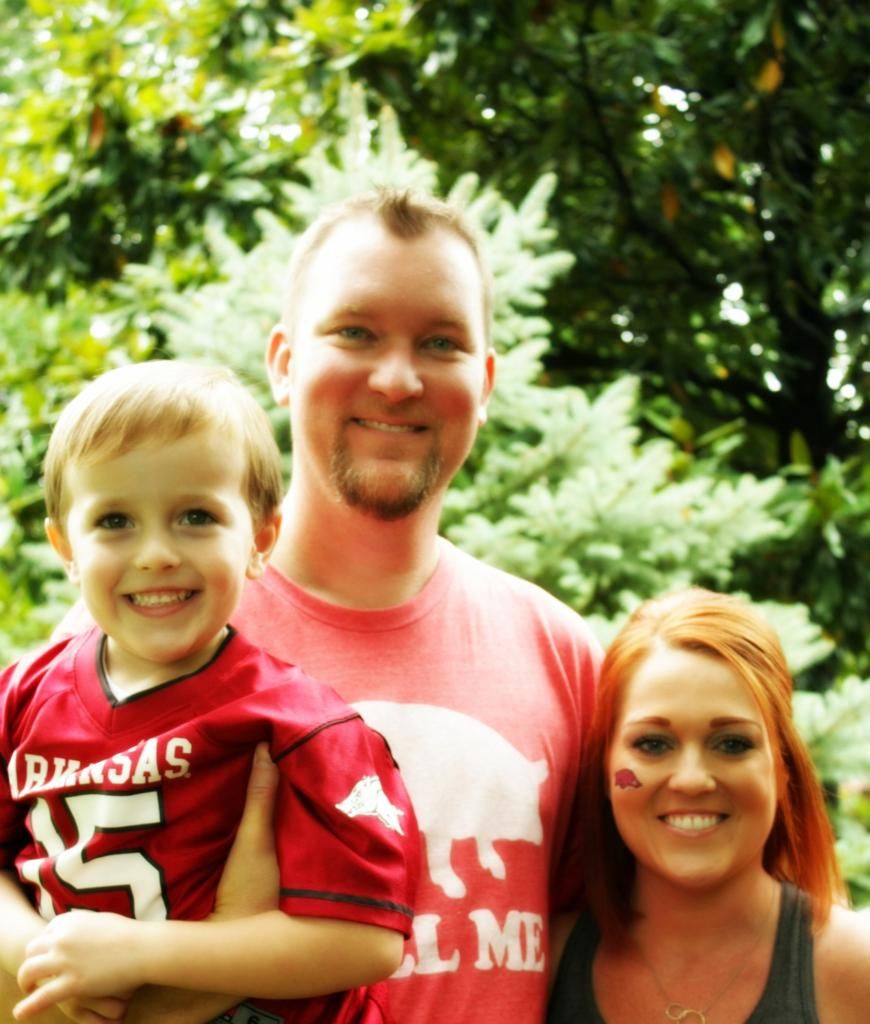 T with his Uncle Mo and Annie
A few weeks before we headed up to visit my SIL hosted a baby shower for one of her friends. She and I had talked about the menu and various drink options. She was set on making the infamous and addicting sherbet punch, punch she wanted to serve it in something other than the enormous punch bowl. So then the task was set to figure out how to serve the punch in one of those cute glass drink dispensers. I had a few suggestions but the one that stuck in her head was scooping the sherbet into small balls, freezing them and using them as "ice cubes". It was a hit!
As with every shower there were leftovers; food, sherbet, drinks...everything. So she decided to get a little creative with the sherbet and make some cocktails! While we were visiting she whipped one up for me and let me tell ya...it was freakin' awesome! I loved it and sucked it down in no time. A mixture of sherbet, orange juice, Sprite and tequila. Sweet, a slight tang and the sherbet added a frothy sweetness.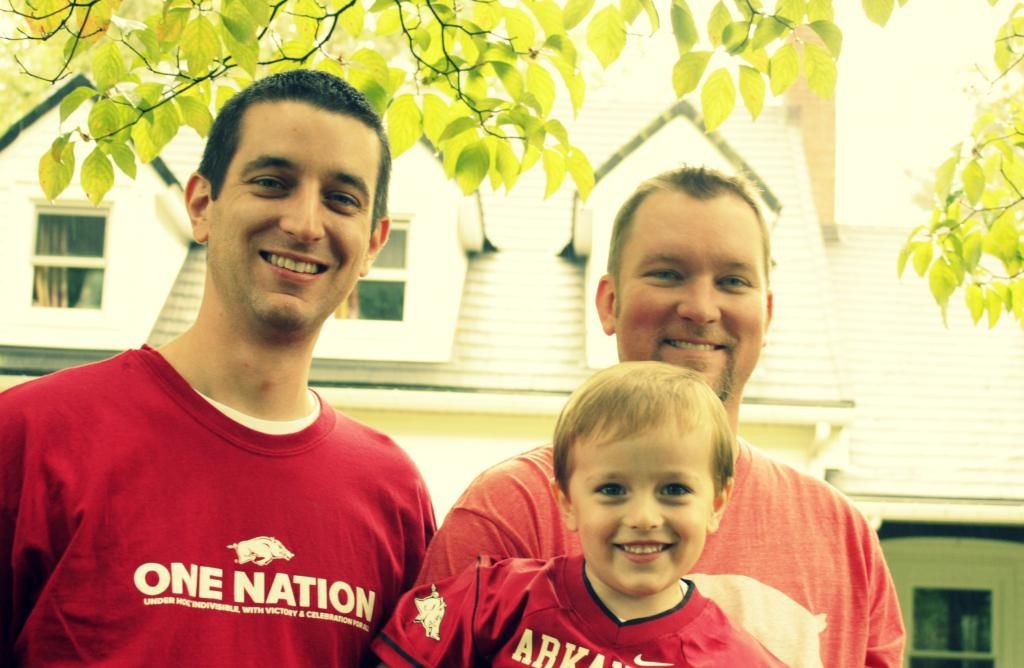 Spencer, Uncle Mo and T getting ready to call those hogs! WPS!
In honor of #RacefortheCure this weekend and for #pinkweek I decided it was completely necessary to create a festive pink drink to sip on either in preparation for or celebration after Race for the Cure. I debated on several different drinks before decided to make this fizz. I took a note from my sister-in-law and decided to use some of the frozen sweet stuff to not only help flavor the drink, but chill it and add color.
So now, I'd like to present to you the pomegranate cranberry fizz. I used pomegranate, acai, and blueberry sorbet*, scooped small scoops and froze them till firm. I placed the frozen sorbet scoops in a sprinkle rimmed glass and topped with a combination of vodka, cranberry lemonade and orange soda water. Oh my goodness folks, this is where it is! Slightly tart from sorbet, sweet from the lemonade and a little fizz...because fizz makes everything fun...from the soda water.
This drink is the ideal girlie drink; from the taste to the pretty pink color. It would be the ideal cocktail to sip on the night before the big race, or in celebration of completing it. So, mix a drink, raise your glass and celebrate those who survived, pray for those who are fighting and remember those who lost their battle.
#Letsfindacure
Pomegranate Cranberry Fizz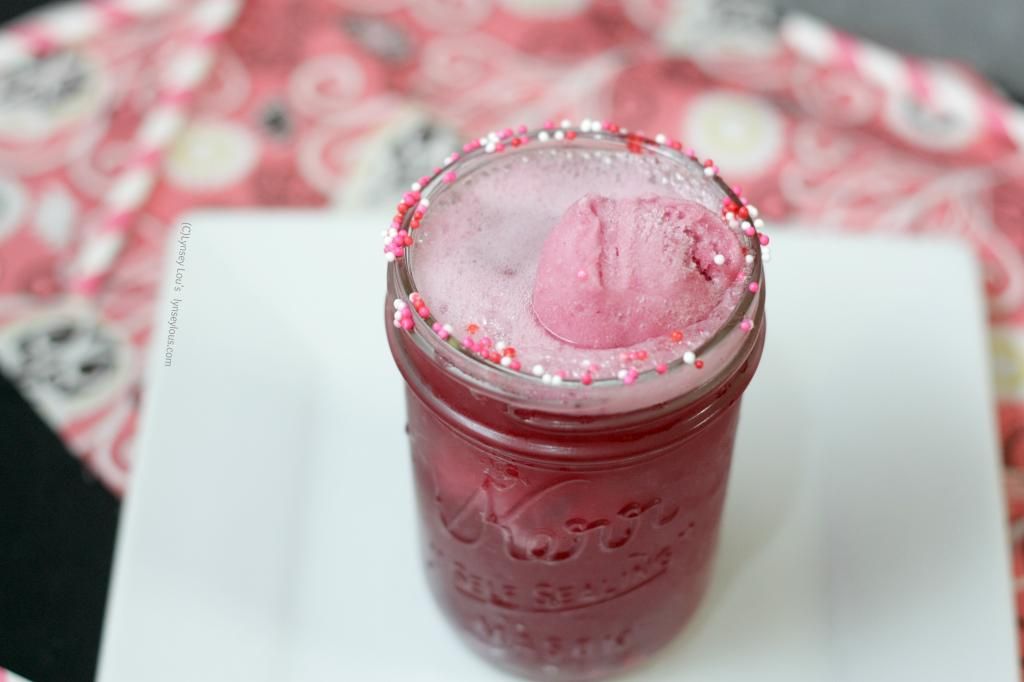 Ingredients:
3 Scoops pomegranate and blueberry sorbet
1-1 1/2 Oz Vodka
3-4 Oz
Ocean Spray cranberry lemonade
Sprite, Soda water, or orange flavored soda water
Sprinkles or colored sugar, optional
Directions:
Line a baking sheet with parchment paper. Using a small cookie or ice cream scoop, scoop sorbet and place scoops on prepared baking sheet. Place in the freezer until set, at least one hour. Place any extra sorbet scoops in a freezer bag and return to freezer.
To assemble-
Using a wet paper towel, wet the rim and roll in pink sugar or sprinkles.
Drop 3 scoops of sorbet in the glass. Add vodka and lemonade. Finish with sprite or soda water.
Recipe source: Inspired by my sister-in-law