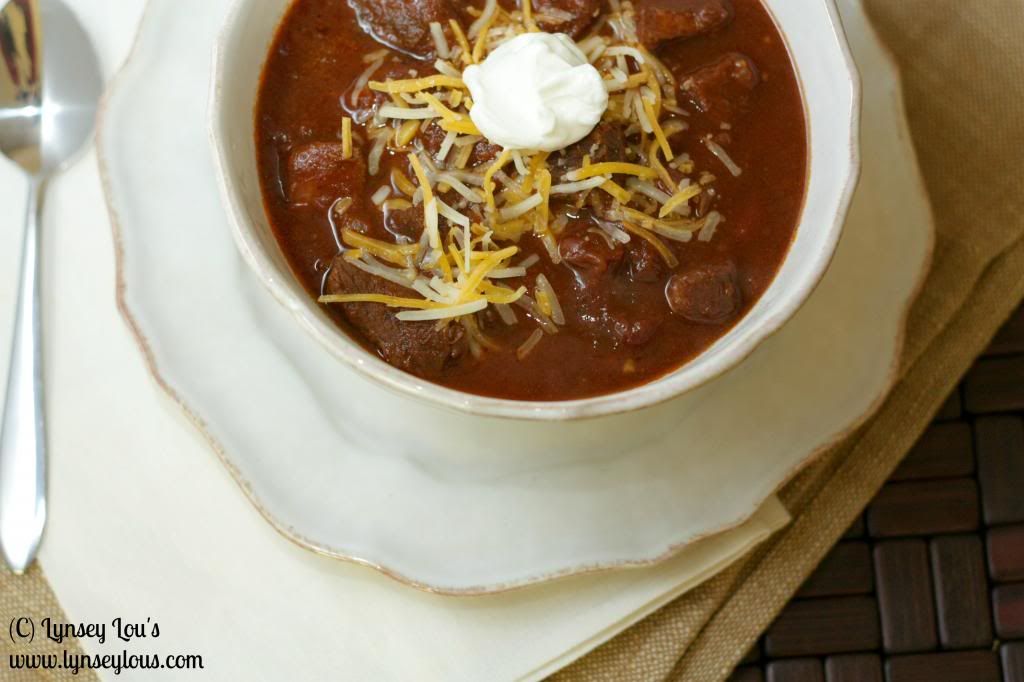 Just when we thought the winter was coming to a holt, pretty much the entire country gets bombarded with another coating of winter weather. Yesterday the weather changed immensely; the temperature dropped 15 degrees in less than two hours. The drizzle turned to rain, then to ice and then snow. Last I looked we had at least an inch of ice accumulation. So, we have a choice. We can either wine, be aggravated and hate this cold weather. Or, we can look at the weather as a way to enjoy one last bowl of hearty soup, stew or chili before we break out the spring and summer recipes.
I'm choosing to do the later of the two. This year Spencer can't seem to get enough chili. It seems like he asks for it at least once a week. While he loves my traditional chili, I do try to change things up from time to time and try different recipes.
This time around I wanted to try a true slow cooker variation. A version that doesn't require browning meat before adding it to the slow cooker. So, I turned to one of my favorite cookbooks,
Slow Cooker Revolution
by America's Test Kitchen, and decided to make their Texas chili.
This doesn't require using a pan or stove to prepare the ingredients before they enter the slow cooker. It's a simple act of chopping the onions, adding some spices and canned tomatoes and heating them in the microwave until the onions are tender. From there the onion mixture and remaining ingredients are combined in the slow cooker and the chunks of meat are nestled into the spicy, bean and vegetable mixture. The slow cooker is turned on and the magic begins.
This chili was everything I imagined it would be. The chunks of beef were incredibly tender, there was just enough spice from the chipotles in adobo and the tomatoes added a slight sweetness along with a little acidity. This chili was a true hit with the entire family. We topped it with a little sour cream and some chives and I served it with some Fritos. Because, what's chili without Fritos?
Even though there is little preparation, it still might be a little much to do in the morning before heading out the door. I've made this a few times, once doing the preparation and adding it straight to the slow cooker to cook, and another time I did the prep work the night before, still adding everything to the slow cooker but I placed it in the refrigerator. The next morning, I removed it from the refrigerator, placed it in the slow cooker base and turned it on. Both times it turned out perfectly. So what are you waiting for? You have another week of cold temperatures, so enjoy another batch of chili before spring!
Texas Chili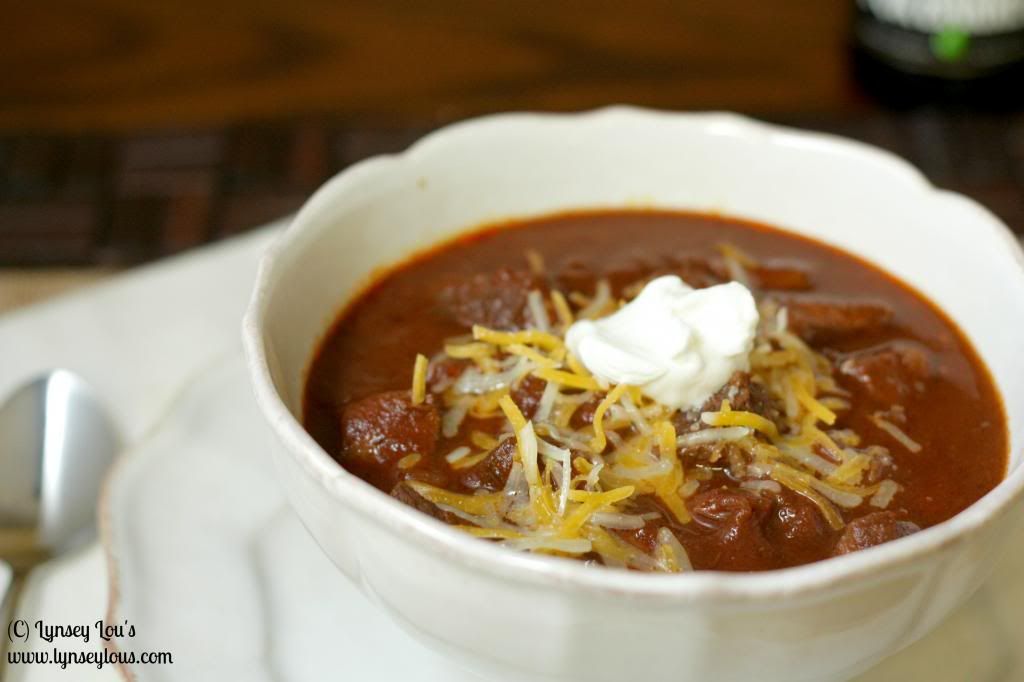 Ingredients:
3 Large onions, minced
1/4 Cup chili powder
1/4 Cup tomato paste
3 Tbsp vegetable oil
8 Cloves garlic, minced
2 1/2 Tbsp cumin
1 1/2 Tbsp fresh oregano, minced
2 (15oz) cans dark red kidney beans, drained and rinsed
1 (28oz) cans crushed tomatoes
2 Cups low sodium chicken broth
3 Tbsp soy sauce
3 Tbsp minced canned chipotle chile in adobo
2 Tbsp brown sugar, plus more if needed
2 Bay leaves
1 (5lb) boneless beef chuck roast, trimmed and cut in 1 1/2 inch chunks
Salt and pepper, to taste
3 Scallions thinly sliced
Directions:
Combine the onions, chili powder, tomato paste, oil, garlic, cumin and oregano in a bowl and stir to combine. Place in the microwave and heat for about 5 minutes, stirring occasionally, until onions are tender. Transfer the mixture to the slow cooker
Add beans, tomatoes, broth, soy sauce, chipotles, sugar and bay leaves to the slow cooker. Stir to combine. Season the beef, liberally, with salt and pepper and nestle in the slow cooker. Place the lid on the slow cooker and cook until beef is tender, 9-11 hours on low or 5-7 on high.
Once the beef is tender, turn the slow cooker off and allow the chili to settle for 5 minutes. Skim the fat from the surface using a large spoon. Remove and discard the bay leaves. Taste, and adjust seasonings if needed. Ladle the chili into bowls, top with scallions and serve.
Recipe source: barely adapted from America's Test Kitchen:
Slow Cooker Revolution