Oh my goodness. Have I got a treat for you. I am so stinkin' excited to share this recipe with you. This is a whopper of a dessert with a name so long that you may have to sit down and rest and have a sip of water just to make it through the title. But, it's a task that is well worth the reward.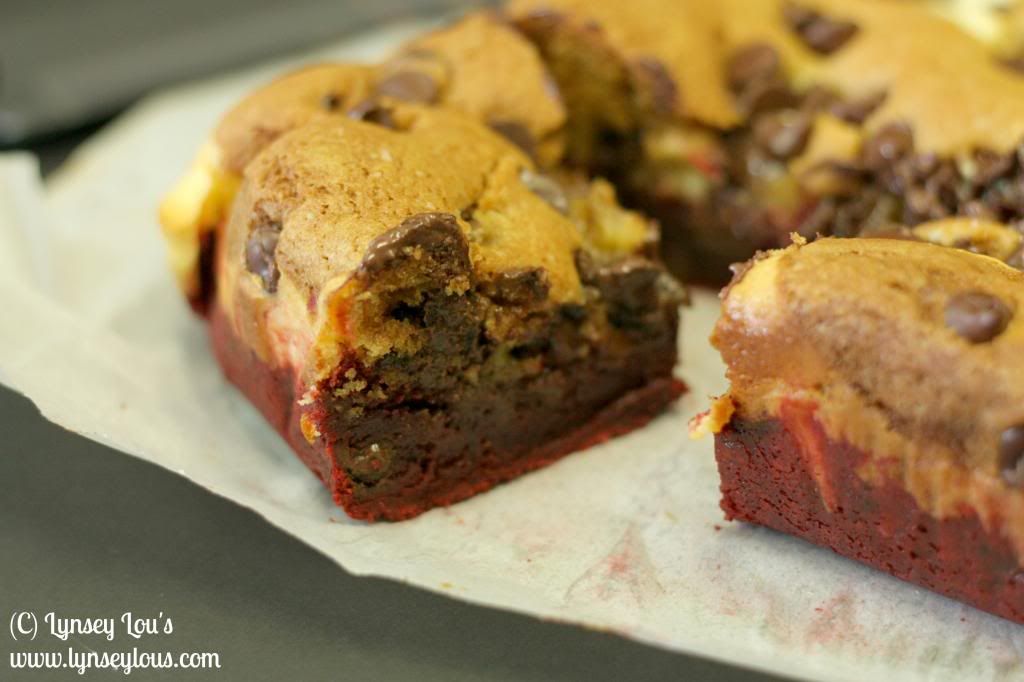 Last year I made some
red velvet brownies with white chocolate buttercream
that were out of this world amazing. Not only were they loaded with chocolate from chunks of chocolate chips to cocoa, but they were incredibly fudgy aaand they were topped with white chocolate buttercream. These brownies were not only a crowd pleaser at my house but with every single person that tasted one. To this day I still get emails about those brownies.
So this year I wanted to build on the awesomeness that is those brownies. What exactly could I do to top those? Well, what about combing them with a few other popular dessert favorites? Sounds like a plan!
So, I proudly introduce red velvet chocolate chip crownies with cheesecake filling. Oh yes! This takes red velvet, which is synonymous with this time of year, and combines it with cheesecake and then tops it all off with chewy chocolate chip cookies!
This is not a bar for the faint of heart. This is gooey, fudgy, rich, and decadent. All the things you look for in a dessert and then some. These crownies will have your heart pounding, taste buds dancing and your stomach jumping for joy with each and every bite.
Red Velvet Chocolate Chip Crownies with Cheesecake Filling
Ingredients:
For the red velvet brownies-
3 1/2 Tbsp unsweetened cocoa powder
1 oz red food coloring (or about 2 tablespoons)
2 Tsp vanilla extract, divided
1/2 Cup (1 stick/8tbsp) unsalted butter, room temperature
1 1/2 Cups granulated sugar
2 Large eggs, room temperature
1 1/4 Cups all-purpose flour
1/4 Tsp sa
lt
1/2 Cup chocolate chips
For the Cheesecake filling-
4 Oz cream cheese, low or full fat is fine (room temperature)
1 Egg
1 Tbsp unsalted butter, room temperature
2 Tbsp sugar
1/2 Tbsp flour
1/2 Tsp vanilla
For the cookie topping-
4 Tbsp (1/2 stick) unsalted butter, room temperature
1/2 Tsp vanilla
1 Egg
1/4 Cup packed brown sugar
1/4 Cup granulated sugar
3/4 Cup + 2 Tbsp flour
1/2 Tsp baking powder
Pinch salt
3/4 Cup chocolate chips
Directions:
Preheat oven to 340. Line a 9x9 baking pan with parchment paper, spray with non-stick cooking spray and set aside.
For the red velvet brownies-
In a small bowl combine the cocoa powder, red food coloring and 1 teaspoon of vanilla extract and stir to combine. Set aside.
In a large bowl combine the butter and sugar and beat on high until light and fluffy, about 2-3 minutes. Add the eggs, one at a time, mixing well between each addition. Add the vanilla and mix until incorporated. With the mixer off, carefully add the cocoa powder mixture. Turn mixer on low and mix to combine. Once the cocoa is incorporated into the mixture, slowly add the flour and salt and mix until incorporated. Stir in the chocolate chips with a heavy spatula, until evenly mixed.
Pour the batter into the prepared pan and spread until evenly distributed.
For the cheesecake filling-
Place the cream cheese, egg, butter, sugar, flour and vanilla in a mixing bowl and beat on medium-high until smooth.
Pour over the red velvet brownies and spread into an even layer.
For the cookie-
Place the butter in a medium microwave safe bowl. Place in microwave and heat until butter is melted. Add the sugars and stir to combine. Add the egg and vanilla and stir to incorporate. Add the flour, baking powder and salt and stir to combine. Fold in the chocolate chips until evenly distributed.
Place spoonfuls on the cheesecake batter. Top with 1/4 cup of chocolate chips. Sprinkle with a teaspoon of kosher salt. Place in the preheated oven and bake for 40-55 minutes.
Remove and allow to cool. Cut and serve or store in an airtight container.
Recipe source: Red Velvet Chocolate Chip Crownie w/ Cheesecake filling -concept a Lynsey Original
Red velvet brownie-
Smells Like Home
, originally from
How Sweet It Is
Cheesecake filling- A Lynsey Original
Cookie- A Lynsey Original