I know Valentine's is tomorrow and probably most everyone has bought their gifts and cards. But, I'm sure there are a few people out there who are still looking for a gift or need a quick, last minute idea for someone. Well, no problem. I've got you covered.
This DIY Valentine's mug is so incredibly cute and only costs $2.00 to make. That includes the mug and the markers. Just $2.00 for a cute and customizable gift for that someone special!
All you need is a plain white mug and permanent markers, colors of your choosing. I found both my markers and the mug at The Dollar Tree. For this mug, since it's for Valentine's, I chose to make a red heart the focus. I wanted the design to be simple and really highlight the heart. I drew a big red heart and filled it in and then just to add a little something else, I did a black dot border around the top and bottom of the mug. It turned out even better than I imagined.
It's so simple but so incredibly cute. I was really pleased with the final product. This is something you could do on your own, but you could also turn it into a craft that can be done with your kiddos. Tucker loved helping me make the black dots and he was even more tickled to use it to drink his hot chocolate! Give this mug alone as a gift or fill it with the person's favorite coffee or hot chocolate and even some homemade
marshmallows!
DIY Valentine's Mug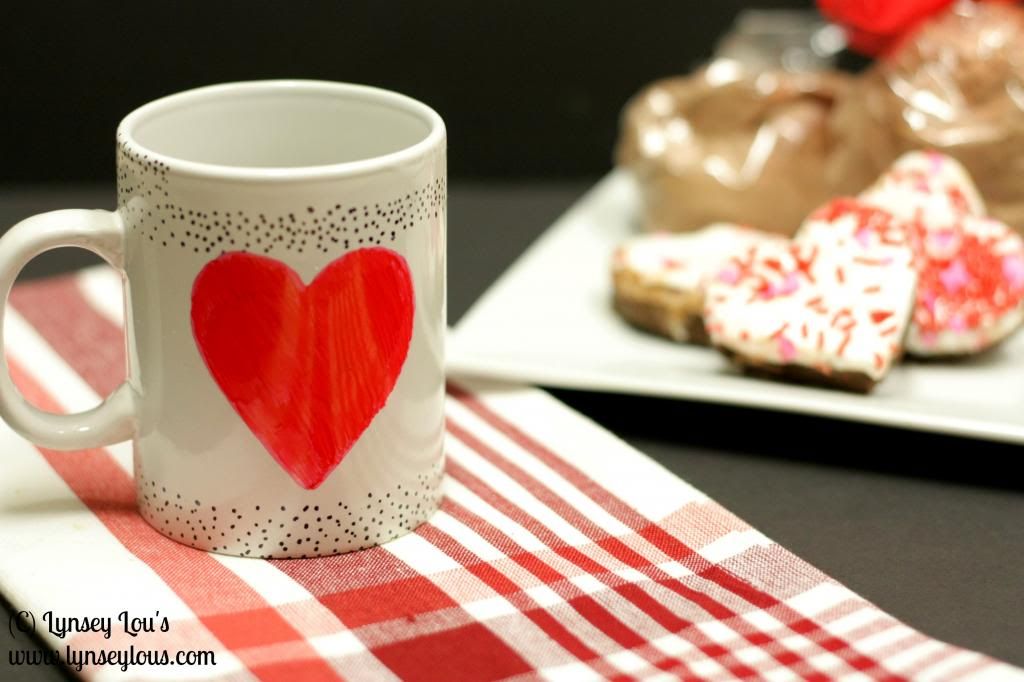 Supplies:
1 White mug
Markers of your choice
Directions:
Draw the design of your choice on the mug. Place on a baking sheet and bake in a 350 degree oven for 30 minutes. Remove and allow to cool completely.