Breakfast food is a weakness in our house. I honestly think Spencer could eat it three times a day, everyday and never every get tired of it. In my efforts to keep everyone happy, I try my best to make a hearty breakfast on Saturday mornings full of bacon, eggs, possibly waffles, or maybe some biscuits and gravy. Along with Saturdays, I try to plan a night during the week to have breakfast foods to ensure we get our fix!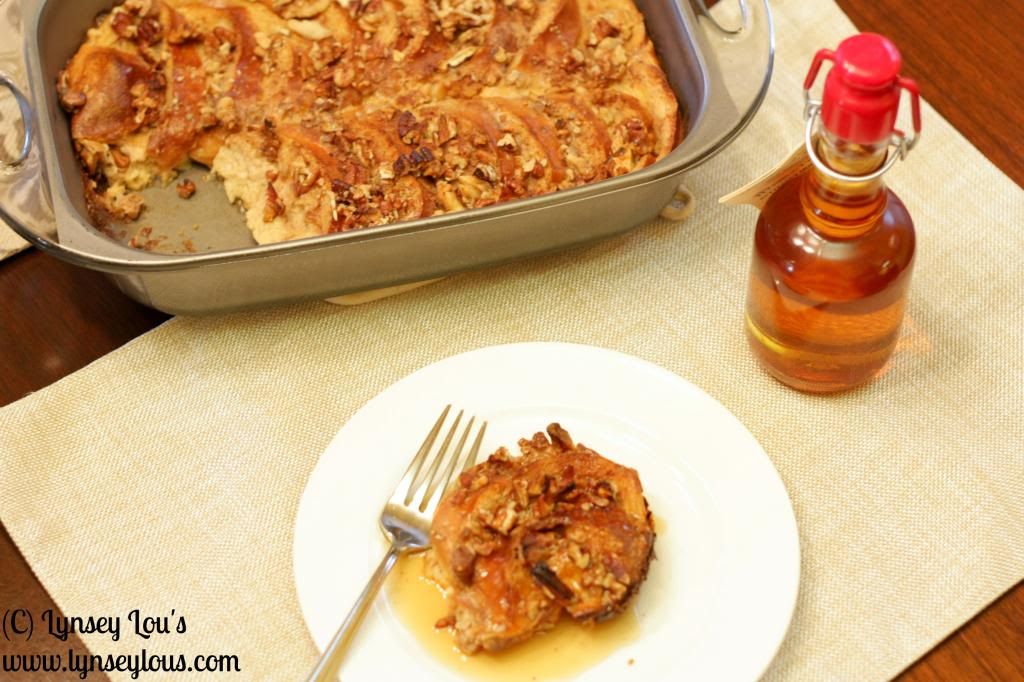 While I think Spencer would be perfectly content with the standard bacon, eggs and biscuits, I enjoy trying different things and changing things up. So I throw in some biscuits and gravy, French toast, waffles, cinnamon rolls, scones, muffins and a variety of other things.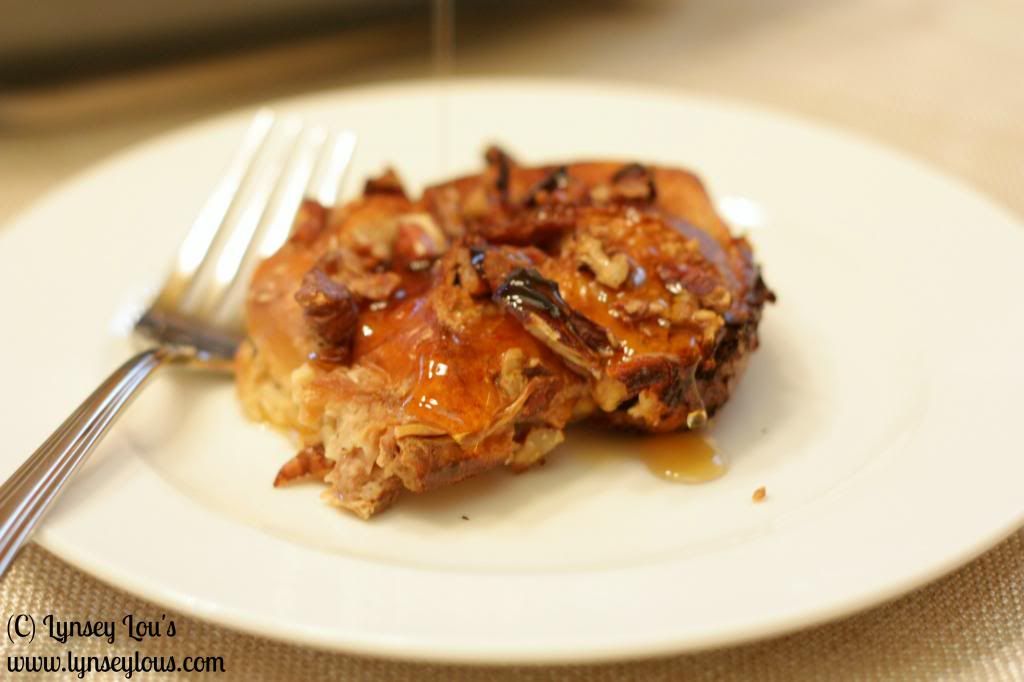 French toast is one of those things that I love to make when I like to switch things up it's so simple to assemble and doesn't require using every dish in the kitchen. It's also a recipe I like to make when I want something easy that can be assembled ahead of time. This particular recipe is an overnight French toast which means all the work is done ahead of time and all I have to do is pop it in the oven the next morning.
The bread is sliced, placed in a baking dish and then allowed to take a little soak in the cinnamon custard. The next morning it's sprinkled with a mixture of pecans and walnuts along with syrup and cinnamon then it's baked to golden perfection.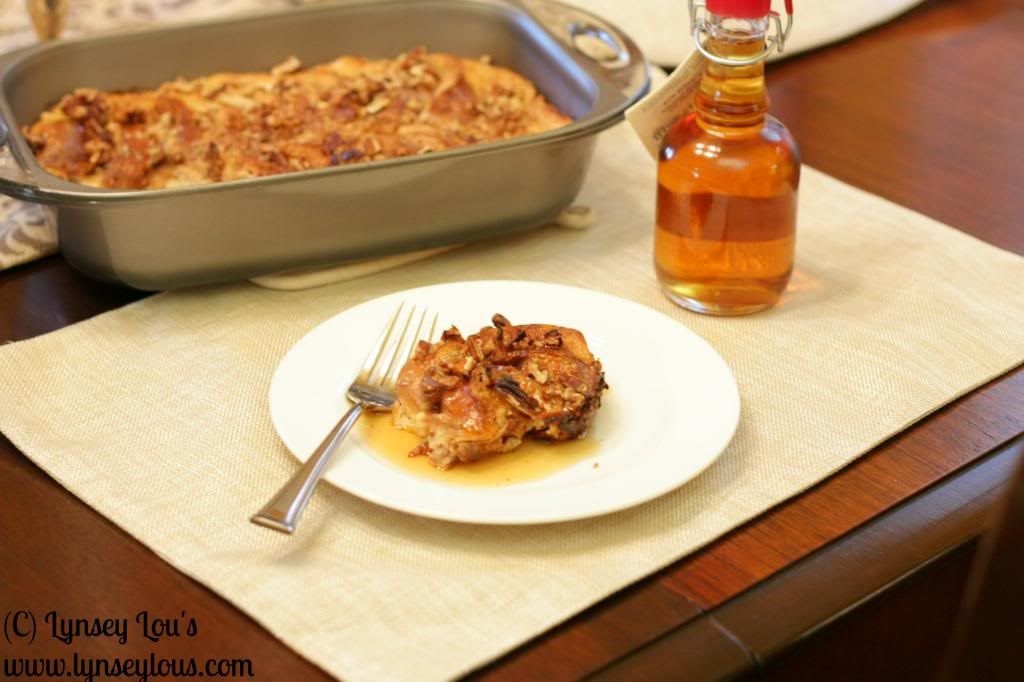 Along with being an ideal option for a make-ahead-meal, this particular recipe is a lighter version of the traditional French toast recipes. It uses a whole wheat baguette rather than a plain white bread. Instead of cream or whole fat milk a combination of reduced fat milk and evaporated milk is used as part of the custard base. It's seasoned with warm spices and then given a drizzle of maple syrup which not only adds sweetness but when accompanied with the nuts it makes delicious praline topping. With this combination of texture and flavor you won't miss any of the heavy cream or sugar. Serve this to your family and friends for a yummy and satisfying meal without all the guilt!
Lighter French Toast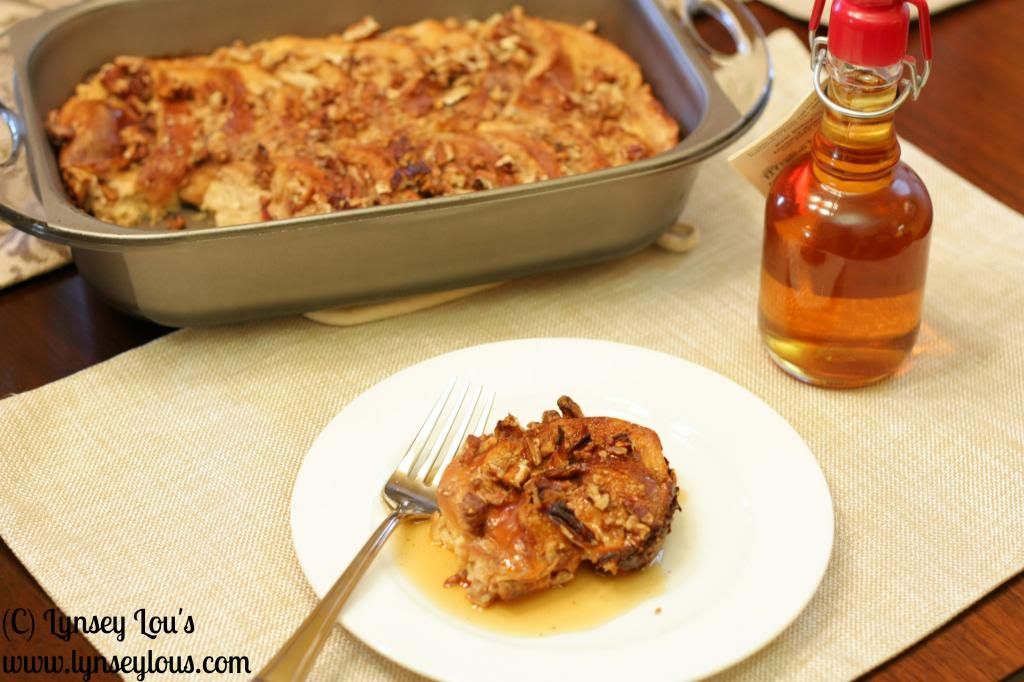 Ingredients:
1 (8oz) whole wheat baguette
1 (12oz) can evaporated milk
1 Cup reduced fat milk
1 Tsp vanilla
1 Tsp rum extract
1/4 Tsp nutmeg
1/2 Tsp cinnamon
1/4 Tsp salt
4 Eggs
For the topping-
1/4 Cup pecans, roughly chopped
1/4 Cup walnuts, roughly chopped
2 1/2 Tbsp maple syrup, plus more for serving
1/8 Tsp ground cinnamon
Directions:
Spray a 2 quart baking dish with non-stick cooking spray. (I used a 6x10)
Slice baguette in quarter inch slices, approximately 20 pieces. Place the bread in the prepared baking dish, barely overlapping.
In a medium bowl combine the evaporated milk, milk, vanilla, extract, nutmeg, cinnamon, salt and eggs and whisk to combine. Pour over the bread. Cover the baking dish and place in the refrigerator and chill overnight.
The next morning remove the French toast from the refrigerator. Preheat oven to 350. Remove the cover from the baking dish, spoon any excess custard over the bread. Sprinkle the pecans and walnuts evenly over the bread. Drizzle with maple syrup and sprinkle with cinnamon. Place in the preheated oven and bake for 35-45 minutes, until golden. Remove from oven and serve with maple syrup.
Recipe source: A Lynsey Original