Deviled eggs are one of those things that at home at practically every event. Potlucks, family reunions, parties, showers, and the list goes on and on. You would be pretty hard pressed to walk into any type of event that offers food and not find at least one platter of deviled eggs.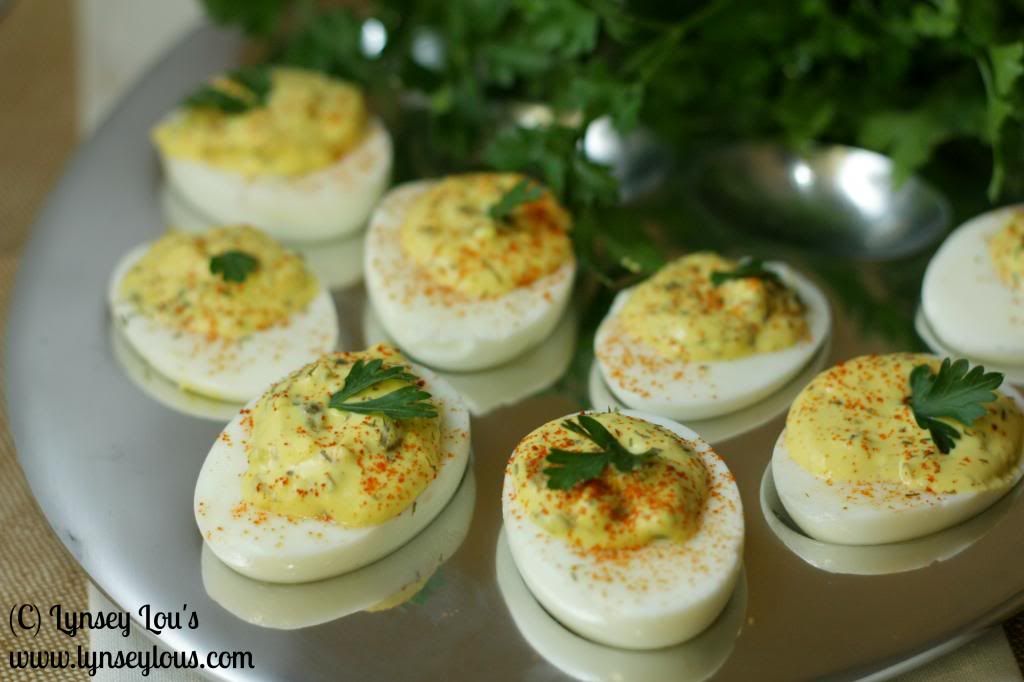 Deviled eggs are one of my favorite appetizers and sides. And I think I'm in pretty good company. Every time it's time to get in line for food it seems like everyone has their eyes on the platter of eggs and their counting how many eggs there are and just how many people are in front of them, trying to figure out if they will in fact be able to enjoy at least one of those amazing deviled eggs. And if you're one of the lucky ones that makes it close enough to the front to score one, well, it's like you've just hit the jackpot.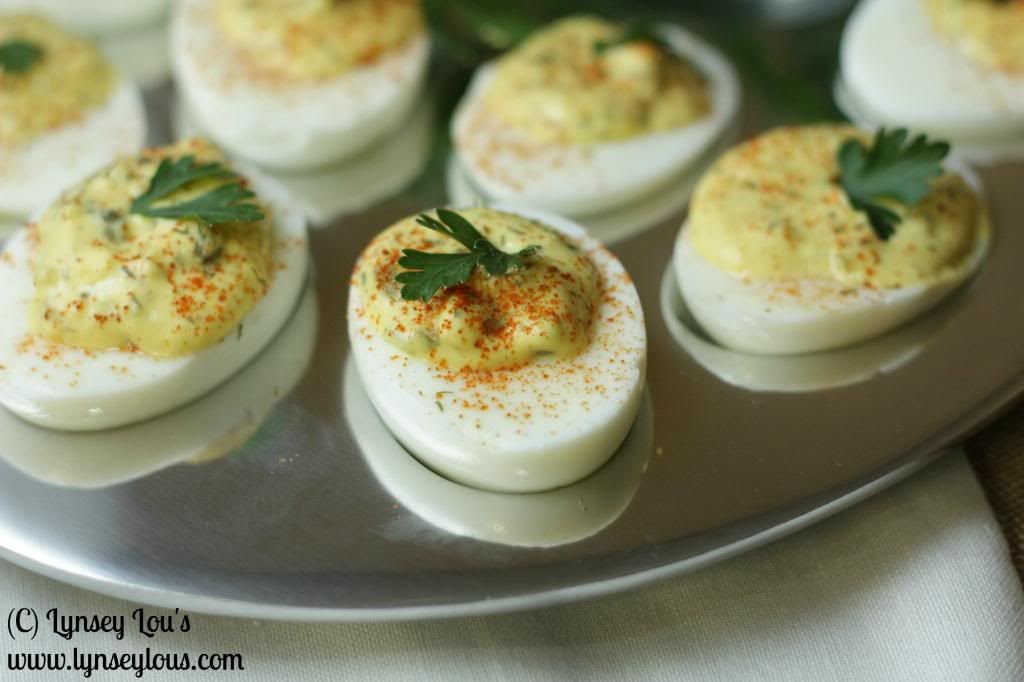 There's just something so wonderfully addicting about these eggs. Boiled eggs filled with a concoction of egg yolks, mayonnaise, mustard and a few various other add-ins. Something so simple but so delicious. Have you noticed that deviled eggs are one of those recipes that have about a million different variations? No matter what variation I've tried, I've always be grateful when I was lucky enough to score one or two.
So, for this month's Secret Recipe Club I chose that infamous appetizer from Dena's blog,
Oh! You Cook!
But that decision didn't come easily, Dena features a variety of recipes on her blog; from Jewish specialties, to easy snacks like
chocolate covered bananas
, and some of the most mouthwatering
breads
you've laid your eyes on. So after much deliberation I decided to make one of my all-time favorite appetizers, deviled eggs. And let me tell you, I was beyond excited to make these and to eat them. Just like at the potlucks, these eggs didn't hang around long and I guarantee you they won't last long around your next event either.
Deviled Eggs
Ingredients:
4 Eggs
1 Tbsp mayonnaise
1/2 Tbsp sour cream
1 1/2 Tsp mustard
1 Tbsp sweet pickle relish
1 Tsp onion, minced
1 Tsp capers, roughly chopped
1/2 Tsp caper juice
Salt and pepper, to taste
Paprika, for garnish
Parsley for garnish
Directions:
Place eggs in a large saucepan and fill with enough water to just cover the eggs. Place over medium heat and allow water to come to a boil. Once the water has reached a boil, reduce heat to low, cover and allow sit over heat for 10 minutes. Remove from heat, drain and cover in cold ice water. Allow to sit until cool, about 5-10 minutes.
Drain the water and remove the shells from the eggs. Cut the eggs in half, remove the yolk and place in a bowl. Rinse the whites of the eggs place flat side down on a plate to dry.
Meanwhile add the mayonnaise, sour cream, and mustard to the yolks and beat on medium to incorporate and until the mixture is smooth. Add the pickles, onions, capers, caper juice, salt and pepper and mix to combine. Taste, adjust seasonings if necessary. Place the mixture in a piping bag and pipe into the egg whites.
When ready to serve sprinkle with paprika and top with parsley.