When I think of breakfast foods some of the first things that come to mind are bacon, biscuits, sometimes cheese biscuits, and eggs. It seems like every breakfast is comprised of at least one of these items if not all of them. While I love those big breakfasts complete with bacon, eggs, and waffles or biscuits sometimes those aren't always on the agenda.
Life comes calling, the morning rush is in full swing and there's no time to cook a complete breakfast, let alone sit down and enjoy one. I have a feeling all of you are shaking your heads in complete agreement right about now. But on those ever so hectic days you still want to prepare a meal for your family to enjoy and to fill their bellies before they head out the door.
Breakfast sandwiches and sliders are the perfect way to serve your on-the-run family a satisfying breakfast without taking the time to sit down around the table. It's also the perfect alternative for mom and dad to have breakfast while their running around getting the kids ready and all their things together.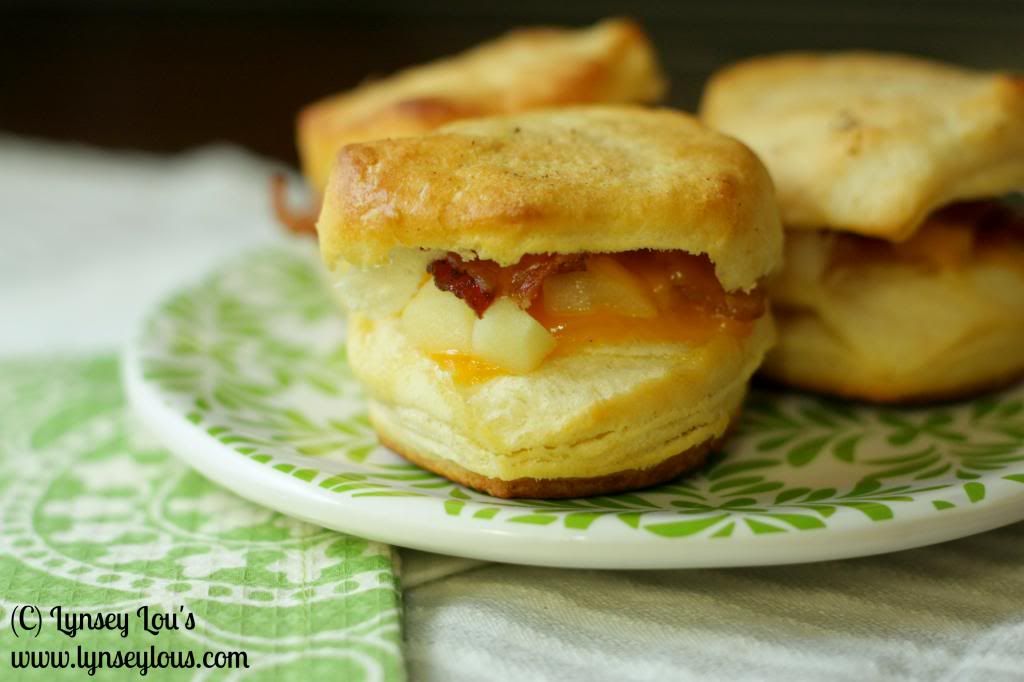 They are so quick to assemble and there are endless options as to what to put on them. You can go classic with bacon or sausage, egg and cheese or you can get creative and add tomatoes, sauteed mushrooms and smoked sausage. That's just the fillings, then you have a variety of breads, biscuits and muffins to choose to be the base and topper of you little sandwich. So they might seem simple but there's a lot of thought that goes into the preparation!
For these sliders I kept it simple and used one of my favorite flavor combinations; bacon, apples and cheddar. Apples and cheddar go together perfectly, and bacon, well bacon just makes everything better. I used
Pilllsbury
biscuits, baked them and then layered on all the good stuff. Popped them back in the oven for a minute, just to get the cheese all nice and melty and then served them. These make a delicious and perfectly easy breakfast but are also great served with a big bowl of soup. They can be made ahead of time, wrapped individually and ready for single serve breakfast throughout the week.
Cheddar, Apple and Bacon Sliders
Ingredients:
5 Slices bacon, cooked and cut in half
10 Slices sharp cheddar
1 apple (I used Granny Smith) peeled, cored and chopped
1/2 Tbsp unsalted butter
Directions:
Preheat oven to 350.
Place the biscuits on a baking sheet and bake according to package instructions.
Meanwhile, place butter in a small sauté pan and place over medium-low heat. Once the butter has melted add the apples and sauté for about 3 minutes. Remove from heat and set aside.
Once the biscuits are cooked split them in half. Place a slice of cheddar on the bottom half of each biscuit. Spoon 1/2-1 tablespoon of apples on the cheese and top with 2 pieces of bacon. Place the top half of each biscuit on the bacon and return to oven for 2-4 minutes, until the cheese has melted.
Serve immediately.
Recipe source: A Lynsey Original