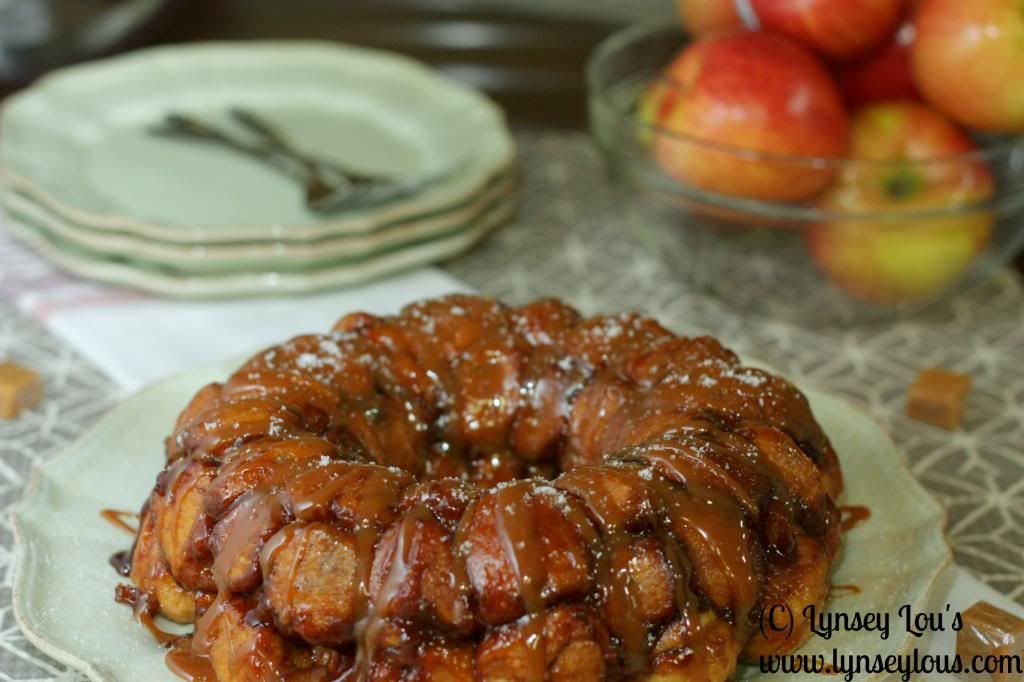 I have been on a serious apple kick this year, especially since apple season started. It's almost like I eat, sleep, dream apples. Anything apple I want to try it or make it and apple recipes seem to continue popping in my head. It's a sickness, I guess! Thanks for supporting me through my addiction!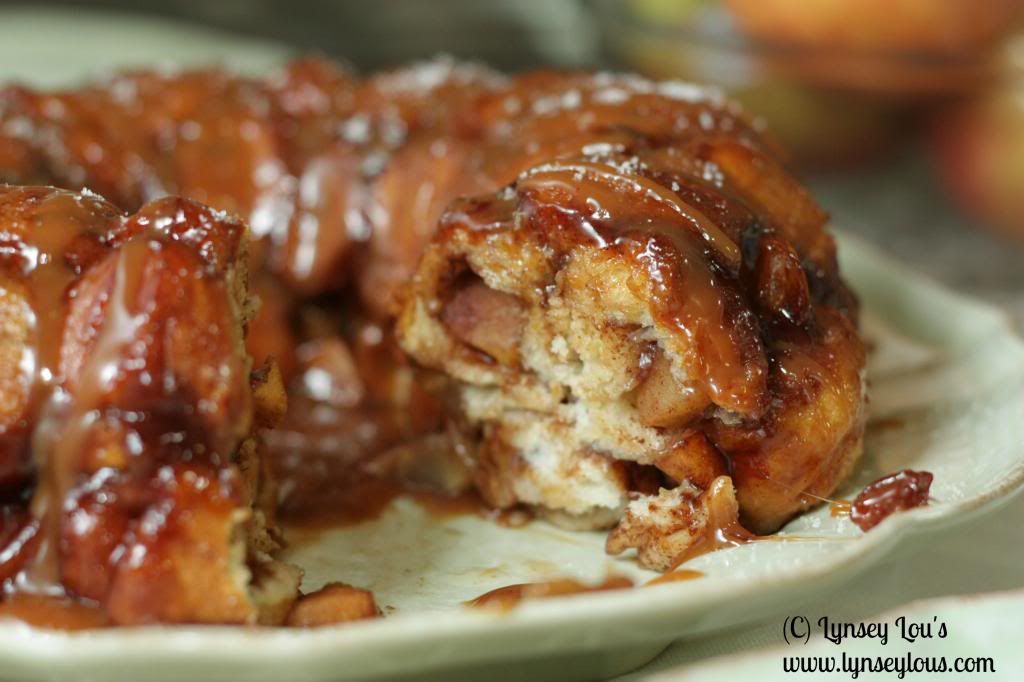 Monkey bread is a favorite in my house; my boys love it. Another person in my family that's a fan is my brother. Pretty much everytime we get together and I ask what to bring he says one of two things: monkey bread or
peanut butter pie.
So it's safe to say that monkey bread is a necessity when we get together!
The last monkey bread I made was
samoa monkey bread
and boy is it good. Folks, if you haven't had this monkey bread yet, then you MUST make it soon. It was a hit, not only did we enjoy it for breakfast and dessert, when I
made an appearance on a local news channel
I made that monkey bread and it was pretty much devoured before I left the station.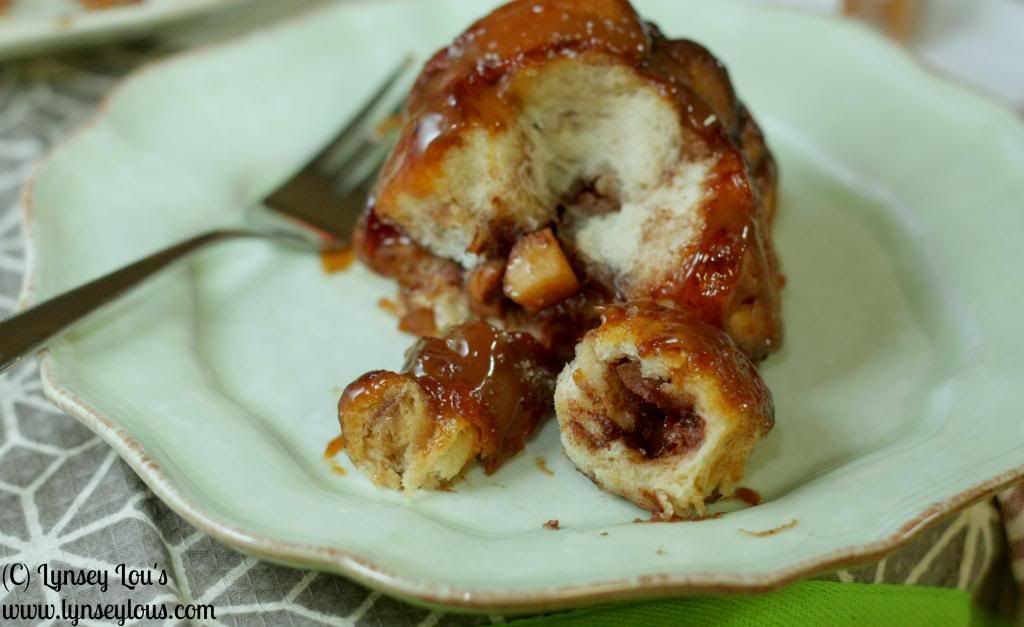 So since stuffed and loaded monkey bread is definitely a hit, I thought it would be fun to make a more fall-like version. Since I've been on an apple kick lately, I bet you can guess the first place my mind went. Apples. Caramel Apples. Oh...caramel apple monkey bread with a sprinkle of sea salt. That was it, salted caramel apple monkey bread!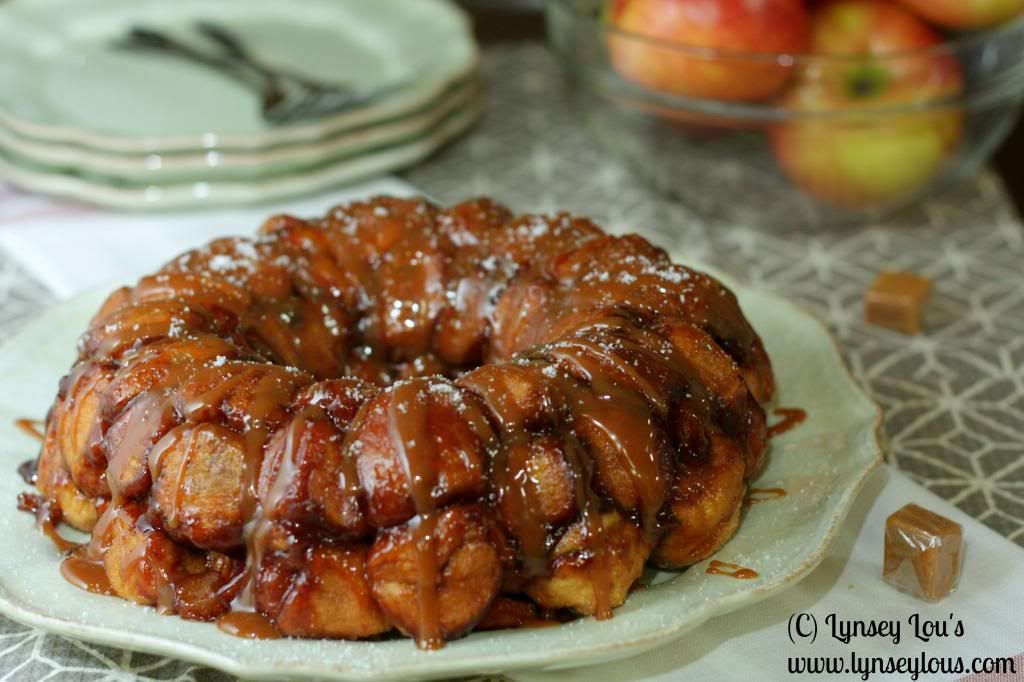 I couldn't get in the kitchen and get those apples cut fast enough. I was dying to make this bread that my brain had dreamed up. Little pieces of caramel-like flaky biscuit dough stuffed with brown sugar cinnamon coated apples. All drizzled with a sweet caramel sauce and sprinkled with a dash of sea salt. People. This is amazing. Life changing, even.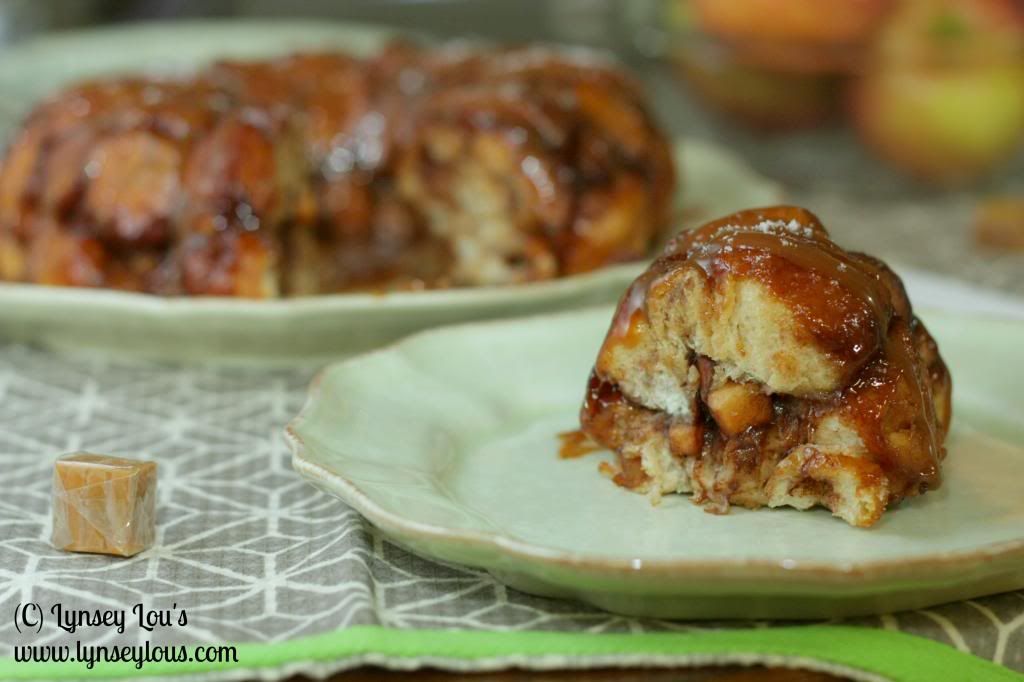 This bread is so good and so easy to make. My little man even got involved, helping me stuff each piece of dough with a piece of apple. Then we eagerly waited to pull it out of the oven. I couldn't get the sauce drizzled over the cake fast enough for Tucker and Spencer, they were waiting with plates in hand and then. Well, they devoured it and came back for seconds, and even thirds. This bread was eaten every morning until the plate was clean. It was a hit. What's not to like about a caramel apple monkey bread? Make it for your crew this weekend, they'll be hooked!
Salted Caramel Apple Monkey Bread
Ingredients:
1 Large (2 medium) apple, (I used Honeycrisp), cored, peeled and chopped in 1/2 inch chunks
3 Tbsp brown sugar
1 Tbsp granulated sugar
1 Tsp ground cinnamon
For the coating-
1/4 Cup brown sugar
2-3 Tbsp granulated sugar
1 1/2 Tsp cinnamon
For the caramel-
1 1/2 Tsp water
For topping-
Sea Salt
Directions:
Preheat ove to 350. Line a rimmed baking sheet with aluminum foil and set aside. Spray a bundt pan with non-stick cooking spray and set aside.
Combine brown sugar, white sugar and cinnamon in a medium bowl. Add the apple chunks and toss to combine.
In a small bowl combine the brown sugar, granulated sugar and cinnamon for the coating. Stir to combine and set aside.
Open the 2 cans of biscuits and cut each biscuit into quarters. Place one piece of apple in the center of each piece of dough, wrap the dough around the apple and pinch to seal. Roll the stuffed piece of dough in the cinnamon sugar mixture and place in the prepared pan. Continue until half of the dough is stuffed, coated and in the pan. Sprinkle with 3 tablespoons of the apple chunks. Repeat the process with the remaining apples and dough. If there are any apple pieces left, sprinkle over the top of the dough. Place the bundt pan on the rimmed baking sheet and place in the preheated oven and bake for 30-40 minutes, until dough is cooked. Remove the cooked bread from the oven and allow to cool in the pan for about 5-10 minutes. Carefully run a knife downt he sides of the pan and invert the cake onto a plate.
To make the caramel sauce-
Place the caramel bits and water in a microwave safe container and heat in 15 second intervals, stirring inbetween each. Once the caramel has melted drizzle over the top of the monkey bread. Sprinkle the top of the bread with sea salt and serve.
Recipe source: A Lynsey Original