Fall is here, and here in Arkansas we're finally going to be able to experience some of that cool, crisp weather this weekend! I can't wait. This cool weather is making it's appearance right in time for the fair. Cool weather and fair fun and food just go hand in had. Fried anything, funnel cakes, corn dogs, big ol' turkey legs, roasted corn on the cob, corn dogs, cotton candy, candy and caramel apples and the list goes on and on. I'm a sucker for carnie food; the old school stuff and all the new stuff. I'm willing to try anything...at least once!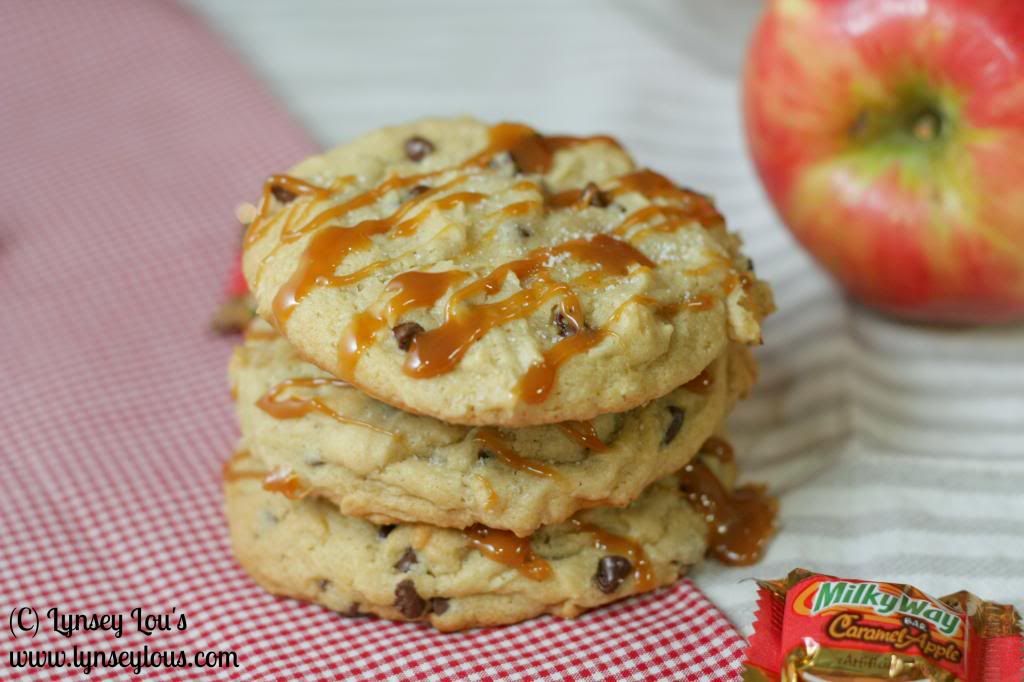 To celebrate fall and the arrival of the fair I decided to take on a new cookie recipe. I love caramel apples and
Milky Way
just so happened to come out with a new fall flavor, Caramel Apple Minis. When I saw these beauties in the store I stopped in mid-step, looked at them and they instantly went in my basket. My brain started running with ideas; I mean I could just eat them straight from the bag but then that wouldn't be any fun for you now would it? So I started thinking about what all I could put these little morsels of goodness in. While I have plenty of ideas in store, I thought a cookie would be the perfect palate to start with.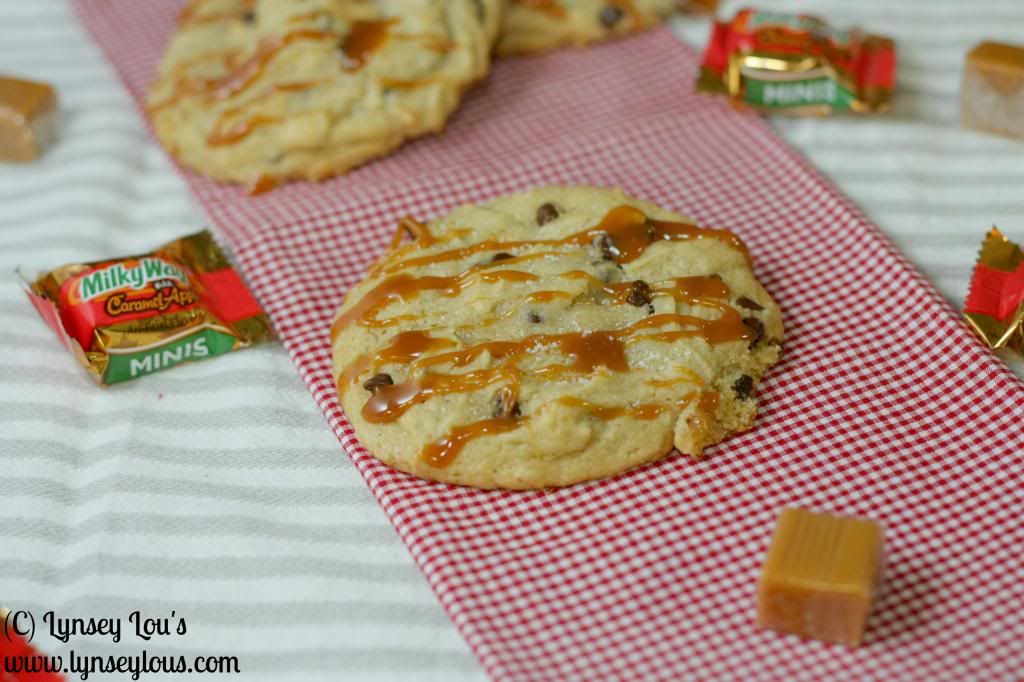 So what kind of cookie? Sugar. Brown sugar. Brown butter. Chocolate chip. I mean the options are endless. I finally decided on a chocolate chip base. Apples, cinnamon, caramel, chocolate and a touch of salt. Yes, those all go together and compliment each other perfectly.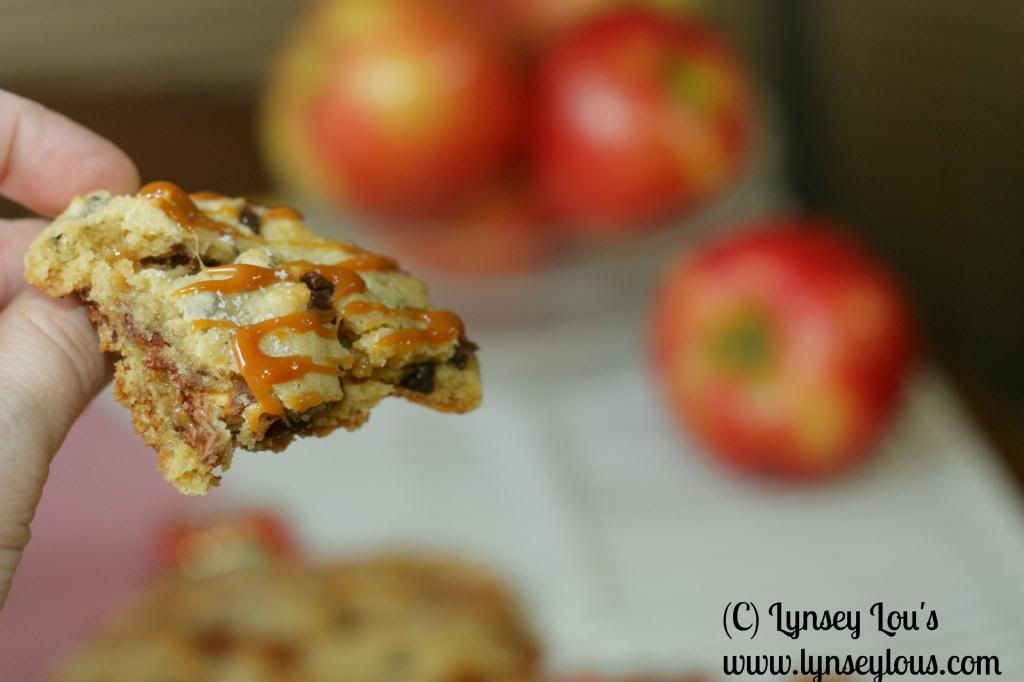 But folks, this isn't just any chocolate chip cookie. This cookie has an "out of the norm" ingredient that probably happens to be in your refrigerator right now. Now I've had cookies with yogurt, sour cream and mascarpone cheese in them and they were all delish. But, I thought, since I'm writing a new recipe let's try a new additive. Let's try cream cheese. Yes, cream cheese. I mean it makes everything better, and it definitely rings true in these cookies too. And oh my, I'm loving that I tried this. These cookies are incredible. Fluffy, chewy, gooey, soft and a slight tang from the cream cheese. I think I've found my new favorite cookie base.
These cookies are studded with tons of mini chocolate chips, stuffed with a mini caramel apple Milky Way and drizzled with melted caramel. To top it off each cookie is sprinkled with a touch of sea salt. Oh. My. Goodness. These things are ohsogood. In each bite you get a hint of cinnamon, mini chocolate morsels, caramel, a touch of salt and caramel apple flavor. Not only do these cookies look pretty, they taste every bit as good as they look.
Welcome fall and the cool air with these salted caramel apple chocolate chip cookies; soft cookies filled with chocolate chips, hints of cinnamon, the taste of apples all drizzled with caramel and a touch of sea salt. These cookies represent pure goodness and all things fall.
Salted Caramel Apple Chocolate Chip Cookies
Ingredients:
2 1/2 Cups pastry flour
1 1/2 Tsp baking powder
1/2 Tsp baking soda
1/4 Tsp salt
1/4 Tsp cinnamon
1/4 Cup (4 oz) cream cheese
1 1/2 Sticks (3/4 cup) unsalted butter, room temperature
1/4 Cup granulated sugar
1 1/4 Cup brown sugar
2 Eggs, room temperature
1 Tsp vanilla
1 1/2 Cup mini chocolate chips
1 Package
Milky Way Caramel Apple Minis
3 Tbsp
Caramel Melts
1/2 Tsp water
Sea salt, for topping
Directions:
Line two baking sheets with a silicone baking mat, or parchment paper or spray generously with cooking spray. Set aside.
In a medium bowl sift together the flour, baking powder, baking soda, cinnamon, and salt. Set aside.
Place cream cheese and butter in a large mixing bowl and beat on high until light and fluffy, about 1-1 1/2 minutes. Add the granulated and brown sugar and beat on medium to incorporate, once the ingredients are incorporated increase mixing speed and beat on high for 2 minutes.
Decrease the mixing speed to low and add the eggs, one at a time mixing until incorporated. Once both eggs have been incorporated, add the vanilla and mix until combined.
Slowly add the flour mixture, mixing each addition until incorporated. Once all the flour mixture is combined to the sugar mixture increase mixing speed and beat on high for 1 minute.
Add the chocolate chips, and stir to incorporate. Scoop 1/4 cup of dough, place one mini Milky Way in the center of the dough and wrap the dough around it. Place on prepared baking sheets and repeat with remaining dough, leaving about 1-1 1/2 inches between each cookie. Place in the freezer and allow to chill for about 30-45 minutes.
Preheat oven to 350. Once the cookies have chilled, place in the preheated oven and bake for 11-15 minutes, until cookies are set and golden but do not overbake. Remove from oven and allow to cool on cookie sheet for 5 minutes. Transfer to cooling rack and allow to cool completely.
Place caramel bits in a microwave safe bowl, add water and place in the microwave. Heat caramels in 20 second intervals, stirring after each 20 second period, until melted. Once the caramels are completely melted, drizzle over the tops of each cookie. Immediately sprinkle the sea salt over the caramel and allow to sit for about 15 minutes, until the caramel has set.
Recipe source: A Lynsey Original