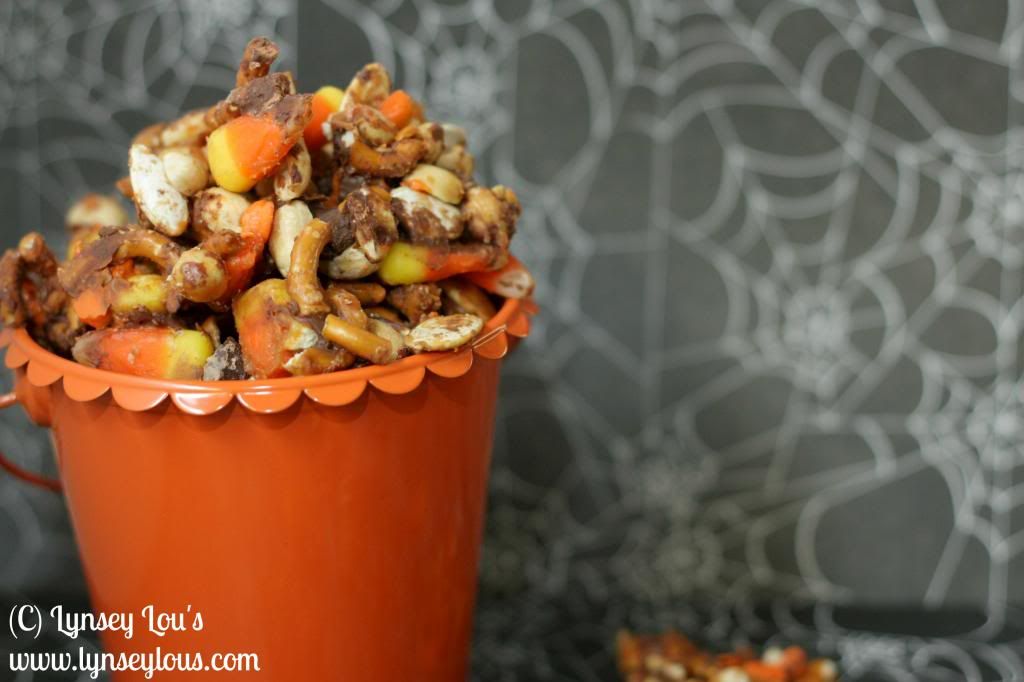 Halloween is almost here, although if you look down the isles at pretty much any large retailer you'd think that Halloween and come and gone and was simply a thing of the past. It's amazing how baron all of the isles are that were so recently flooded with costumes, pumpkins, Halloween and fall décor. Those empty spaces are quickly being filled with Christmas trees, wrapping paper and decorations. Wow is all I can say. Well, it may look like Christmas in the stores but I still have plenty of Halloween and fall recipes to share with you!
I love trail mix and granola. It's easy to assemble, customizable and a great snack that is very portable. I love playing with different flavor combinations and add-ins, the options are endless. When the different seasons roll around and all the seasonal goodies start hitting the shelf my mind starts racing through all the options.
This season is no different; when I saw the Halloween chocolate chips and candy corn hit those shelves I immediately snatched some up with full intentions of making some incredibly delicious and festive trail mix. Mission accomplished! This trail mix is not only packed full of fall goodies, but is equally as festive with all of the fall colors going on; yellow, orange, brown and cream. It screams fall.
Packed full of crunched up pretzels, salty peanuts, sweet candy corn, chocolate chips, crunchy pumpkin seeds and all drizzled with buttery caramel. This is the ultimate fall trail mix. It hits all the notes; sweet, salty, crunchy, and chewy. This is a no bake snack that is incredibly simple to throw together.
I love carrying a bag of this in my purse to snack on while I'm on the run, but it would also make a terrific party snack or festive favors. Fill Halloween bags with this mix, tie up with a cute ribbon and attach a little tag. This would be great for Halloween treats at your kid's class parties, and if there's a nut allergy or issue, simply eliminate! This is a treat that will have every witch and mummy making their way to your door!
Goblin Goodies (
Fall Trail Mix
)
Ingredients:
1 Cup lightly salted peanuts
1 Cup pretzels, roughly chopped
1 3/4 Cup candy corn
3/4 Cup baked pumpkin seeds
1/2 Cup Halloween chocolate chips
1/2 Tsp water
Directions:
Line a baking sheet with wax or parchment paper and set aside.
Spray a large bowl with non-stick cooking spray and add peanuts, pretzels, and pumpkin seeds and stir to combine. Spray a spatula with non-stick cooking spray and set aside.
Place caramels and water in a microwave safe bowl and heat in 25 second intervals, stirring after each interval, until melted. Once the caramel is completely melted and smooth, pour over the mix and stir, using the prepared spatula. Once the mixture is coated entirely, add the candy corn and chocolate chips and stir to combine.
Spread the mixture evenly on the prepared baking sheet and allow to set for at least an hour, until the caramel is dry. Place in an airtight container to store. Lasts for about 1-2 weeks.
Recipe source: A Lynsey Original