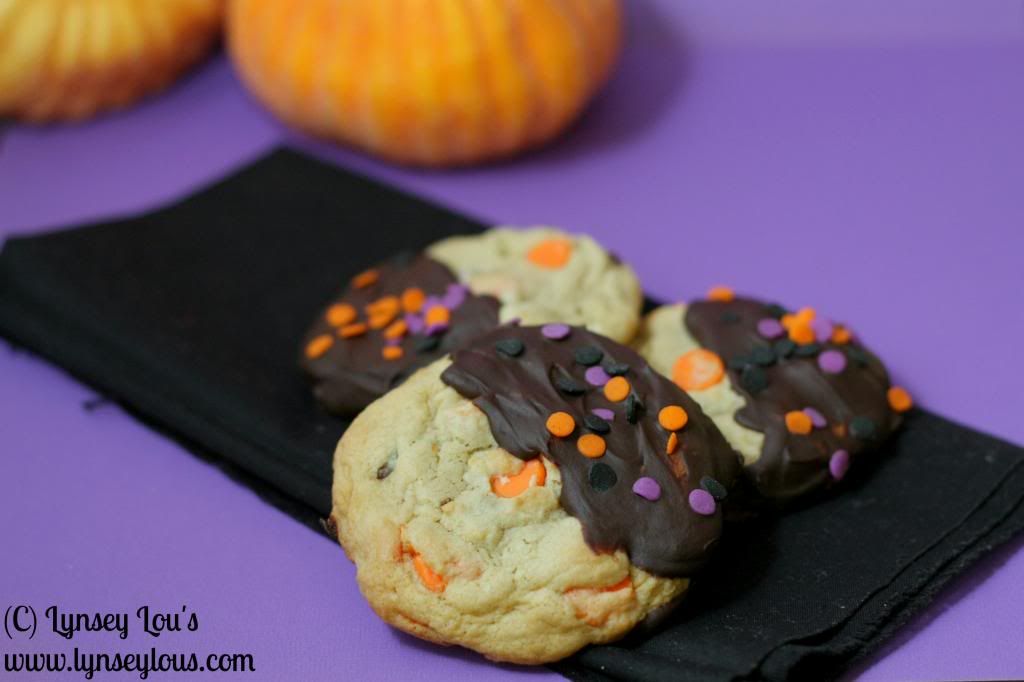 Chocolate chip cookies are a classic, to say the least. They are also a favorite around my house. I love trying different varieties of cookies, and while I enjoy them and enjoy trying new things, sometimes you just can't beat the classics. I find myself craving a really good, basic chocolate chip cookie...A LOT.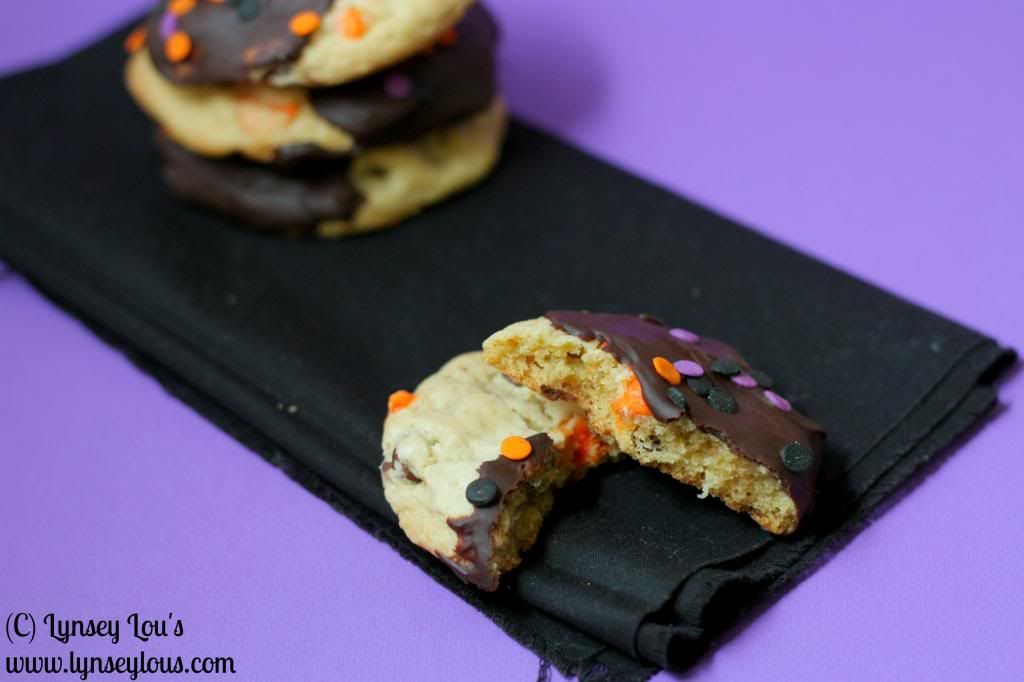 Even though I do love the traditional chocolate chip cookies, it doesn't mean I'm not always in search of
the ultimate and BEST
chocolate chip cookie recipe. Well, remember a few days ago when I shared my
salted caramel apple chocolate chip cookies?
The cookie base I used for those was amazing, to say the least. Soft, chewy, fluffy, slightly crisp around the edges. This cookie checked all those boxes. Not only was it a hit for me, but it scored major points with everyone that tried one of those cookies. Since that recipe was a slam dunk, I decided to take that cookie base, make a few minute changes and make soem chocolate dipped halloween cookies.
These cookies were just as good as
salted caramel apple chocolate chip cookies
. I truly believe that I've found the ultimate cookie base. That cream cheese adds so much flavor, without being overpowering and gives these cookies a little extra umph. The semi sweet chips compliment the flavor of the actual cookie perfectly. Making these the best chocolate chip cookie I think I've ever sunk my teeth into.
Using halloween chocolate chips and a few festive sprinkles really helps to make these cookies festive. The orange and brown chips really shine in contrast with the golden dough color. Dipping this cookie in chocolate brings another element to the cookie and those sprinkles put it right over the top with the bright colors popping off the dark chocolate coating. These cookies would be sure to please all those ghosts, goblins and zombies floating around during the month. No tricks here, just all treats!
Chocolate Dipped Halloween Chip Cookies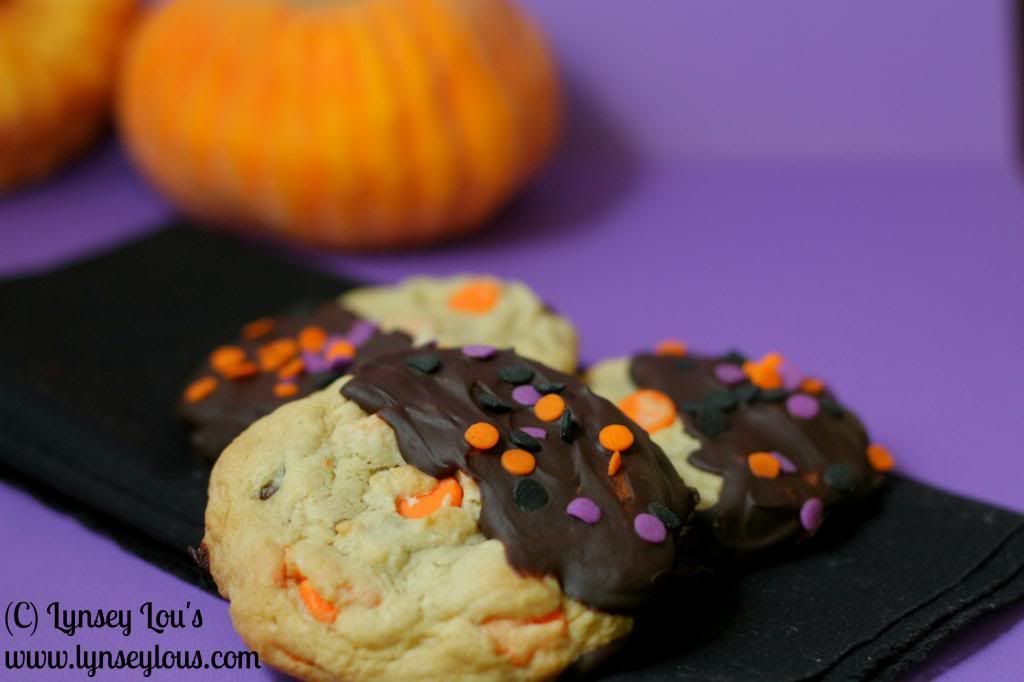 Ingredients:
2 1/2 Cups pastry flour
1 1/2 Tsp baking powder
1/2 Tsp baking soda
1/4 Tsp salt
1/4 Cup (4 oz) cream cheese
1 1/2 Sticks (3/4 cup) unsalted butter, room temperature
1/4 Cup granulated sugar
1 1/4 Cup brown sugar
2 Eggs, room temperature
1 Tsp vanilla
1 Package milk chocolate chips
For the chocolate dip:
5 Oz semi sweet chocolate
1 Tbsp cream
1 Tsp corn syrup
Sprinkles, optional
Directions:
In a medium bowl sift together the flour, baking powder, baking soda and salt. Set aside.
Place cream cheese and butter in a large mixing bowl and beat on high until light and fluffy, about 1-1 1/2 minutes. Add the granulated and brown sugar and beat on medium to incorporate, once the ingredients are incorporated increase mixing speed and beat on high for 2 minutes.
Decrease the mixing speed to low and add the eggs, one at a time mixing until incorporated. Once both eggs have been incorporated, add the vanilla and mix until combined.
Slowly add the flour mixture, mixing each addition until incorporated. Once all the flour mixture is combined to the sugar mixture increase mixing speed and beat on high for 1 minute.
Add the chocolate chips, and stir to incorporate. Cover and allow to chill for at least 2 hours.
After the dough has had time to chill, remove from the refrigerator and preheat oven to 350.
Line the baking sheets with silicone baking mats, parchment paper or spray with non-stick cooking spray and set aside.
Scoop the dough, I used a 2 tablespoon scoop, and place on the prepared baking sheets leaving about 2 inches between each scoop of dough. Place in the preheated oven and bake for 8-10 minutes.
Remove from oven, allow to cool on the pan for 5 minutes. Remove from pan and transfer to cooling racks and allow to cool completely.
For the chocolate dip-
Line a work surface with parchment or wax paper.
Roughly chop the chocolate and place in a microwave safe bowl. Place in microwave and heat in 20 second intervals, stirring between each interval. Once the chocolate has begun to soften, add the cream and stir to combine. Return to the microwave and continue the process until completely melted and smooth. Add the corn syrup and stir to combine*.
Dip half of each cookie in the chocolate and place on the lined surface. Garnish with sprinkles, if desired. Continue process until all cookies have been dipped.
*The corn syrup adds a shiny finish to the chocolate. If you don't have any or desire not to use it the chocolate will still be fine.
Makes approximately 2 1/2 dozen cookies
Recipe source: A Lynsey Original