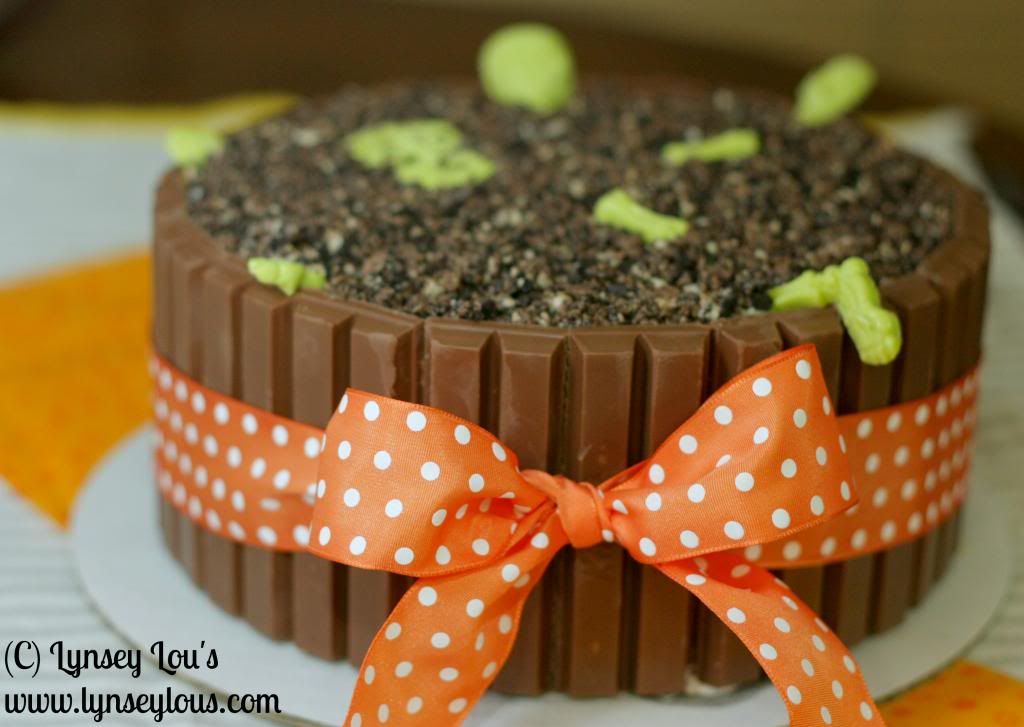 Well, we're wrapping up the
week of Halloween
and I hope it's been as much fun for you as it has for me. It's been a week full of no tricks, but all treats. We started with ultimate treat for adults,
Tootsie Roll Martinis
, followed by
chocolate dipped Halloween chip cookies,
goblin goodies,
then followed by a creative and decadent way to use up that leftover Halloween candy,
Extreme monster crownies.
This has been a week packed with tons of sweet treats. But we're not stopping now, to wrap up the week I've decided to make a delicious cake that is sure to get anyone in the Halloween spirit.
This cake isn't just any cake. It's a brown sugar layer cake. Unlike traditional cakes it's filled with a layer of (egg free) chocolate chip cookie dough. Oh yeah! Then it's covered in buttercream and KitKat candy bars surround the outer edges of the cake like little candy soldiers. It's wrapped up like a pretty present with a bright orange bow. But what really screams Halloween about this cake is the top. White chocolate skeleton pieces scattered across the top of the cake surrounded by the sweetest dirt you'll ever put in your mouth, a mixture of KitKats and Oreos.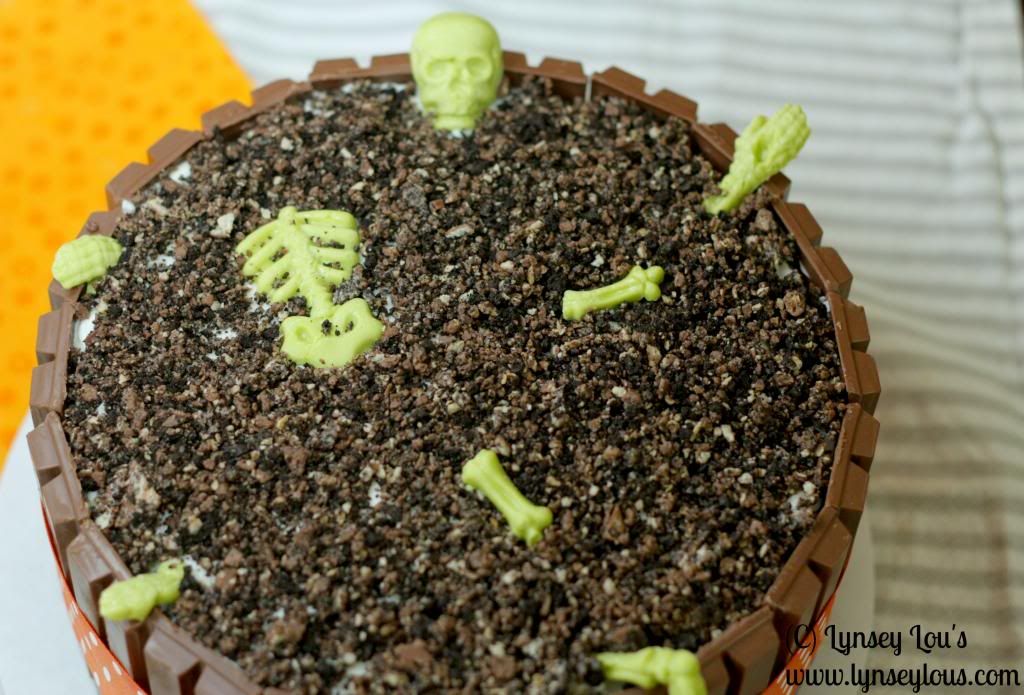 This cake not only helps us celebrate the end of the
week of Halloween
, but it's also to help celebrate a sweet little girl's 4th birthday party! My dear friend asked me to make a cake for her little girl's 4th birthday (can't believe she's already 4). We started tossing around ideas and then she showed me one of the cutest cakes, a cake with
pigs "swimming" in the mud.
I was instantly excited when I saw this. As we talked a little more we decided to try to make the cake fit a little more with the season and came up with this idea. We decided it would be so cute to have skeleton pieces in place of the pigs on the cake. I played around with a few ideas until I finally settled on this design.
I tried to keep it simple and not overcrowd the top with tons of skeleton pieces. I think I accomplished that perfectly. I spread the pieces here and there and place around with the placement until I got it perfect. I loved how it looked with some of the feet and arms hanging over the top of the wall. I think the thing that really sealed the deal and put this cake over the top was the cookie-candy dirt. Not only does it look realistic with the specs of light brown from the candy bar, specs of black from the wafer part of the cookie and tiny hints of white from the cream, but it also makes the skeleton pieces "pop" and really stand out.
Not only is it festive it tastes amazing. The brown sugar in the cake not only gives it a nice caramel-like flavor but makes the cake slightly gooey. The cake is perfectly moist, fluffy and full of flavor making it the perfect base to hold a healthy layer of cookie dough filling. All of that deliciousness is then sealed with a rich, sweet, smooth buttercream. That buttercream also acts as the glue to hold on all the KitKats. And the ribbon adds a perfect punch of color without taking away from the cake.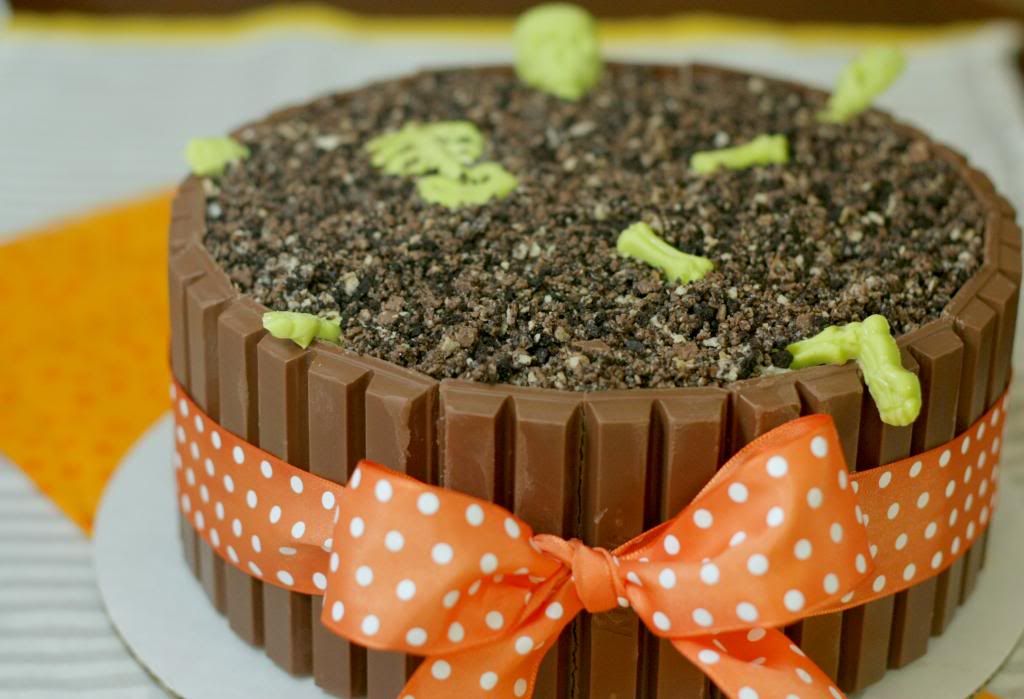 I loved making this cake. It was so much fun and I really enjoyed being able to customize it to fit the season. This is definitely a show stopping cake. Make sure this is the centerpiece at your Halloween party. Not only will everyone admire it but they'll love the cake. What isn't to love; cake, cookie dough and chocolate? This is a definite crowd pleaser!
Brown Sugar Cookie Dough Skeleton Cake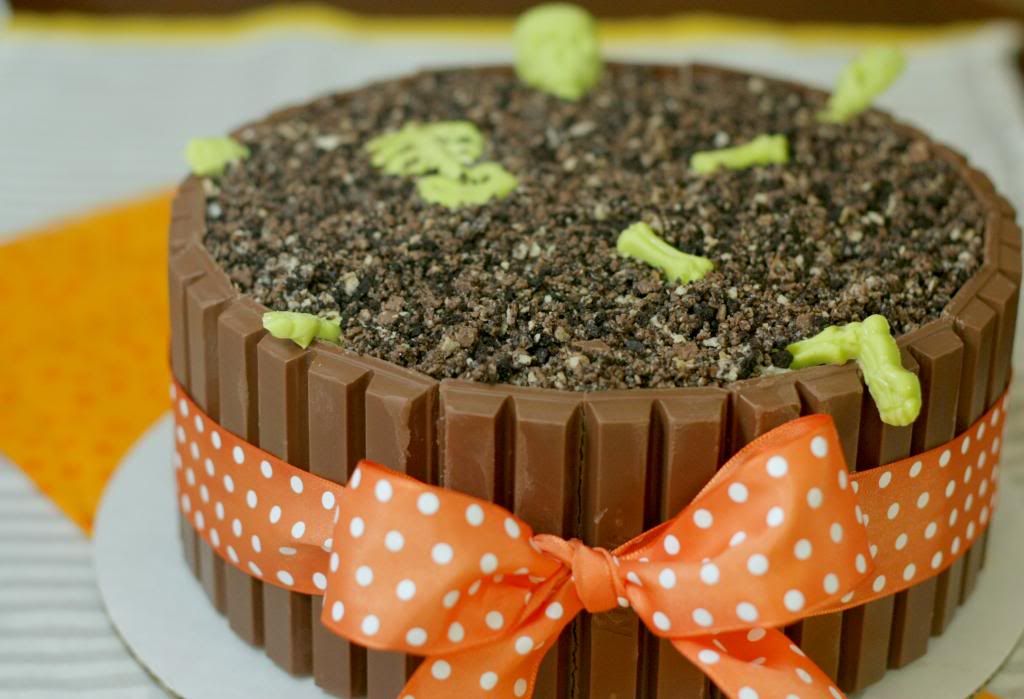 Ingredients:
For the cake-
3 Cups cake flour
1/1/2 Tbsp baking powder
1/2 Cup sugar
1 1/2 Cups brown sugar
1 Tsp salt
1 Cup unsalted butter, softened and cut into pices
1 1/4 Cups whole milk, divided
2 Eggs
6 Egg whites
2 Tsp vanilla
For the cookie dough filling-
3/4 Cup unsalted butter, room temperature
1/2 Cup sugar
1/2 Cup brown sugar
1/4 Cup heavy whipping cream
1 Tsp vanilla
1/2 Cup all-purpose flour
1/2 Tsp salt
1/2 Cup mini chocolate chip cookies
For the buttercream frosting-
1 Cup unsalted butter, room temperature
2 1/4 Cups powdered sugar
1/4 Cup heavy whipping cream
1/2 Tsp vanilla
For the "dirt"-
1/2 Cup roughly chopped KitKat candy bars
6 Oreo cookies
10 Packages of KitKat candy bars
Directions:
For the cake-
Preheat oven to 350. Grease and flour 3, 8inch pans. Set aside.
Place the flour, baking powder, granulated sugar, brown sugar and salt in a large bowl and mix on low to combine. Add the butter and 1 cup milk and mix on low until ingredients are incorporated. Increase mixing speed to medium-high for 1-2 minutes, until the mixture is light and fluffy.
In a small bowl combine the remaining 1/4 cup milk, eggs, egg whites, and vanilla and whisk to combine. Slowly add the mixture to the flour mixture in 3-4 increments, being sure to mix well after each addition.
Divide the batter evenly among the pans, place in preheated oven and bake for 20-25 minutes, until cakes are golden and toothpick inserted comes out clean. Remove from oven and allow to cool for 10 minutes in the pans. Transfer to cooling racks and allow to cool completely.
For the cookie dough-
Place the butter and sugars in a large mixing bowl and cream on medium speed for 2-3 minutes. Add the milk and vanilla and mix to combine. Add the flour and salt and blend to incorporate. Add the chocolate chips and stir to combine. Set aside.
For the frosting-
Place the butter in a large mixing bowl and beat on medium for 30 seconds. Add the powdered sugar, slowly and mix to incorporate. Add the vanilla and cream and mix to combine, increase speed to medium-high and beat for 1-2 minutes, until light and fluffy.
For the "dirt"-
Combine the KitKats and Oreos in the bowl of a food processor and pulse until everything is crumbled and resembles dirt.
To assemble-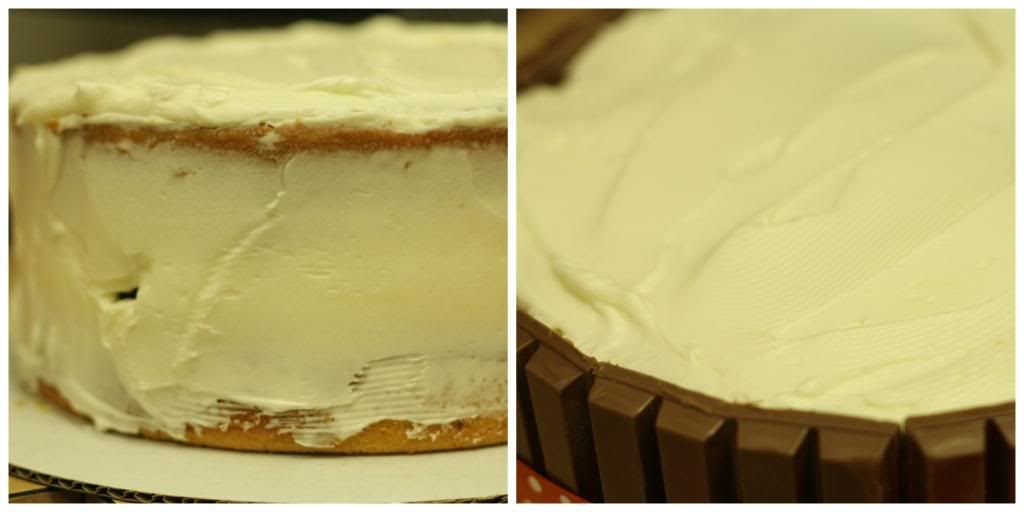 Place one cake on a cake board, cut to create a flat surface. Spread half of the cookie dough over the cake. Cut the top off another cake to create a flat surface and stack on the cookie dough layer. Spread the buttercream over the top and around the sides of the cake.
Break KitKat sticks, leaving 2 pieces attached to one another. Place the KitKats, side by side around the outside of the cake. Tie with a ribbon to help add a pop of color and secure the candy in place. Place skeleton parts (I used white chocolate and molded it in
these molds from Wilton),
pumpkins, tombstones or ghosts on top of the cake. Spread the "dirt around the decorations, being sure to completely cover the top of the cake.
Make a smaller skeleton cake or just enjoy the third layer of the cake and the remaining cookie dough.
Recipe source:
Buttercream- A Lynsey Original
"Dirt"-A Lynsey Original