Apple butter has long been one of my food loves, perhaps maybe one of my first food loves. As long as I can remember, anytime I encountered a jar of this stuff I went weak in my knees and haaaaad to have a taste, schmear or jar of it! Obviously the homemade stuff was (and still is) the best, but I wasn't picky (and am still not) when it comes to this stuff. Whatever, wherever...I'll take it.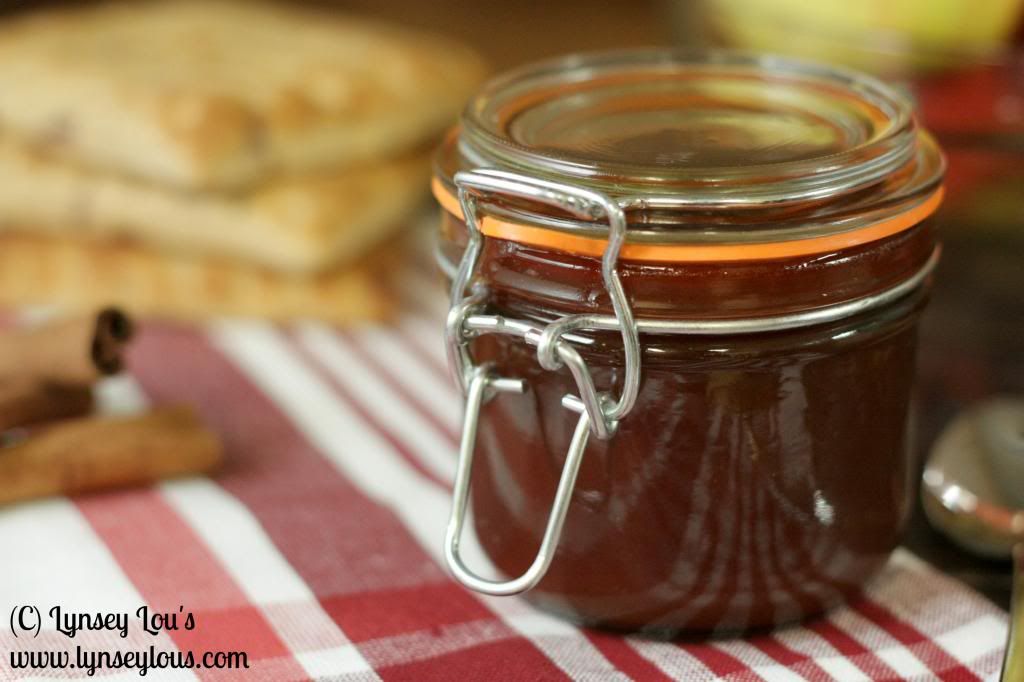 A few years ago Spencer and I went on vacation with my parents to Gatlinburg, Tennessee. I had done some research before we went and had a list of restaurants that received rave reviews that I wanted to try. There was one that intrigued me for a few reasons; one because of all the reviews but the one that really sealed the deal was the name
Apple Barn Cider Mill
. That name just screamed to me and then I read their menu; "apple fritters with a side of apple butter dipping sauce". That was it, I knew before we left Gatlinburg we had to run through Sevierville and visit this restaurant and see if it lived up to expectations.
Well, I got my wish and we ate breakfast at the
Apple Barn
our last day there on our way out of town. We pulled in and it was a small, little wooden building with a tin roof and the smallest parking lot ever and it was packed. That was an immediate good sign. We walked in, were seated and quickly ordered. And ohmygoodness, it hit the spot and surpassed any expectations I had. Everything was fresh, hot and
sooooo good!
And they had my weakness, that magical apple butter. This apple butter was beyond amazing and was probably some of the best stuff I've ever put in my mouth. Sweet, with a mixture of warm spices, smooth and a little creamy and simply mind blowing. I was in love with their apple butter. What's even better? They had a little shop right before you walked out the door. So what did I do? I stocked up on their apple butter and even a few extra jars for gifts. Yes, it's that good. So on the years we head back to Tennessee the
Apple Barn
is priority on our list of stops. Oh, yeah and they've done such a good business that they've moved locations and built not only a new restaurant but a separate store, along with a creamery, Christmas shop and I don't think their done yet. It's its own little "compound". Incredibly impressive. So the little barn is booming and it's all because of their quality products!
Since we head to Tennessee every other year for vacation, I'm not able to enjoy their apple butter yearly. (yes, I could order on-line...and I have, but it's just not the same as actually buying it there) So I figured it was due time to attempt my own, homemade apple butter. What better time to do so than apple season? I went to the market, stocked up on a few different types of apples, broke out the slow cooker and got to work. The end result, not only did my house smell like the epitome of fall but I had a smooth, creamy and spice packed apple butter that was pretty darn close to the stuff I enjoyed at the
Apple Barn
. This makes a perfect snack and is a wonderful addition to muffins, bread, biscuits...even pork chops (pork chops and apple sauce, how about apple butter???) or even by the spoonful. This would also make terrific gifts and favors. Just make sure to save a jar or three for yourself!
Crockpot Apple Butter
Ingredients:
6 1/2 Pounds apples; peeled, cored and chopped*
1 Cup granulated sugar
1 Cup packed brown sugar
3/4 Tbsp cinnamon
1/2 Tsp grated nutmeg
Pinch ground cloves
1/4 Tsp salt
1 Tbsp vanilla
Directions:
In a large bowl combine both sugars, cinnamon, nutmeg, cloves and salt and stir to combine. Working in batches, place apples in sugar mixture and toss to coat. Place the sugar covered apples in the crockpot and repeat process until all apples are coated. Pour the remaining cinnamon sugar mixture in the crockpot over the apples.
Turn the crockpot on low and cook the apples for about 10 hours, stirring occasionally until the mixture has thickened and is dark brown in color.
Once the mixtured has thickened, add vanilla and stir to combine. Leave the mixture uncovered and continue cooking on low heat for an additional 2 hours.
Using an immersion blender, puree the apple butter until smooth. If you do not have an immersion blender, you may accomplish the same result with a blender. Work carefully in small batches and pulse until pureed.
Spoon the mixture into sterilized jars and seal with canning lids. Refrigerate for up to two weeks or freeze. Alternately, place sealed jars in a large pot of water, bring to a boil. Once water reaches the boiling stage start the timer and boil for 10 minutes. Carefully check the lids to make sure a seal is formed (the middle shouldn't pop up and down). If the lids are sealed, transfer to a towel lined counter and allow to cool. If the lids still aren't sealed return water to a boil and repeat the boiling process.
*For the apples I used 1 1/2 pound Granny Smith, 1 1/2 pounds Gala, 2 pound of Honeycrisp, 1 1/2 pounds fuji. If you can't find Honeycrisp Pink Ladies would subsitute wonderfully.
Recipe source:
My Baking Addiction