The first "official" day of fall is right around the corner, but you couldn't tell my looking at thermometers in my neck of the woods or looking at my garden in my back yard. We've been in the mid 90's for the past week and my garden is still full of jalapenos, bell peppers, fresh basil, chives, large tomatoes and those delicious little grape tomatoes. I honestly think the garden is actually doing better now than it has all season, go figure! So, needless to say, we still have tons of fresh veggies at our fingertips.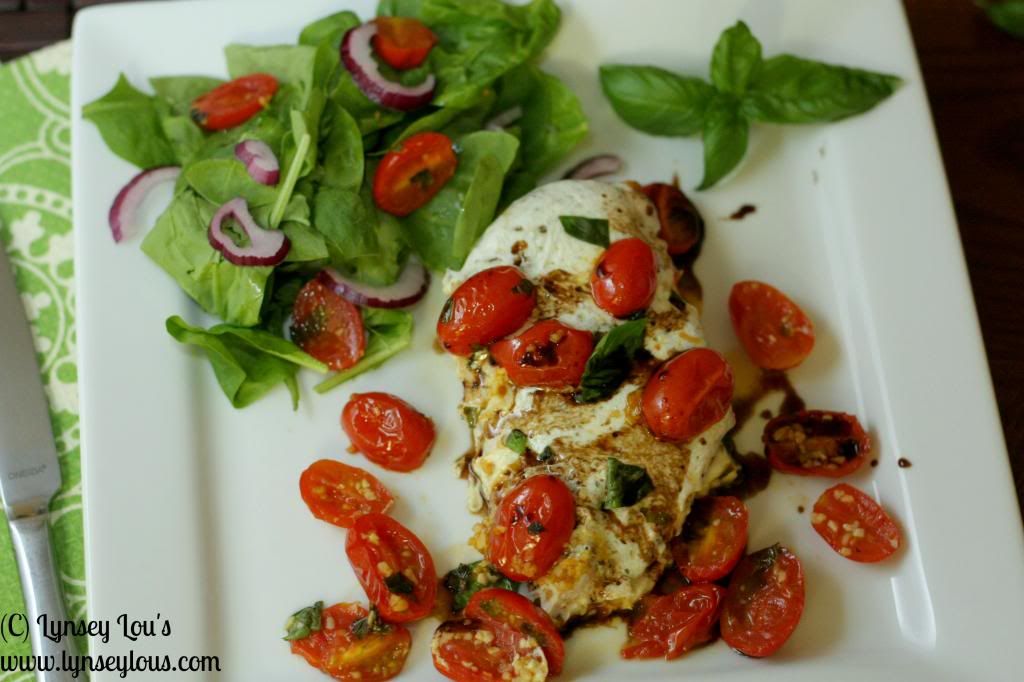 When I came across
this
recipe on
The Novice Chef's Blog
, it was a no-brainer, I knew I had to make this. And soon. Not only did I have an abundance of fresh tomatoes just waiting to be used, I also love love love Caprese salad. So combining tender juicy chicken with this salad just had to be a match made in heaven.
Let me just say this recipe is ahhhh-mazing. It's basic, simple flavors that are big and bold and work wonderfully together. It's all the elements of a classic Caprese salad served over the top of a chicken breast. Simple, yet genius.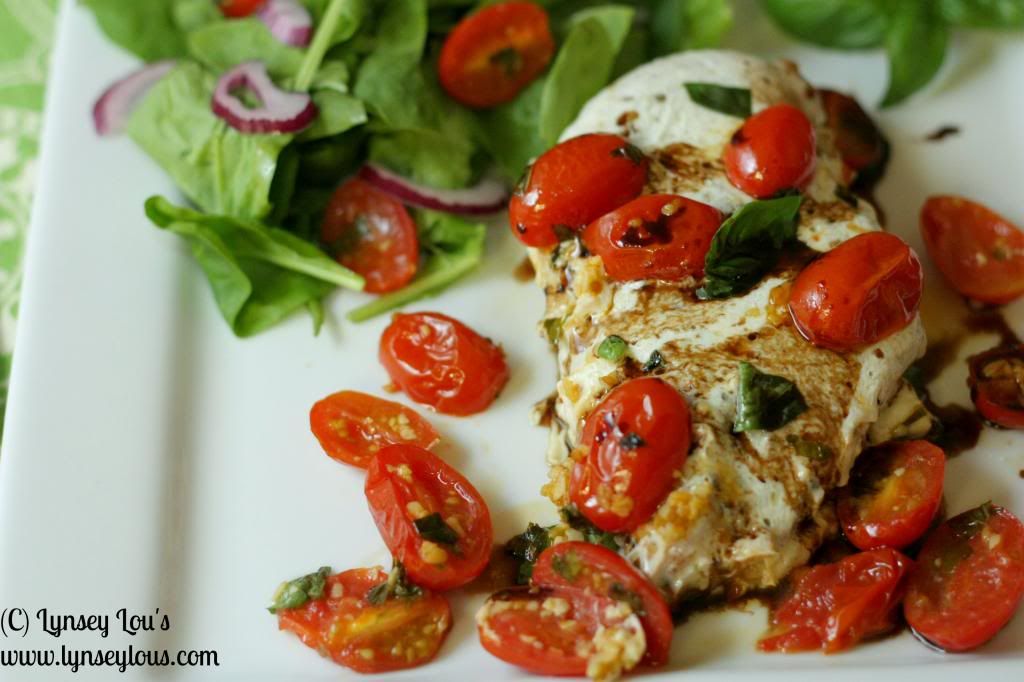 This meal comes together in no time. Just saute the chicken in a large skillet. While the chicken is cooking the tomatoes are sauteed in olive oil and garlic (yum) until they are tender. Once the chicken is cooked thoroughly it's the topped with two healthy slices of fresh mozzarella (oh yeah!), and then the tomato mixture is poured over the top. The cheese is then given a chance to melt, and once that happens it not only becomes soft and gooey, but adheres to the chicken while holding some of those tomatoes in place. A little drizzle of balsamic vinegar to top everything and it truly puts this meal over the top. I love balsamic and could probably drink the stuff, so I added a little bit more since I'm
slightly
addicted to the stuff and have the mindset that it truly does make anything and everything better!
This is one of those meals that goes from stove top to table in about 20 minutes, making it ideal for a weeknight meal. It's comprised of basic ingredients that can be found in any grocery store. Simple is the name of the game; I served this with a green salad but a side of brown rice, buttery pasta, or garlic rice would compliment this chicken too. All I can say is you need to try this, and soon, you need this chicken in your life!
Caprese Chicken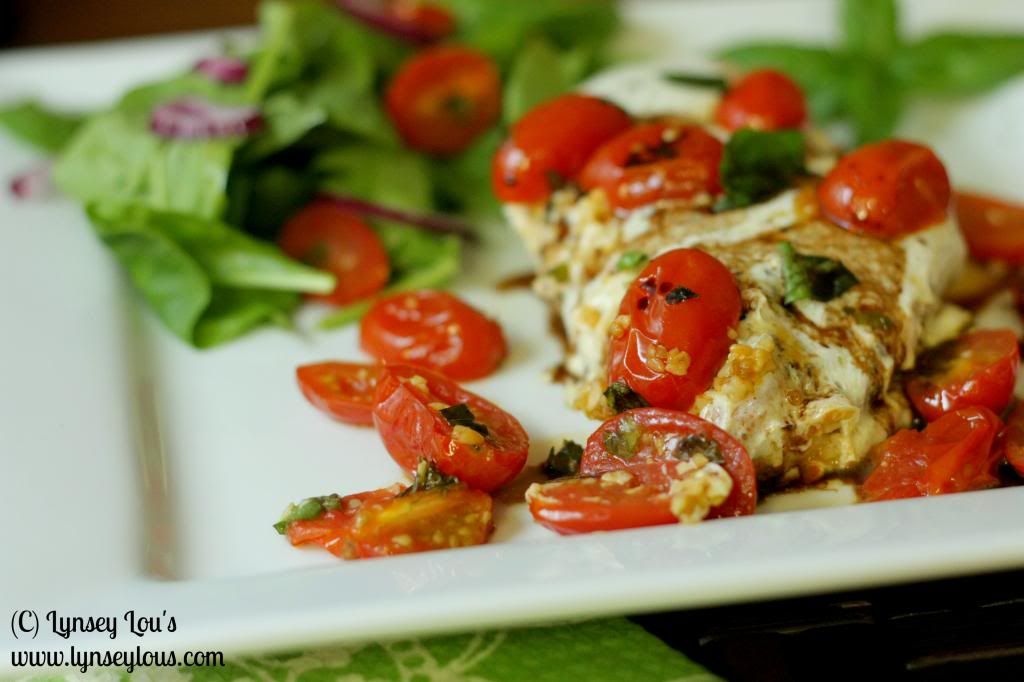 Ingredients:
4 Boneless, skinless chicken breasts
Kosher salt
Freshly ground black pepper
2 Tbsp olive oil
3 Large garlic cloves, minced
2 Pints cherry tomatoes, halved
10 Large basil leaves, finely chopped
8oz fresh mozzarella, sliced 1/2 inch thick
Balsamic vinegar, to taste
Directions:
Season both sides of each chicken breast with salt and pepper and set aside.
Place a large skillet over medium-high heat, add a tablespoon of olive oil and allow to warm. Once the oil is heated, add the chicken, cover pan and cook for 10 minutes. Once the cooking time has elapsed, turn the chicken and continue cooking until the chicken is cooked throughout, or reached an internal temperature of 165.
Meanwhile, place a medium saute pan over medium-high heat. Add the remaining 1 tablespoon of olive oil to the pan and allow to heat. Add the garlic and cook for about 45 seconds, until fragrant. Add the tomatoes and continue cooking until the tomato skins begin to soften and become slightly wrinkled, about 5 minutes. Remove the pan from heat, add basil and stir to combine. Set aside.
Once the chicken is cooked through, reduce heat to medium-low and place 2 slices of mozzarella on top of each chicken breasts. Pour the tomatoes over the cheese topped chicken, cover the pan with a lid and allow mozzarella to melt, about 1-2 minutes.
Lastly, drizzle the chicken with balsamic vinegar and serve.