If I've said it once, I've said it a million times, I'm a sucker for cookies. I just love them. I'm not picky about the type either, as long as it's a delicious, chewy cookie I'm happy. I typically lean towards the ones with chocolate...because we all know I have a weakness for chocolate, but as a general rule I'll eat pretty much any type of cookie. They are like little round, discs of joy. They are like a little present that is just waiting to be bitten and enjoyed to make someone's day that much better.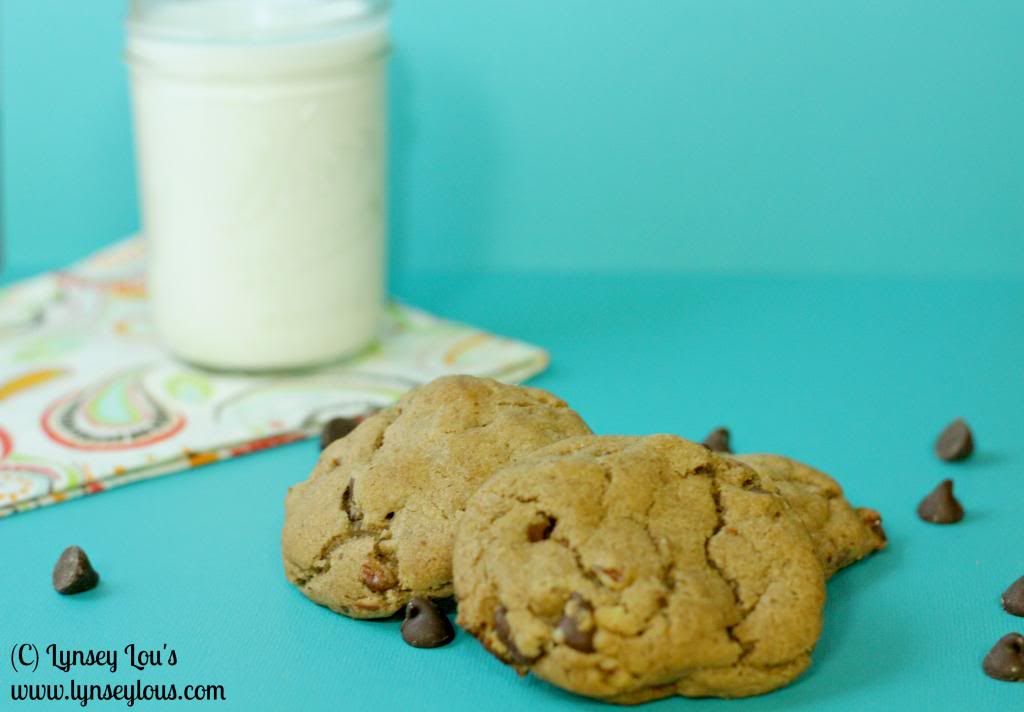 While I LOVE just a regular ol' cookie, a stuffed cookie just takes things to a whole new level. It's like two presents in one. You have the cookie, which now acts like wrapping paper that wraps up the surprise that's waiting inside. I'm telling you folks, it just doesn't get much better than this!
This recipe comes from Jamie of
Mom'sTestKitchen
. I was assigned Jamie's blog for this months secret recipe club assigment. Jamie is a wife, mom and a lover of food who started her blog as a way to keep her recipes organized and to get rid of stacks and stacks of printed recipes that seemed to be piling up faster than she could make them. I enjoyed "getting to know" Jamie this month and looking through all of the delicious recipes she has on her blog. I was intrigued my so many of her recipes, but in the end my sweet tooth prevailed and I opted for these stuffed chocolate chip cookies.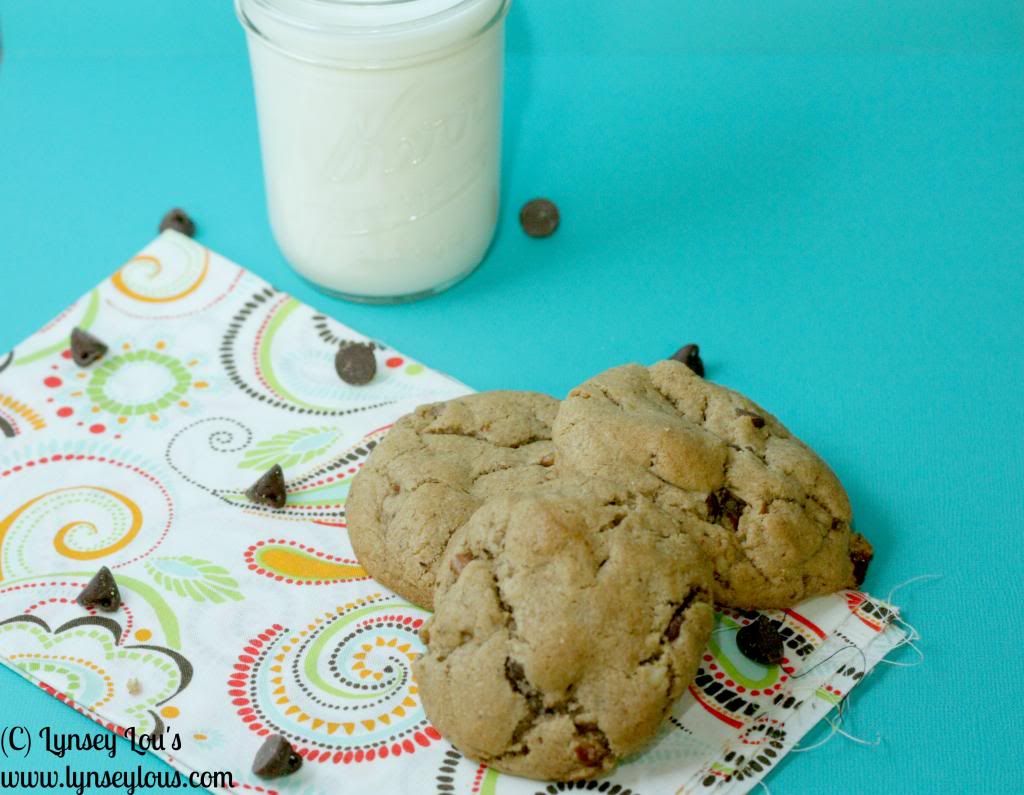 Boy am I glad that I decided to make these cookies. They are...simply amazing. A delicious, chewy chocolate chip cookie that is stuffed with salty and crunchy pretzels and peanut butter. You know I'm a sucker for that sweet and salty combo, and these cookies satisfy that craving perfectly! The original recipe calls for pretzel peanut butter sandwiches, but I opted for a regular ol' mini pretzel with a dollop of peanut butter. These are simply amazing, and needless to say, a mouthful. I loved these and I'm so glad I found this recipe on
Jamie's
blog. I had been craving something sweet and salty and this fit the bill perfectly!
Peanut Butter Pretzel Stuffed Chocolate Chip Cookies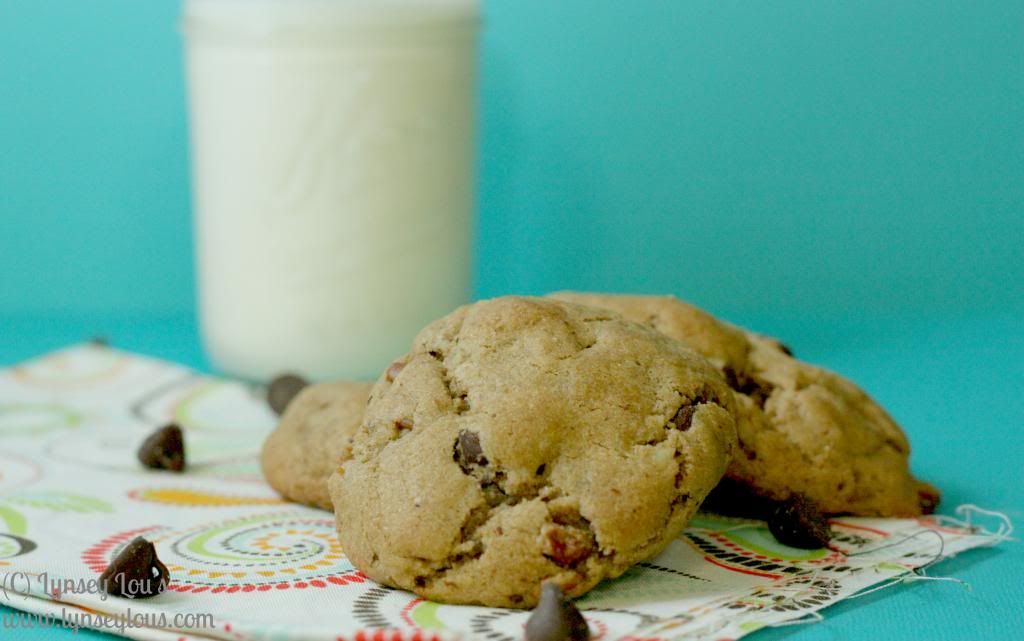 Ingredients:
1/2 Cup (1 stick) unsalted butter, room temperature
3/4 Cup brown sugar
1/4 Cup granulated sugar
1 1/2 Tsp vanilla extract
1 Egg
1 Egg yolk
1 3/4 Cups + 2 Tbsp flour
1 Tsp baking soda
1/2 Tsp salt
1 Cup chocolate chips
12 Mini pretelzs
1/4 Cup + 2 Tbsp peanut butter (creamy or crunchy)
Directions:
Preheat oven to 350. Line a baking sheet with a silicone baking mat and set aside.
In a medium bowl sift together the flour, baking soda and salt and set aside.
Place butter, brown sugar, and sugar in a large mixing bowl and beat on high until light and fluffy, about 2 minutes. Add the egg, egg yolk, and vanilla and mix to combine. Slowly add the flour mixture and mix until just combined. Add the chocolate chips and stir to combine.
Place a rounded tablespoon full of dough onto the prepared baking sheet, slightly flatten. Place a pretzel on top of the dough, place half a teaspoon peanut butter on top of the pretzel. Place another rounded tablespoon of cookie dough over the peanut butter and pinch the edges of the cookie dough together to seal the pretzel and peanut butter inside.
Place in the preheated oven and bake for 8-9 minutes. Remove from oven, allow to cool on pan for about 5 minutes, remove to cooling racks and allow to cool completely.
Recipe source: adapted from
Mom's Test Kitchen
,
cookie dough-A Lynsey Original