I have some exciting news, folks! Yesterday I made my television debut. Can you guess what it was for? I won't keep you waiting. It was to talk about my blog! My little, ol' blog. Eeeeek! This little debut has been in the works for a few months. Can I just say I was beyond flattered when I recieved an email from the morning producer at a
local news station
? My jaw literally dropped when I read the email and learned that they were interested in me and my blog. I quickly composed myself and responded to let her know that I would love the opportunity to appear on their show to talk about my blog and food. I mean who doesn't love to talk about food? After much correspondence we nailed down a date and time and a few other details. Once all that was taken care of it was a matter of me planning what to make to present on the segment. That was the hard part!
I started browsing recipes on my blog, recipes I had bookmarked and recipes that I had been developing. I wanted it to be perfect, this is t.v. people! I knew I wanted to present at least three things, but I didn't want it to be three of the same thing. I finally determined two of the three, one being this skillet cookie. I decided on the skillet cookie since A) I am such a fan of cookies and B) since I've been on a skillet cookie kick lately (that's a tongue twister!). A cookie of some sort had to make an appearance! The second item I knew I wanted to bring was the
Samoa Monkey Bread.
This monkey bread was a hit with Spencer and Tucker as well as my brother and sister-in-law...and guys on the news too!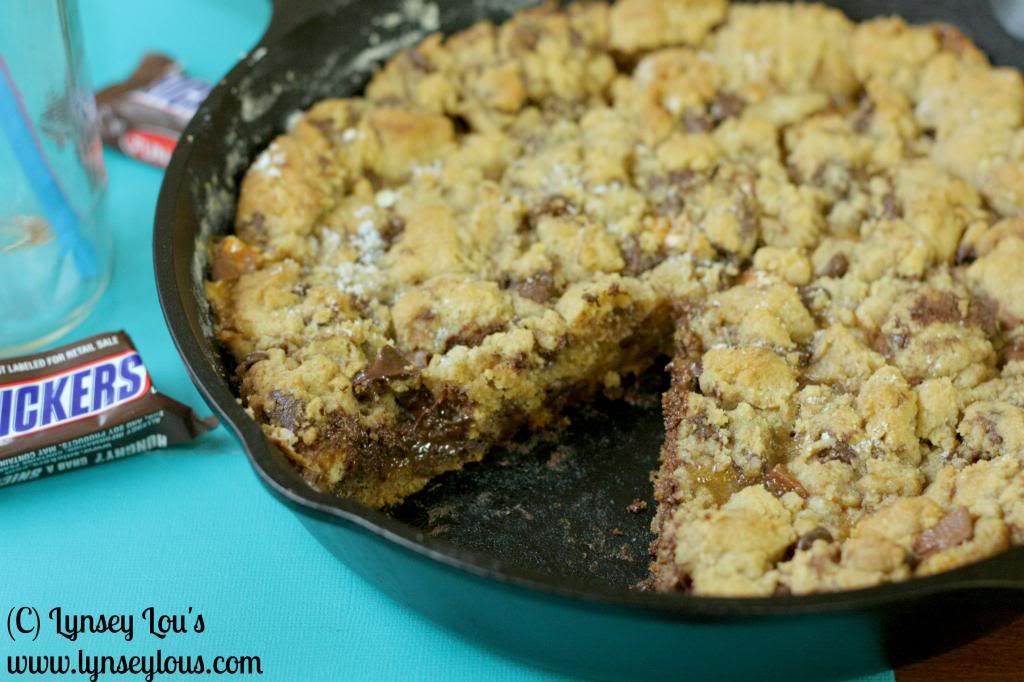 The third item was the one throwing me for a loop! What do I do? Another baked good? Another sweet dish? A dip? The wheels in my little ol' head were just a spinning. I finally decided on a dip. But not a savory dip, a sweet dip of course. I mean these people had been up since before the crack of dawn, they needed sugar, they needed a boost and I was just the person to provide the goodies! So the last thing I decied to make was chocolate chip heath cookie dough dip (to be posted next week!).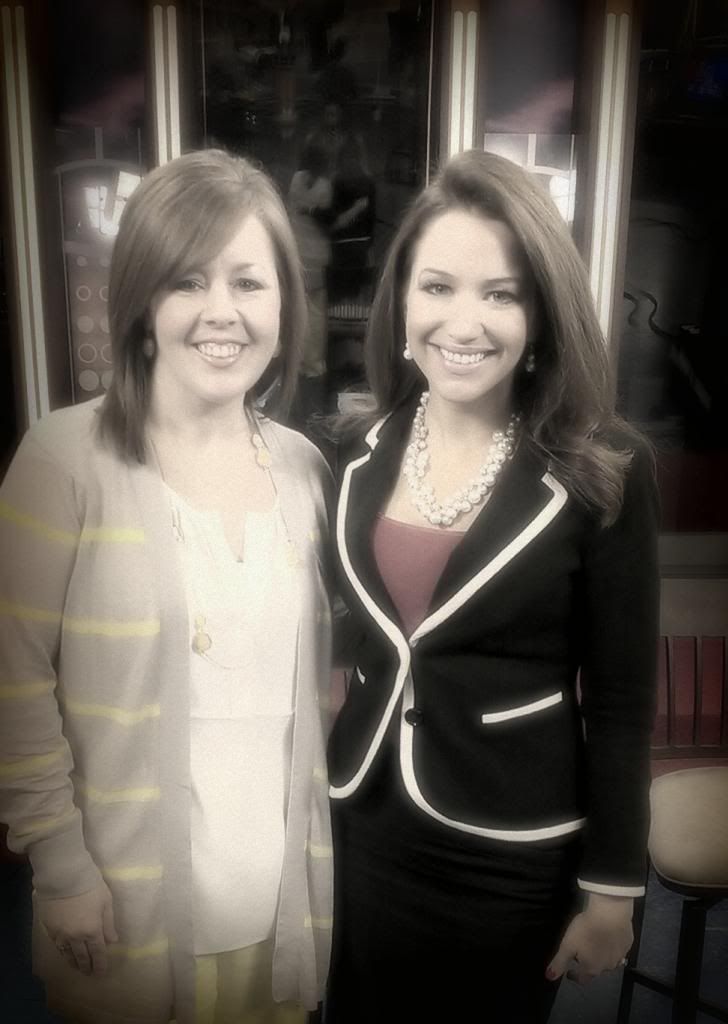 Me and Mallory after the segment. How cute is she?
So now that I had the date, time and recipes it was a matter of testing the recipes and making sure everything was in order. We needed to practice a little quality control and that meant my family and friends had to sacrifice and taste all these things I was making. It's a hard job, but someone has to do it and I have the support system that will "belly up" and take one for the team!

This skillet cookie is amazingly delicious and simple! Two things I love in a recipe; one that's not a lot of fuss to assemble and that tastes oh. so. good! This skillet cookie fits that bill on all levels. It's a one pot dish, literally. All the mixing and cooking takes place in a cast iron skillet. No mixer or fancy tools needed here. It's a basic chocolate chip cookie recipe that is mixed up and baked in a skillet. A since it's in a skillet...that means bigger pieces which means more deliciousness to inhale in one sitting!
This particular recipe is taken up a few notches though...it's got good stuff between two layers of a chewy, chocolate chip cookie. I love a good chocolate chip cookie, I think I could eat my weight in them! Give me a chocolate chip cookie stuffed with caramel and Snickers and sprinkled with a little salt. Well, then I would just be in heaven. But let's not stop there. Let's not make a dozen or two small cookies, let's make one giant cookie and let's bake it in a skillet. Oh yeah! That's the good stuff!
I love love love this cookie right now. One of the best things about it is you can customize it with whatever add-ins you want. Reese's peanut butter cups, Milky Ways, caramel sauce and pecans, marshmallow cream...I mean the options are endless! This has quickly become a favorite in my house. It looks like it was a favorite in the news room too; I only had a slice left by the time it was all said and done! I'm sure it will become a favorite in your home too!
I had a blast on the show yesterday! All of the anchors, producers, camera techs and the rest of the staff were amazing. I was a bit nervous when I first got there, but everyone was no nice and quickly put my nerves at ease. I chatted with everyone before the segment, and when it was time to go on the air I was ready to chat about food! Thanks again to the amazing staff at
KARK4
for this amazing opportunity and experience!
Snickers Stuffed Skillet Cookie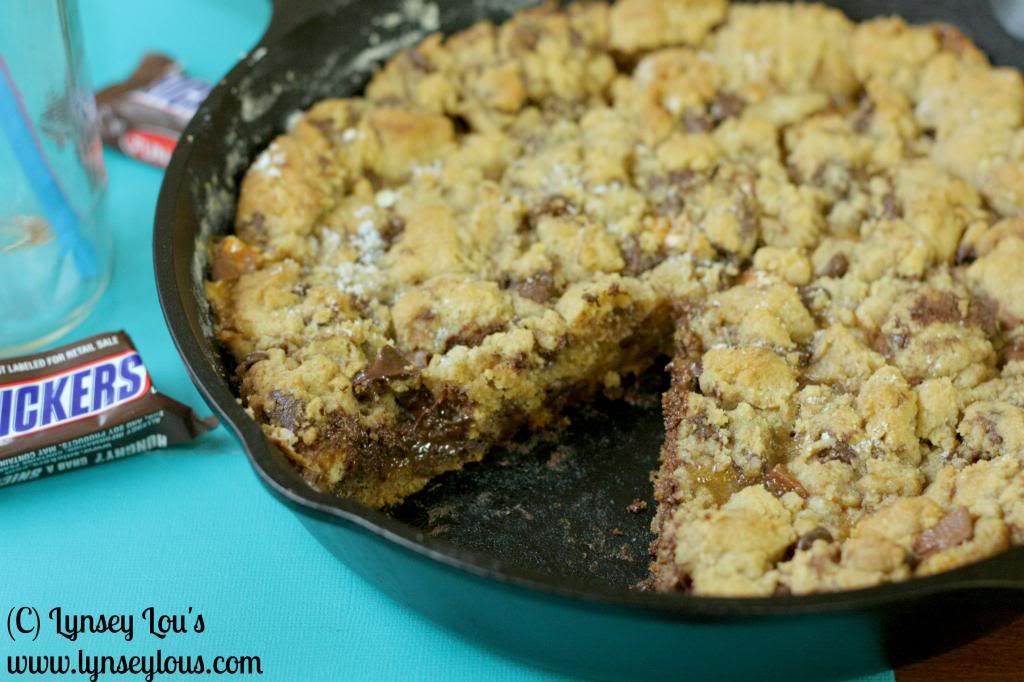 Ingredients:
1 Stick (1/2 cup) unsalted butter
1 Tsp vanilla
1 Egg
3/4 Cup brown sugar, packed
1/4 Cup granulated sugar
1 1/2 Cups flour
1/2 Tsp baking soda
1/4 Tsp salt
1 Cup chocolate chips
1 Cup (about 5 Fun Size) Snickers, chopped
1/4 Cup caramel sauce
1/2-1 Tsp sea salt
Directions:
Preheat oven to 350.
Place butter in a 12 inch skillet and place over low heat allowing butter to melt. Once the butter has melted remove skillet from heat, add the brown sugar and granulated sugar and stir to combine. Add vanilla and stir to combine.
Add the flour, baking soda and salt and stir to incorporate. Add the egg and mix. Stir in the chocolate chips.
Divide the dough in half, leave half in the pan and set the other half aside. Gently press the dough into an even layer in the skillet. Drizzle the caramel sauce over the cookie, followed by the chopped Snickers. Crumble the remaining dough evenly over the caramel and Snickers layer. Sprinkle with sea salt.
Place in the preheated oven and bake for 15 minutes.
Recipe source: A Lynsey Original