For this month's secret recipe club I was assigned Jane's blog,
the healthy beehive.
Jane is a midwesterner who has been transplanted in Colorado. She enjoys living in Colorado, loving life and living a healthy lifestyle. Her belief is that a healthy lifestyle can be maintained withouth giving up all of those foods you love. Her recipes reflect her mindset and she delivers tasty recipes that are healthy but leaving you longing for anything. Let me just say that I found myself scouring through her recipes just trying to narrow down my options; bread, sweets, appetizers, drinks and main courses, she's got it all. I found myself torn between two recipes that couldn't be more opposites; homemade kahlua and Ciabatta bread. Yes, complete opposites.
As the time ticked by I knew I needed to decide on what recipe I wanted to make today for the reveal day. I went back and forth I don't know how many times, but I finally decided on homemade kahlua. Yes, like the coffee liquor you buy from the store. I'm always intrigued when I see a recipe for something that is typically storebought that most people wouldn't even think about making at home. I definitely think Kahlua is one of those things that most people wouldn't even dream of making at home.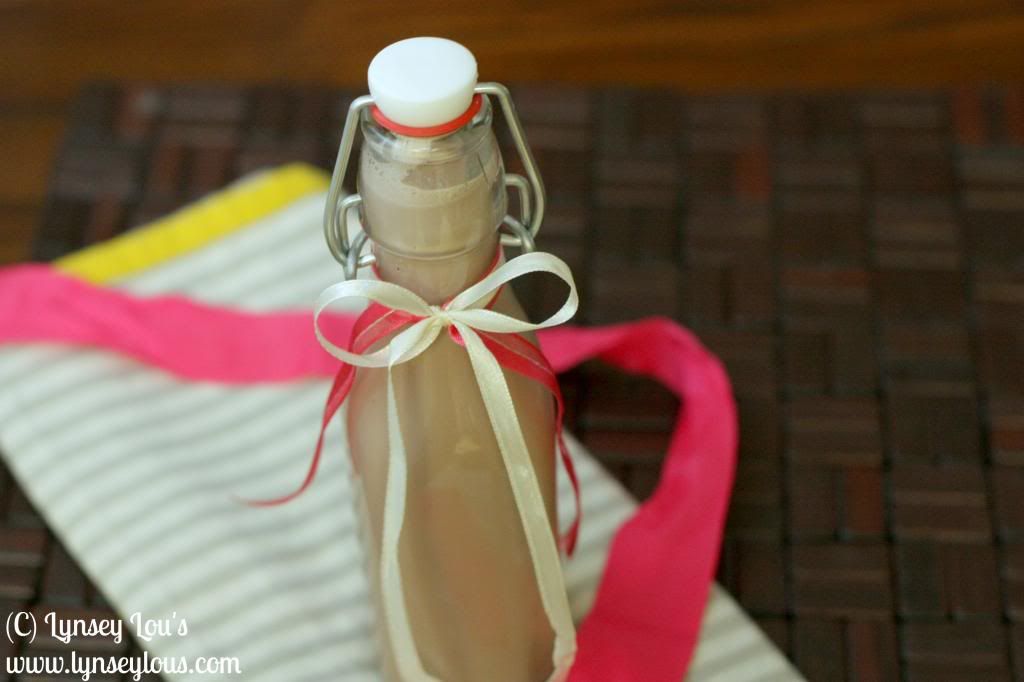 Believe it or not this is actually very simple to make. Even better, it only consist of 3 items and most people probably have all of these ingredients already in their home. The process of making this is so simple, a matter of minutes really. Simply combine the coffee and sugar and place over medium heat to allow the sugar to dissolve, just like making a simple syrup. After the sugar has dissolved, the mixture is cooled then combined with vodka. That's it! After these few simple steps you're on your way to mudslides, white Russians and maybe even a pick-me-up to add to your morning coffee to get you through a stressful day...ha!
Homemade Kahlua
Ingredients:
3 Cups strong brewed coffee
3 Cups sugar, or sugar substitute
3 Cups vodka
Directions:
Place coffee and sugar in a saucepan over medium heat. Keep mixture over heat, stirring occasionally until the sugar has dissolved. Remove from heat and allow to cool.
Place coffee mixture and vodka in a large jar and stir to combine. Store in the refrigerator.
*I went ahead an premixed some White Russians with this mixture!
Recipe source:
The Healthy Beehive,
adapted from
Chickens in the Road