Before I start, I have to say that I know technically Spring is here. I must also say that you honestly couldn't tell by the weather that we've had lately. It's been a roller coaster of temperatures with highs in the 30's and 40's some days and in the 70's the next. With the temperatures jumping all over the place it's hard to figure out what to wear let alone cook.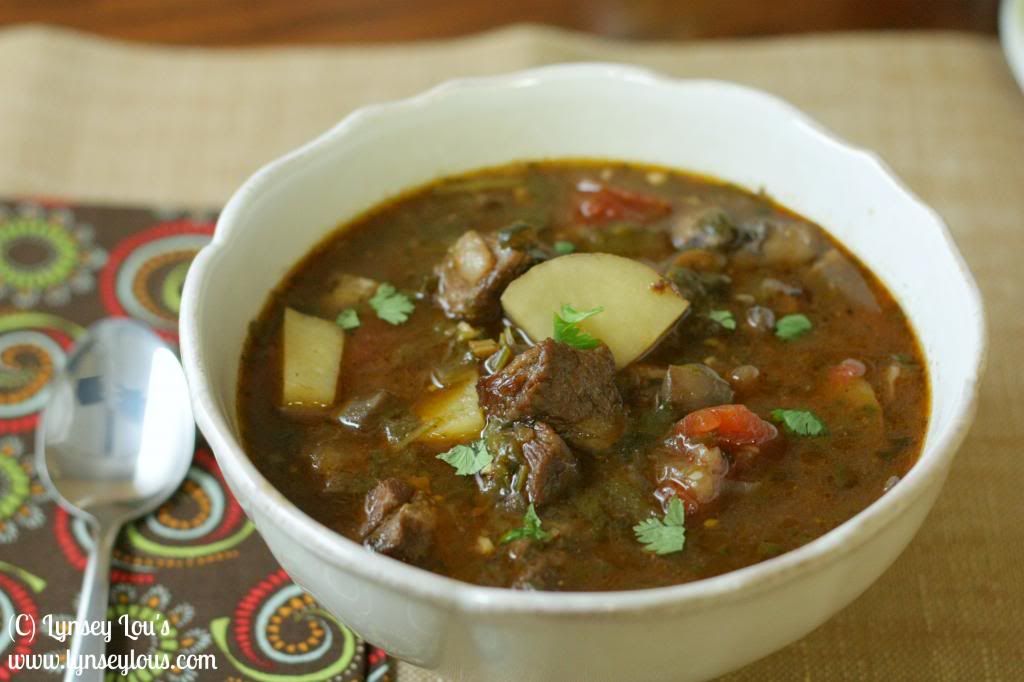 On those days that only reach the 30's and 40's cozy, comfort food is a must...regardless what the forcast is for the following day. I've got plethora of "cold weather" recipes stock piled that I look forward to seeing those cool, crisp days in the forcast. When I see that forcast pop up and see a cool day in the forcast I immediately start filing through my recipes trying to figure out which one I want to try.
Last weekend we were able to enjoy a beautiful, spring-like day on Saturday and then Sunday was extremely cold and rainy. Since it was going to be cold on Sunday, and I knew I would have a little more time than usual to prepare a meal I knew exactly what I wanted to make. I had been
eying
stalking this
beef stew
on
My Baking Addiction
since she had posted the recipe and I was just waiting for the perfect time to make it.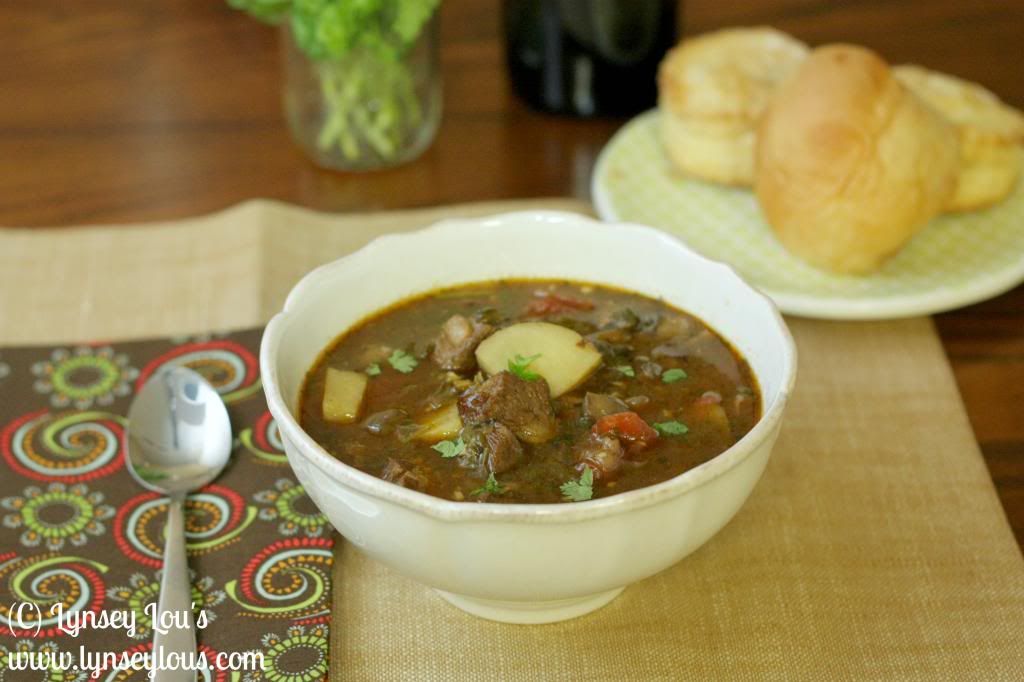 When I saw this stew it immediately called my name. A soup packed full of roasted poblano peppers, tender chunks of been and cilantro. How could this possibly be anything but amazing, right? I honestly think my mouth was watering from roasted poblano. I have a weakness for those things! They have a smokey flavor, they're not overly spicy and add the perfect amount of pepper flavor to any recipe. As I continued reading through the recipe, it was like I was reading a list of my favorite foods. Mushrooms? Check. Cilantro? Check. Tender pieces of beef perfectly seared? check. And the goodness just kept going.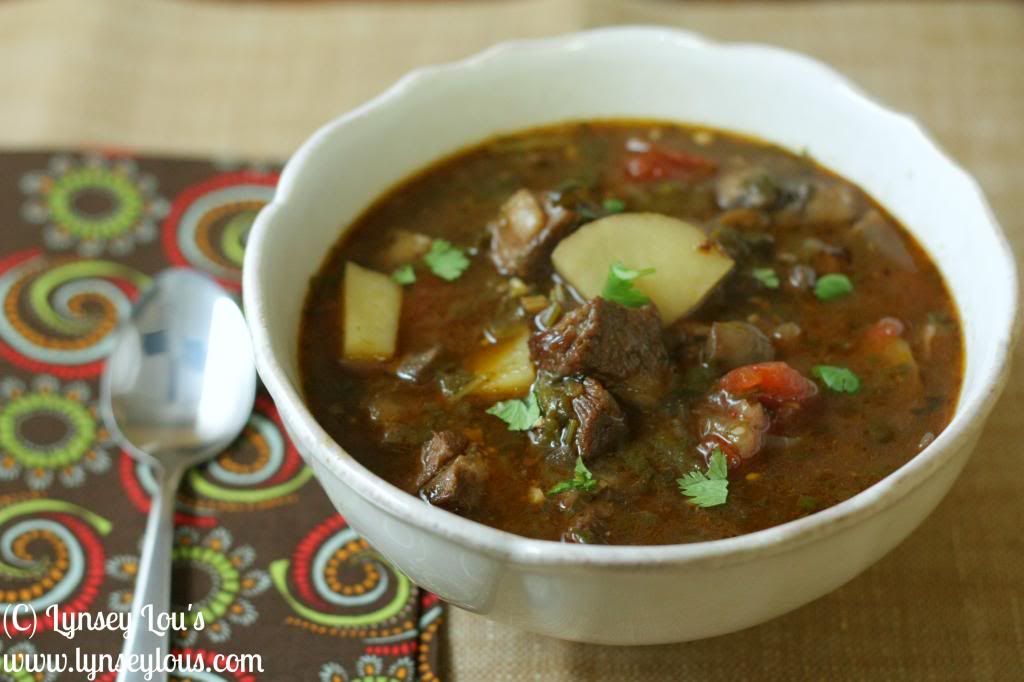 This soup is amazing and full of so many complex flavors that compliment one another beautifully. The beef is seared to create a wonderful crust on the outside while the center remains juicy and tender. That alone is perfect for me, but then the beef is simmered with the remaining ingredients and not only do all of the flavors combine and develop beautifully, the meat continues to get more and more tender. The stew has the perfect amount of richness, but also smokiness, a hint of spice, and the perfect amount of bright, earthy flavor from the cilantro. I served this soup with a loaf of crusty bread, and it was the perfect meal to enjoy on a cold, rainy day!
Roasted Poblano Beef Stew
Ingredients:
5 Poblano peppers
1 (2 1/2-3 pound) boneless beef chuck roast, cut into 1 inch cubes
2 Tbsp olive oil
1 Medium onion, chopped
3 Cloves garlic, minced
1 Lb baby bella mushrooms, cleaned and sliced
2 Tbsp unsalted butter
2 Cups (32 Oz) beef broth
1 (14.5oz) can diced tomatoes
1/2 Cup fresh cilantro, roughly chopped
2 Tsp worcestershire sauce
1 Tbsp chili powder
1 Tsp salt
1 1/2 Tsps ground cumin
1/4 Tsp red pepper flakes
1/2 Tsp freshly ground black pepper
2 Large potatoes, peeled and cut into 1 inch cubes
Directions:
Turn broiler on high. Place poblanos on a baking sheet and place under the broiler (about 4 inches from the heat), and broil until skins are blistered. Being sure to rotate throughout the broiling process to ensure the peppers are evenly cooked. Once the skins are blistered, remove from oven, place peppers in a bowl and cover with plastic wrap and allow to stand for 20 minutes.
Peel and discard the charred skins. Remove the stems and seeds and coarsely chop the peppers.
Meanwhile, place a large Dutch oven over medium-high heat, and brown beef roast in batches (searing a nice crust on the outside. I cooked each piece to medium wellness), about 2 minutes per side. Remove beef and keep warm. Once all the beef is browned, reduce heat to medium. Place onions in the pan and saute until tender, about 3 minutes. Add the garlic and cook an additional 30 second to 1 minute, until fragarent. Add butter and mushrooms and saute mushrooms for 5 minutes.
Add broth, tomatoes, cilantro, worcestershire, chili powder, salt, cumin, red pepper flakes, pepper, poblanos, and beef and stir to combine. Bring the mixture to a boil. Once a boil is reached, reduce heat, cover and simmer for 1 1/2 hours, until beef is tender. Add potatoes and cook for an additional 20-30 minutes, until potatoes are tender.
Ladel soup into bowls and top with additional cilantro, if desired.
Recipe source: Adatped from
My Baking Addiction
originally from
Taste of Home