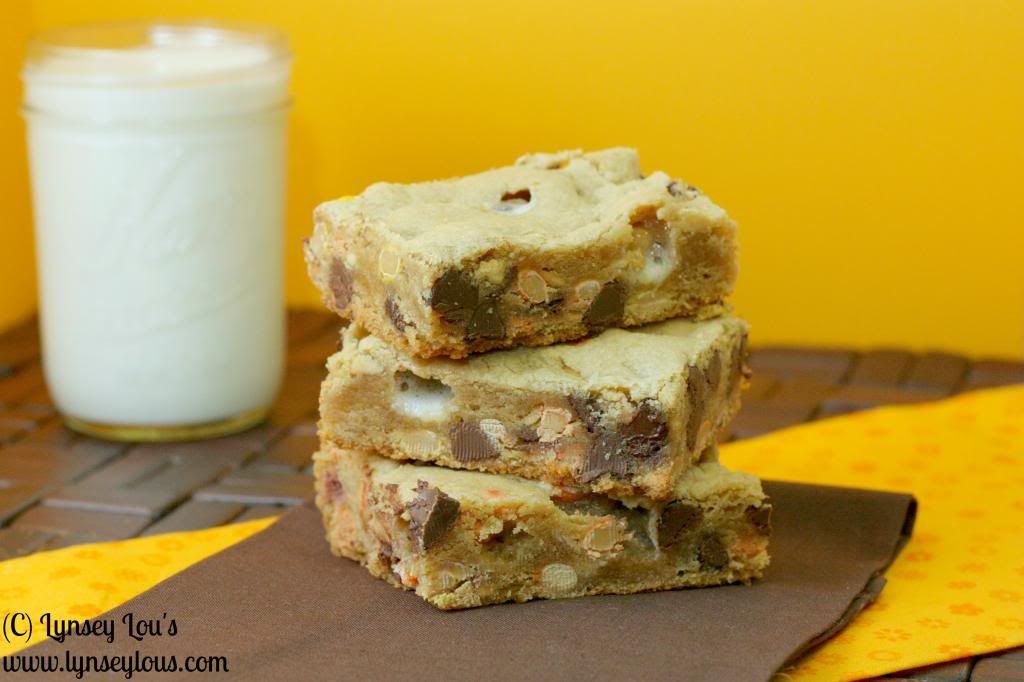 So how many of you are ready for daylight savings time? You know, I don't really mind the time change whenever we get to gain an hour because I'm all for an extra hour of sleep! But when the time comes to "spring forward" and I have to give up an hour...I dread it. I love that it gets darker later, but I just don't like giving up that precious hour of sleep. So, I guess you can tell that I'm not ready and I'm not looking forward to it.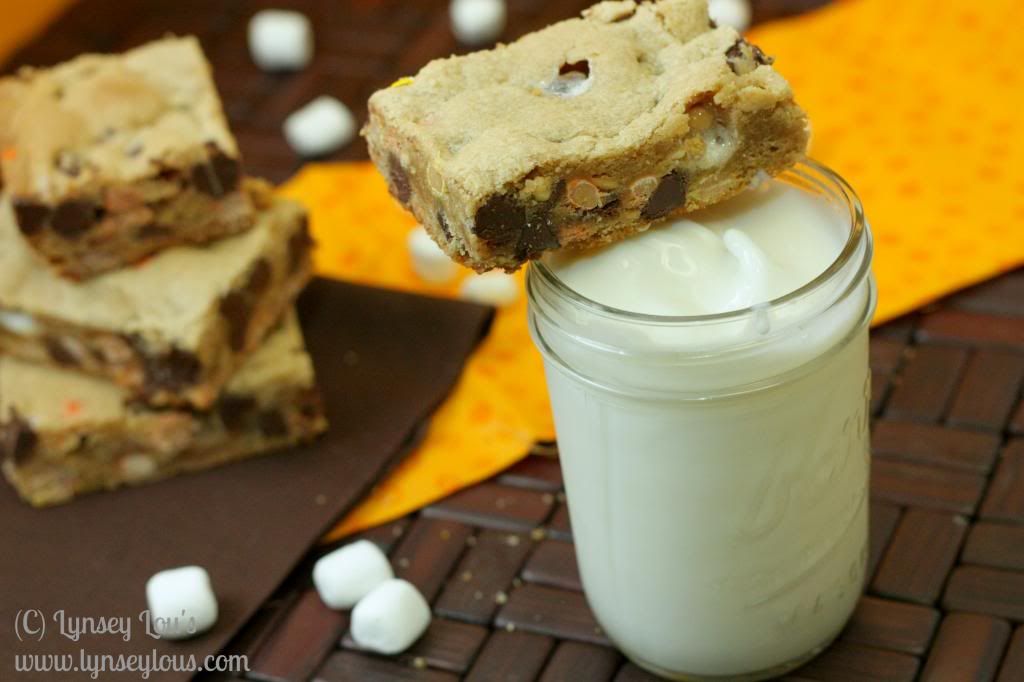 Since we'll be running on less sleep starting on Sunday, we need a fun and delicious way to perk up and have some energy. What better way to get a little boost than to enjoy a bar (or five) loaded with peanut butter, marshmallows and chocolate? I couldn't think of anything better! Can you?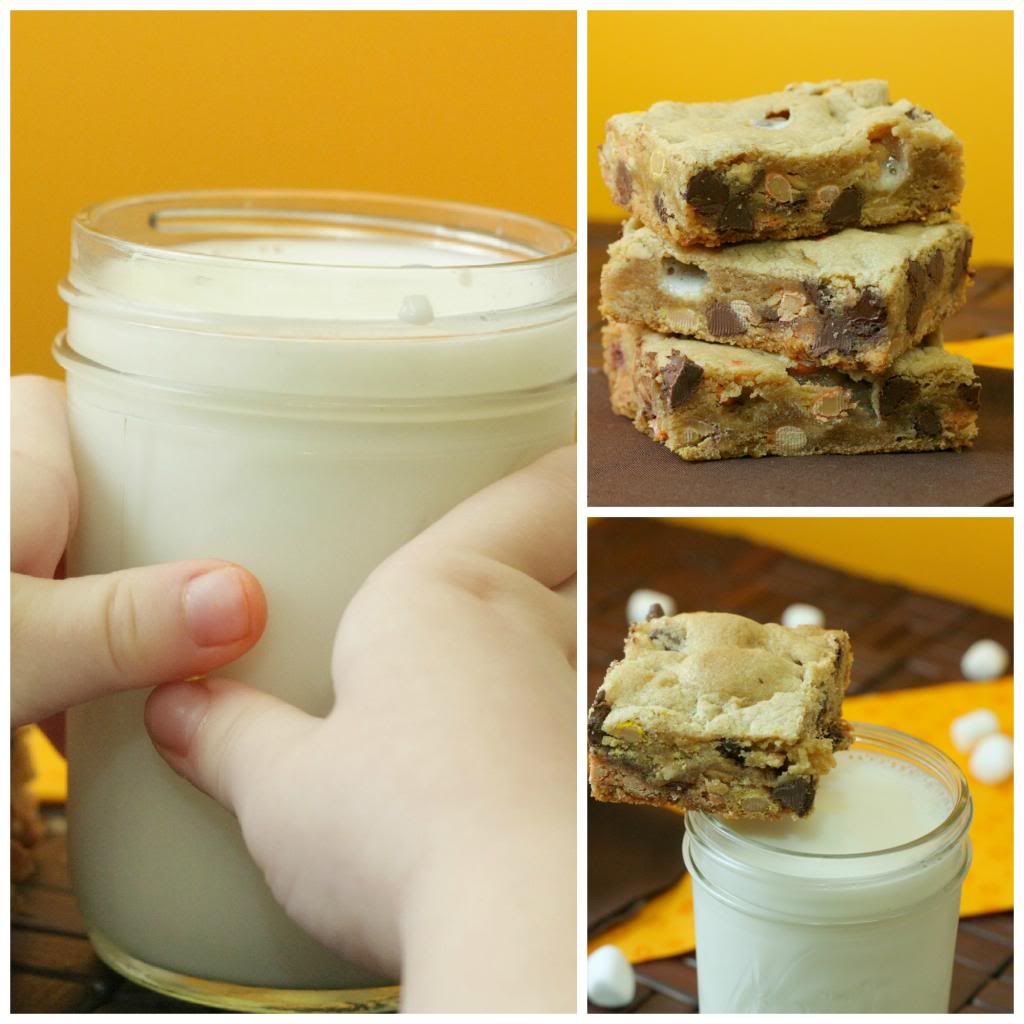 So let's talk about these bars a little, shall we? I love these bars for so many reasons. The first being that they are a dessert, I'm a sucker for anything sweet. I mean anything. Secondly they have that whole sweet salty thing going on with the salty peanut butter and the sweet marshmallows and chocolate chips, and you know that I love that combo! They involve chocolate, and I mean who doesn't love chocolate! I could keep going but I'll end with this; they have Reeses Pieces in them. And Reeses Pieces rank pretty close to the top of the list of my all time favorite candy!
These bars are delicious, moist and packed full of flavor. They are incredibly easy to put together and they are so addicting. There are times where I will half a recipe, just so we don't have tons of excess sweets laying around the house, but this isn't a recipe that I would recommend halving because they will disappear just about as quickly as you can pull them out of the oven and cut them. Not only did I love them, but my boys did as well. I couldn't get them cut fast enough for them. These bars have quickly become a favorite in our house and I'm sure they'll do the same in yours! So if you need a pick-me-up with the time change going on, be sure to try a batch of these! 
Marshmallow Reeses Blonde Brownies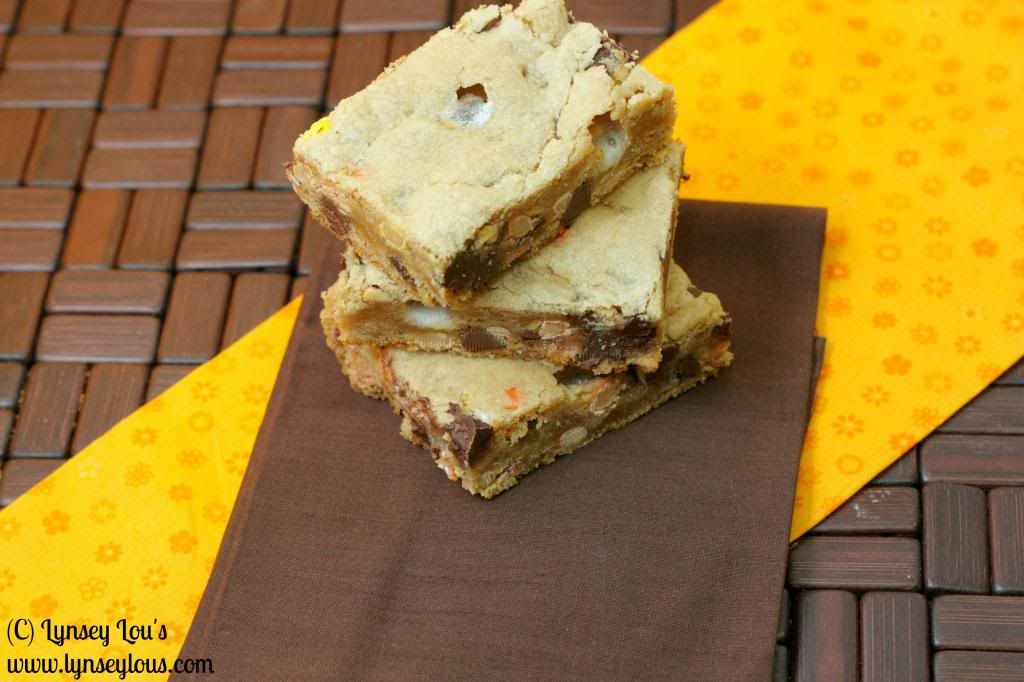 Ingredients:
1/2 Cup butter
1 Cup brown sugar
1/2 Cup peanut butter (crunchy or creamy)
2 Eggs
1 Tsp vanilla
2 Tsp baking powder
1/2 Tsp salt
1 1/2 Cups flour
1 Cup chocolate chips
1 1/4 Cups mini Reeses pieces
1 Cup marshmallow cream
3/4 Cup miniature marshmallows
Directions:
Preheat oven to 350. Line a 9x13 pan with parchment paper and set aside.
Sift baking powder, salt and flour together over a medium bowl and set aside.
Combine butter, brown sugar and peanut butter in a large bowl and beat on high to cream, about 2-3 minutes. Add the eggs, one at a time, mixing well after each addition. Add the vanilla and mix to incorporate. Slowly add the flour mixture to the butter mixture and mix on low to incorporate.
Add the Reeses pieces and chocolate chips and stir to incorporate. Divide the mixture in half, spread half of the batter evenly in the prepared pan. Drop the marshmallow cream, by the spoonfuls, onto the dough then sprinkle the marshmallows over the cream. Gently drop the remaining batter, by the spoonfuls, onto the marshmallow cream and gently press to spread the batter, trying to cover all of the marshmallow cream.
Place the bars in the preheated oven and bake for 25-28 minutes. Remove from oven, allow to cool for 30 minutes in the pan, then remove to a cooling rack and allow to cool completely before cutting. Store in an airtight container.
Recipe source: barely adapted from
Inside Bru Crew Life