So how many of you are guilty of eating cookie dough straight from the bowl? Will any of you admit that you just might make cookie dough for the sheer enjoyment of eating it by the spoonful before a drop is even able to hit the cookie sheet? Come on, you know we're all guilty of having at least a bite or two at one point or another. There's no shame it that, I promise!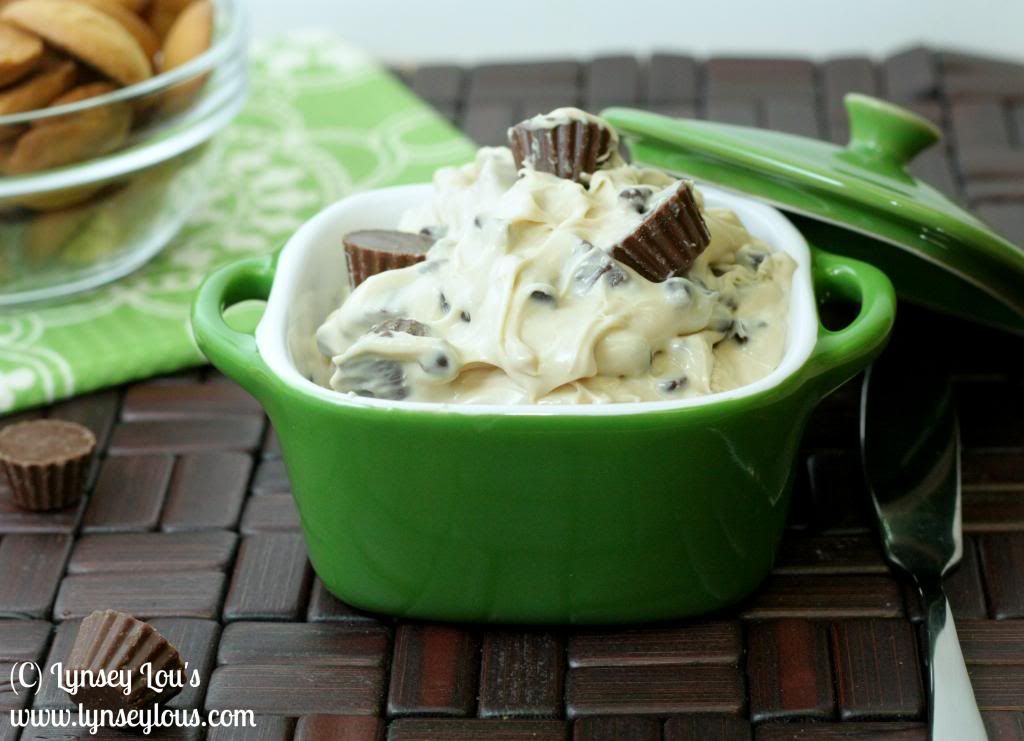 What if I were to tell you I have a dip that will cure your cookie dough craving? And yes, you're supposed to eat it as a dip and not bake it. That's right, all the yumminess of cookie dough without the guilt of eating it raw! Are you intrigued yet?
It's true, I have a dip for you that is amazing. Seriously, I can't say enough good about this dip and just how awesome it is. It starts with cream cheese. Which who doesn't love cream cheese? Then given a hefty dose of peanut butter and brown sugar. All that is then beat to form a fluffy base. To that base is added mini chocolate chips. And why stop there? Throw in a bag of mini Reeses peanut butter cups. I know, amazing right? Mix all that together and then you're ready to go.
This is one of those dips that you'll make over and over again. It's great for the cookie dough lover and the sweet lover alike. This is a dip that you'll be known for, and it will be requested at every gathering or party you attend! Enjoy it on pretzels, vanilla wafers, or even by the spoonful. However you decide to eat it I know you'll love it! I must say thanks a million times over again to Aimee of
Shugary Sweets
for creating this deliciousness...and for my new addiction!
Reeses Peanut Butter Cookie Dough Dip
Ingredients:
1/2 Cup (1 stick) unsalted butter
8 Oz (1 bar) cream cheese, room temperature
1/3 Cup heavy whipping cream
1/4 Cup peanut butter (creamy or crunchy)
1/2 Cup brown sugar
3/4 Cup powdered sugar
1 Tsp vanilla
3/4 Cup mini chocolate chips
1 (8oz) bag mini Reeses peanut butter cups
Directions:
Combine butter and brown sugar in a small saucepan and place over low-medium heat. Stir mixture occassionally until butter is completely melted. Once the butter has melted whisk to combine, until sugar is dissolved into the butter. Bring the mixture to a boil then immediately remove from heat. Add the peanut butter and stir to combine. Set mixture aside and allow to cool.
Pour the heavy whipping cream in a small bowl and beat on high until stiff peaks form. Set aside.
Combine cream cheese and powdered sugar in a large bowl and beat until creamy, about 3-4 minutes. Reduce the mixing speed to low and add the vanilla and mix until just incorporated. Keeping the mixing speed on low, slowly pour the peanut butter mixture into the cream cheese, mixing until completely incorporated. Gently fold in the chocolate chips and peanut butter cups. Once the chocolate chips and peanut butter cups are mixed in, fold in the whipping cream. Serve immediately or refrigerate until ready to serve.
Serve with vanilla wafers, graham crackers, or pretzels.
Recipe source: barely adapted from
Shugary Sweets