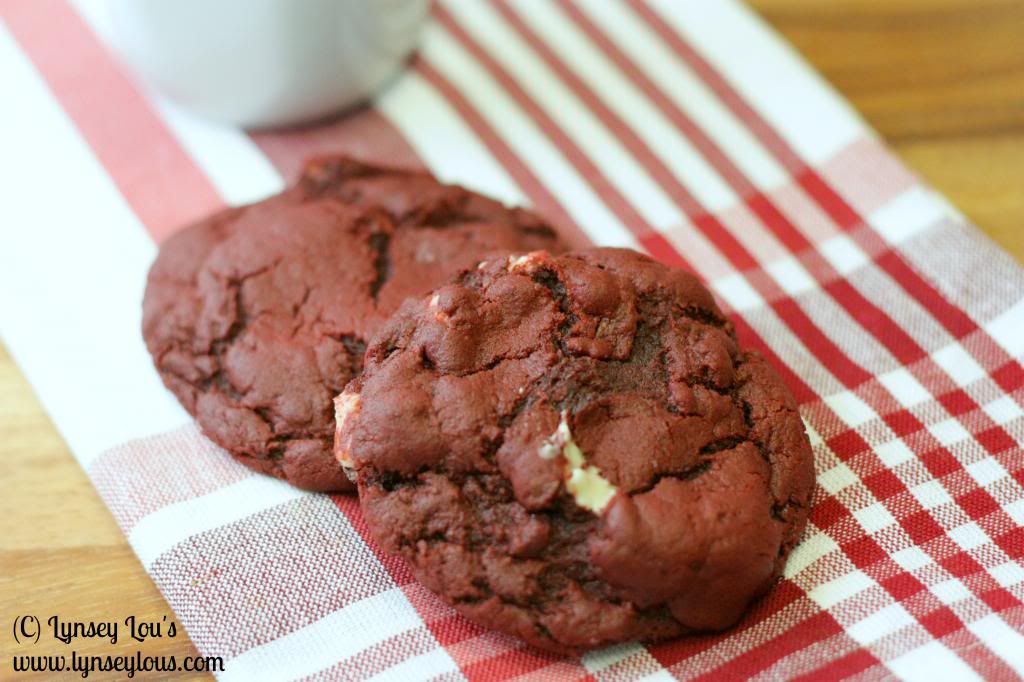 I hope you all had a wonderful Valentine's day! I know Valentine's is technically over, but I do have one more red, chocolately treat to share with you! This treat will wrap this week up right; it's always good to end on a sweet note.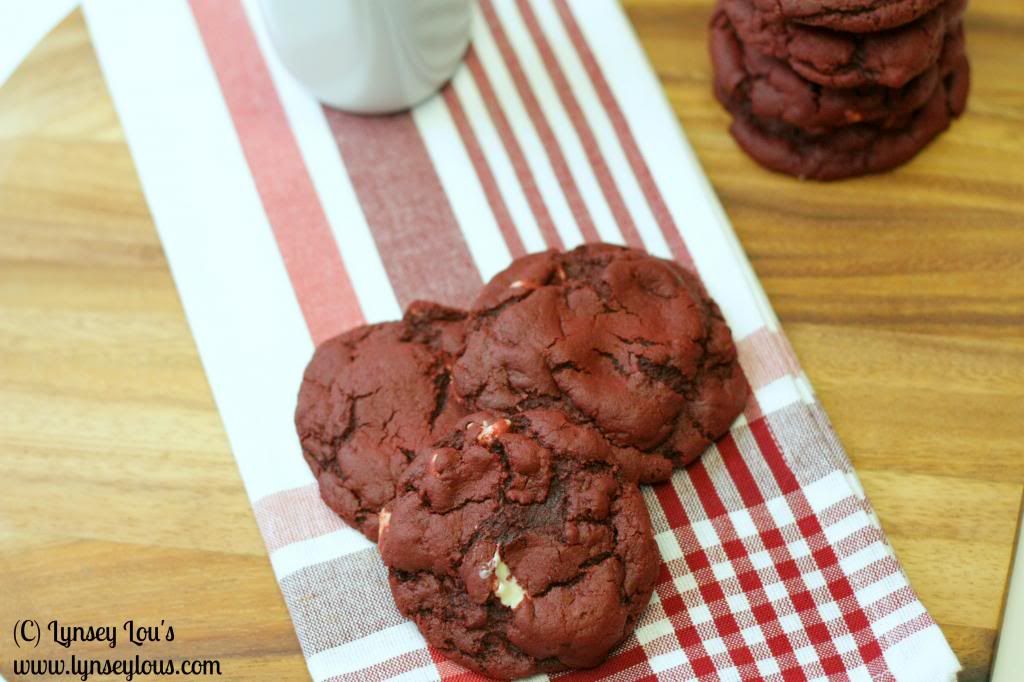 Red velvet is the quintessential Valentine's dessert. I mean everything about it screams love and Valentine's; chocolate and red it where it's all at for the day of love. But as I said
earlier this week
, I personally could take or leave red velvet, but there are plenty of people out there who love it...who are red velvet phenes to say the least. Who knows, maybe I just haven't had the perfect red velvet cake to change my thoughts? Anywho, since it is February and Valentine's I decided to put my feelings (or lack thereof) for red velvet aside and share not 1 but 2 red velvet desserts for you! The first was the
red velvet brownies with white chocolate buttercream
that I shared with you on Monday, and the second are these cookies! Here's a confession...I think with each, additional red velvet recipe I make I become a little bit more fond of red velvet.
I think this recipe is my favorite red velvet recipe to date. I love cookies, but then who doesn't? My favorite type of cookies are those that are incredibly moist and chewy, and so gooey, in fact, that they stick to your teeth. If they are loaded with chocolate, well that doesn't hurt a bit. These cookies are chewy, and gooey stick-to-your-teeth cookies that not only have a hint of cocoa in the actual cookie, but they are also packed with not 1 but 2 other types of chocolate. This beautiful red velvet cookie is taken up a few notches with the addition of white chocolate chips and milk chocolate chunks. The end result is a deliciously chewy cookie that is packed full of creamy, smooth chocolate!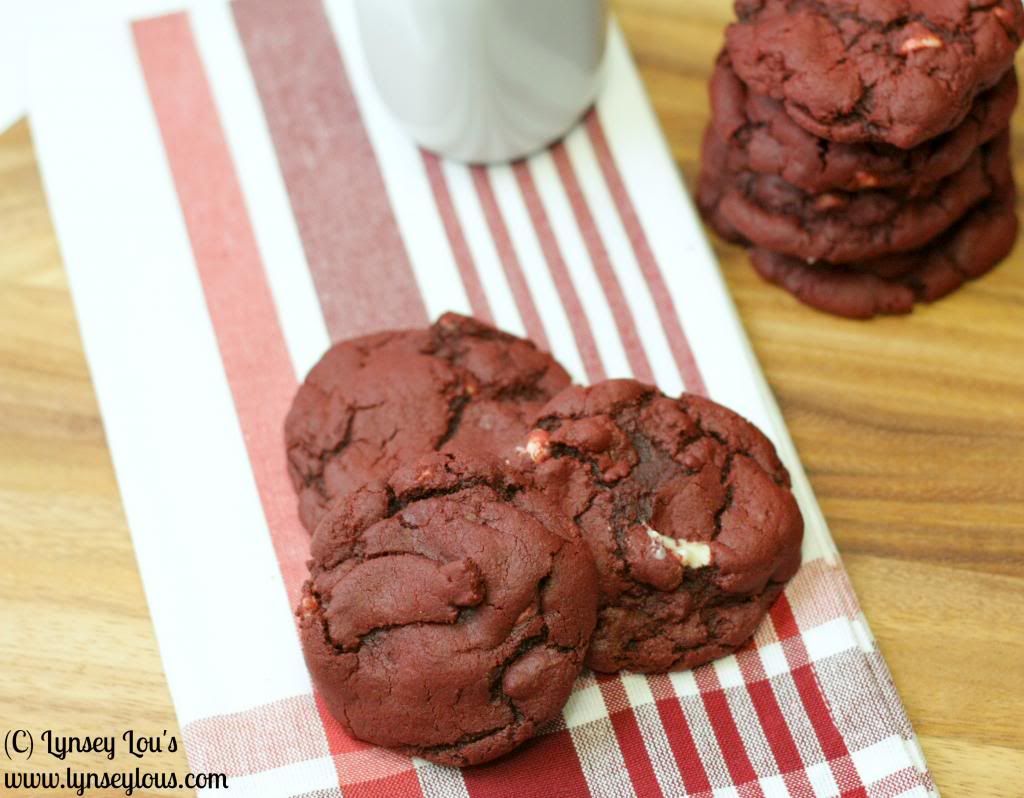 I don't know if I could venture to say that this is Spencer's favorite cookie, but I think it ranks pretty high on his list. I gave him and Tucker a cookie to split, and the next thing I knew Spencer had "tested" another 3 cookies. We're talking about devoured them in a period of 5 minutes. I had to kick him out of the kitchen before he ate every. single. one! And since I made these for Tucker's Valentines party at school Spencer was more than upset, so I am pretty sure I will be making a batch...or 2 of these this weekend!
Double Chocolate Red Velvet Cookies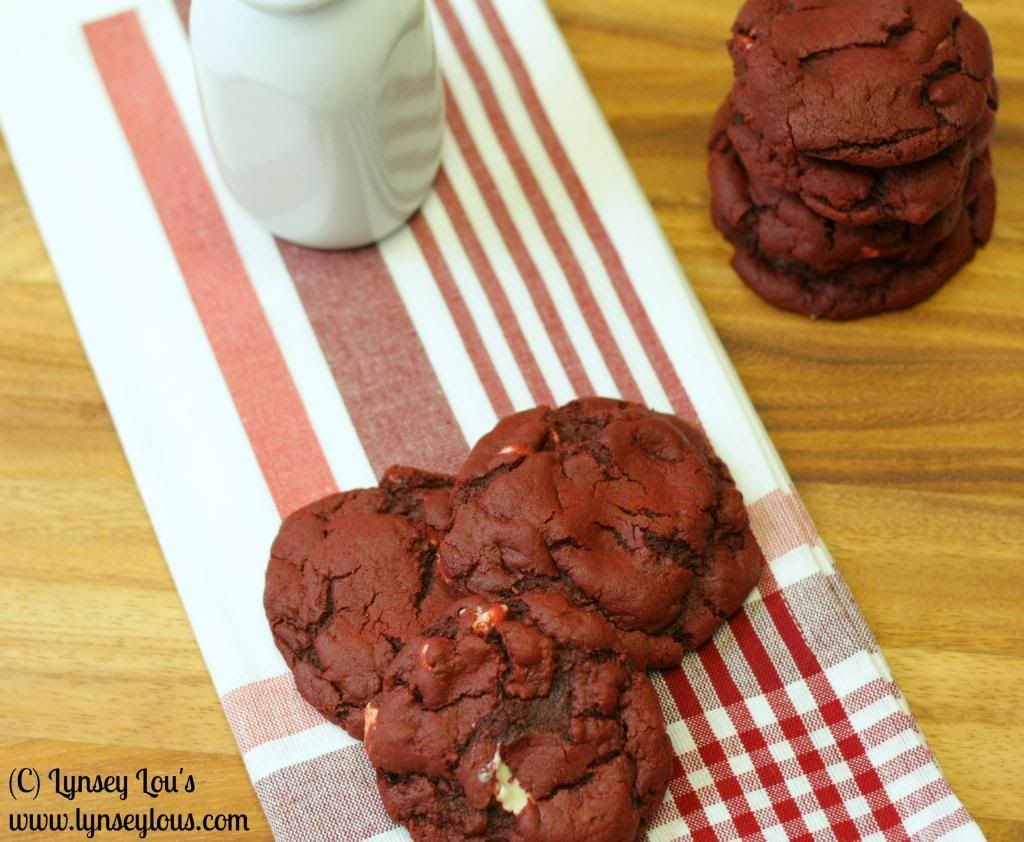 Ingredients:
1 Stick (1/2 cup) unsalted butter, room temperature
3/4Cup brown sugar
1/3 Cup + 2 Tbsp unsweetened cocoa powder
1/3 Cup white chocolate chips
2 Oz (1 ½ candy bars OR about 1/3-1/2 Cup milk chocolate chips) milk chocolate, roughly chopped (

I used Hershey's candy bars that were slightly frozen and just gave them a rough chop

)
Preheat oven to 350.

Line a cookie sheet with a silicone baking mat, or spray with non-stick cooking spray and set aside.
Sift the baking powder, baking soda, flour and cocoa powder together in a medium bowl and set aside.
Place butter, brown sugar, and granulated sugar in a bowl and beat on high until light and fluffy, about 2-3 minutes.

Add the red food coloring and mix on low to combine.

Add the egg and mix to incorporate.

Slowly add the flour mixture to the butter mixture and mix on low to incorporate.

Once the flour is incorporated, increase mixing speed to high and beat for 30-45 seconds to aerate the mixture.

Add the white chocolate chips and the milk chocolate and stir to combine.
Place rounded scoops (mine were about 2 tablespoons each) onto the prepared cookie sheet, leaving about 1 ½ inches between each scoop.

Gently press the scoops of dough with the palm of your hand (or the bottom of a cup) to slightly flatten (just taking the rounded top away).

Place in oven and bake for 8-9 minutes.

Remove from oven, allow to cool on the cookie sheet for 5 minutes, transfer to a cooling rack and allow to cool completely (or try 1 or 2 freshly baked because they are awesome warm!).
Yields approximately 1 1/2 dozen
Recipe source: A Lynsey Original