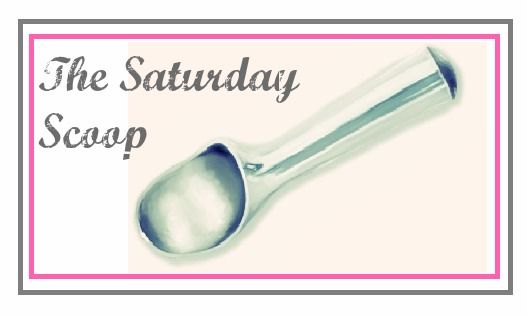 Welcome to the first edition of The Saturday Scoop! This is something I've been tossing around in my mind for quite some time. One of the main reasons I started thinking about doing this series is because of the questions I receive from friends and readers about why I started my blog, what my favorite blogs are, among other things. Probably one of the most common questions I receive is "where do get your recipes and inspiration"? So I decided to start The Saturday Scoop to share with you some of my favorite blogs and websites. Most of these sites I share with you will be food blogs, but you may see the occassional DIY, organization, or craft site featured as well.
Every Saturday I will have a new list of sites to share with you, some that I've followed and enjoyed for quite some time while others are some that I've just discovered, but enjoy just as equally. I hope you enjoy these blogs and sites as much as I do. I'm sure there will be some that you've heard of, but hopefully I'll be able to introduce a few that you haven't come across yet. So grab a cup of coffee, a tasty muffin or cinnamon roll, cozy up on the couch and get ready to read and "get to know" some incredibly amazing people!
Aimee Broussard & Co
-
I met Aimee at
Mixed,
the
conference
I attended back in November. She is a fellow southerner who not only shares a passion for cooking, but also believes that you should look stylish while in the kitchen. A true southerner in my book! Aimee not only has a flare and eye for fashion, all things stylish and cute, but she's also just as passionate about food. I just recently started perusing her blog (after the conference) but I have quickly come to love it! From custom and cute aprons, tableclothes, and towels to decadent, sinful sweets she's got it all.
Kelsey's Apple a Day
- Kelsey started her blog just a few months before I started mine, but it's been a blog that I've closely followed since it's beginning. She's a fun-loving teacher by day (hence the "apple a day") and cook and baker by night. Her blog is one of those that just makes you feel "at home", like you can just come in, fix a drink and sit down and chat a while. Her blog features a bit of everything; delicious and decadent breakfasts, the ever so wonderful slow cooker meals, amazing and mouthwatering desserts and some fabulous drinks. Whatever you fancy, I'm sure Kelsey has you covered.
Confections of a Foodie Bride-
Hmmm, where do I start? Shawnda, of
Confections of a Foodie Bride
(CFB), has been an inspiration to me since before I started my blog. Every recipe on her blog is droolworthy, to say the least. She is so well versed in the kitchen and she does it all; from
biscuits
to
bagels
to jaw-dropping
burgers
to
cakes
and
cocktails
and honestly everything in between. She's simply amazing and so inspiring. She's another one of those bloggers that's a great resource and so welcoming of any questions you may have. She loves the classics but she's not afraid to push the limits, and that's one of the things I so appreciate.
Macaroni and Cheesecake-
First of all, isn't the name just so cute? I think that was actually one of the first things that drew me to this blog, then I started looking at the recipes and instantly fell in love. Stephanie has a passion for life, sports, God and, of course, food! Every single recipe on her blog looks amazing; most of them are simple yet so amazing. She's a fun southern girl sharing her life and passion with others. Go check out
Macaroni and Cheesecake
and you too will have an instant, new favorite blog.
The Way The Cookie Crumbles-
I honestly canNOT say enough about Bridget. She is the amazing and talented genius behind one of my favorite blogs.
TWCC
is, and has been, one of my dependable "go to" blogs for as long as I can remember. When I am uncertain about exactly which recipe to use this is where I turn. Bridget is infamous for all of her
recipe comparisons
, whether you're looking for the perfect
chocolate chip cookie recipe
,
tapioca pudding
or even
chocolate frosting
Bridget will not steer you in the wrong direction. Her blog is defintely one of those handy dandy little tools you always want to have in your "back pocket".
I hope you've enjoyed the first installment of The Saturday Scoop! I would love to hear from you and what some of your "go to" blogs and sites are. Have a great weekend! Bake or cook something delicious and we'll see you next week with some more fabu sites!