There are people out there that prefer
cake
,
ice cream
,
cookie
,
bars
,
pie
, or some other type of
dessert
over anything else. Well, my brother is a
pie
person. If you set a cake and a pie in front of him, he will choose the pie over the cake every. single. time. My sister-in-law is a cake person, or at least she was until she met my brother. The first time I made her something for her birthday, I made her a
white cake with apricot filling
, which was a hit! Shortly after her birthday, she and my brother went to a local restaurant and had a delicious meal and finished it off with one of their signature desserts. That signature dessert just happened to be a pie. I'm guessing this was the pie that changed it all. They were both hooked on this pie!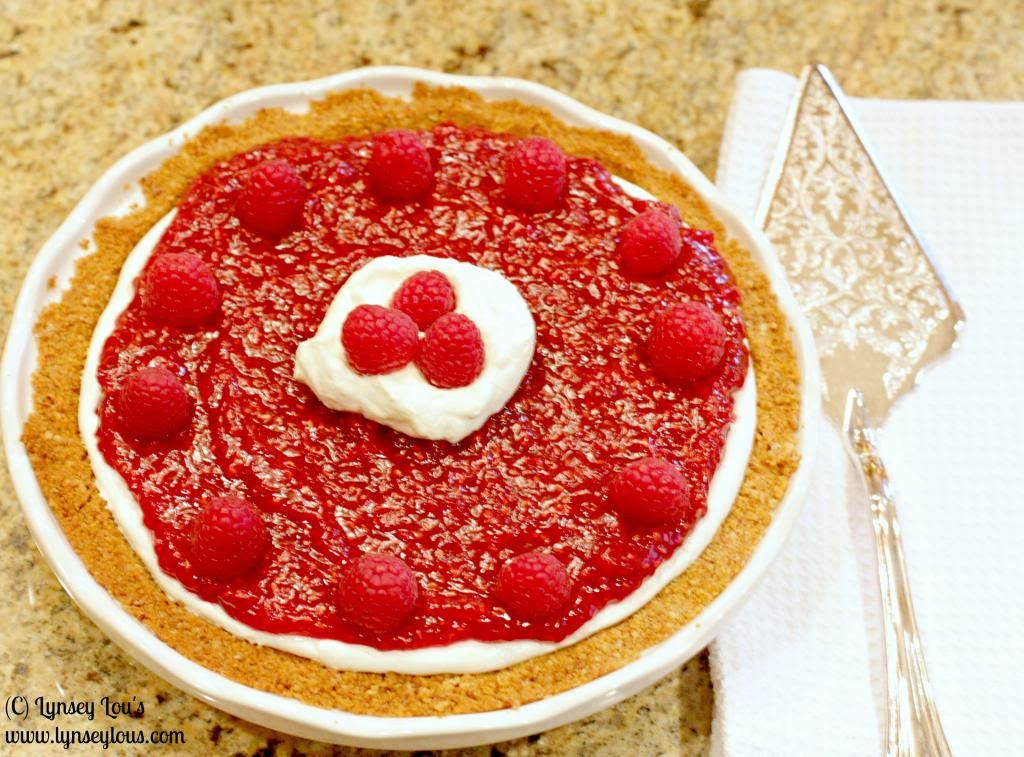 My brother's birthday came up shortly after they had eaten at that restaurant and had that magical pie. When I asked my brother what he wanted he quickly said I want a raspberry pie. Well, I needed a bit more information about the pie before I could even try to replicate it. I started pouring through recipes, sending my sister-in-law one recipe after another. She would tell me things about each recipe that resembled the pie they had at that restaurant. Finally, I came across THE RECIPE. The one that seemed the closest to that pie that they just could not forget. So when we got together for my brother's birthday, we showed up not only bearing gifts but a delicious raspberry pie!
Looks like we have another pie lover! Sneaky boy...
It was a hit, to say the least. I think this pie has been the most requested dessert for over a year. There's nothing too over the top about it; just simple ingredients, simple flavors and one delicious dessert. My sister-in-law loved this pie so much that the next time her birthday came around she requested this pie before I could even get the question "What would you like me to make?" out of my mouth. I think this is hands down, her favorite dessert. Yes, she even likes it more than cake! And, I honestly believe that is saying something since the white cake and apricot filling is her signature, "go to" dessert.
The pie starts with a simple vanilla wafer crust that is studded with buttery pecans. The crust is baked off then cooled. The filling is simple; cream cheese mixed with powdered sugar and then fresh, whipped cream is folded into the mixture. This results in a light, slightly rich, and perfectly creamy filling. The topping is comprised of raspberries, sugar and a few other ingredients and it's boiled down until thickened and then spread over the top of the creamy filling. Simple ingredients that are combined to make an out-of-this-world pie that hits all the flavor notes; sweet, tangy, tart and creamy.
Raspberry Cream Cheese Pie
Ingredients:
For the crust-
3 Cups (about 50 wafers) vanilla wafers
1/2 Cup pecan halves
1/4 Cup butter, melted
For the filling-
1 (8oz) package cream cheese
2/3 Cup powdered sugar
1 Tbsp orange liqueur or orange juice, optional
1 Tsp vanilla extract
1 Cup heavy whipping cream
1/2 Tbsp granulated sugar
For the raspberry topping-
1 Cup sugar
3 Tbsp cornstarch
3 Tbsp water
2 3/4 Cups fresh or frozen raspberries
1/3-1/2 Cup fresh, whole raspberries
Directions:
Preheat oven to 350.
For the crust-
Place vanilla wafers in a food processor and pulse until ground. Add pecans to the vanilla wafer crumbs and pulse an additional 20-30 seconds. Pour the ground wafers and pecans in a bowl, pour butter over the mixture and stir until completely combined. Place the mixture in a 9 inch pie plate, spread evenly over the pie plate and press firmly to pack. Place the crust in the oven and bake for 8-10 minutes, until golden and crisp. Remove from oven and set aside, allowing to cool.
For the filling-
Place whipping cream in a medium bowl and beat on high. Once the cream begins to thicken add the granulated sugar and beat until stiff peaks form. Set aside.
Place cream cheese in a large bowl and beat on medium-high until slightly creamy, about 1-2 minutes. Add the powdered sugar and beat until combined. Add the orange liqueur (juice) and the vanilla extract and mix to combine. Once all ingredients are incorporated, gently fold in the whipped cream.
Pour the cream cheese filling into the baked, cooled pie crust. Place in refrigerator to chill.
For the topping-
Place sugar, cornstarch, water and 2 3/4 cups raspberries in a large sauce pan over medium heat. Allow the mixture to come to a boil, stirring occasionally. Once the mixture has come to a boil, allow to simmer for 2-3 minutes, until thickened (almost jelly-like). Remove from heat and allow to cool completely.
Once the raspberry mixture has cooled and the pie has chilled about 1 1/2 hours, spread the raspberry mixture evenly over the top of the pie. Place fresh raspberries around the perimeter of the pie. Add a dollop of fresh whipped cream, if desired.
Place in the refrigerator and allow to chill an additional 30 minutes, or until ready to serve.
Recipe source: adapted from
Taste of Home