I can't even begin to tell you how excited I am to FINALLY be sharing this recipe with you! I've been eyeing this recipe for I don't know how long, and was just recently able to get around to making it. I'm so sad it's taken me so long to make this chicken because it is so. Incredibly. Good.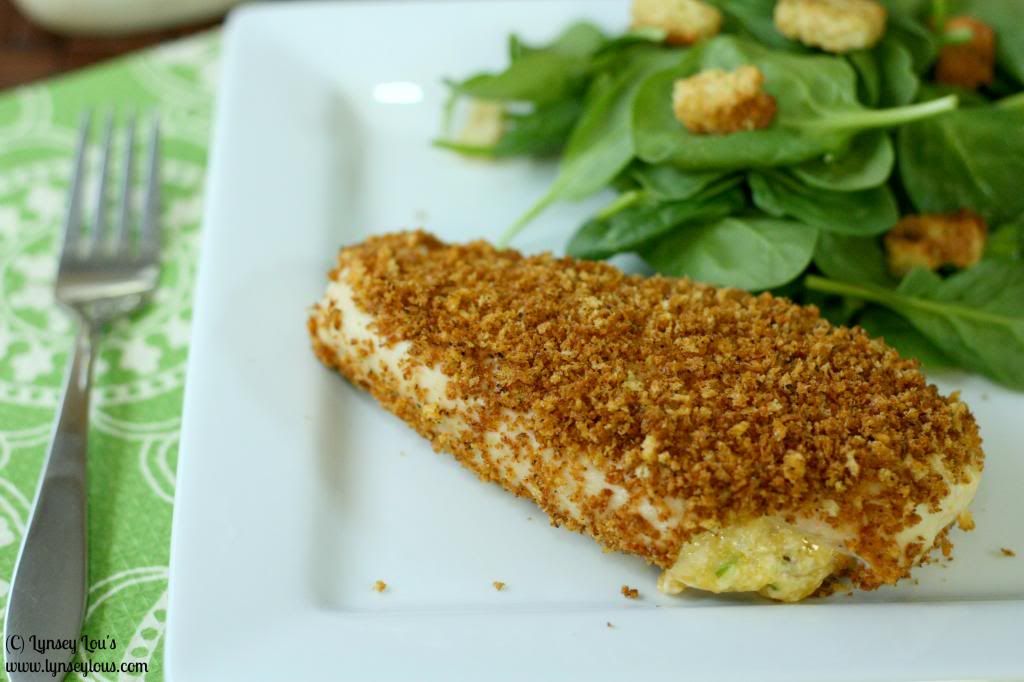 This recipe encompasses many of my favorite things; crispy chicken, gooey cheese, cream cheese and jalapenos. It also takes one of my favorite snacks, jalapeno poppers, and stuffs all that gooey spicy goodness in the middle of a piece of tender chicken. Yummy, right?
This chicken is stuffed with spicy, cheesey goodness, coated in toasted panko and then baked. The end result is nothing less than amazing. The outer layer is perfectly crispy, resembling fried chicken. This crispy texture is achieved by lightly spraying the panko coated chicken with vegetable oil and then baking. During the baking process the chicken stays moist and tender, while the jalapeno cheese filling gets warm, string and ooey-gooey good!
This chicken is so good and so filling that it doesn't really need a whole lot added to it. I paired this with a simple green salad and fresh tomatoes. Your options for pairings are endless, but I thought it was best kept simple. This makes for a perfect and satisfying meal that can be enjoyed during the week or weekend.
Jalapeno Popper Stuffed Chicken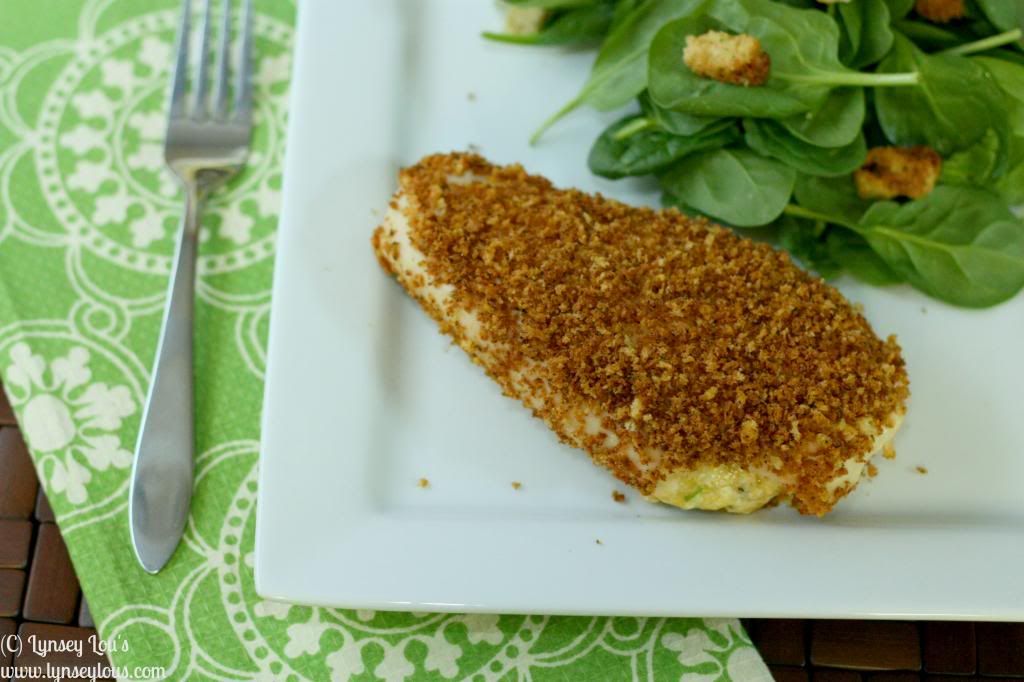 Ingredients:
4 Chicken breasts
4 Oz (1/2 brick) reduced fat cream cheese, room temperature
2 Tbsp sour cream (reduced fat is fine)
1/4 Cup shredded sharp cheddar cheese
1/3 Cup shredded Monterrey Jack cheese
1 Tbsp olive oil, divided
4 Jalapenos thinly sliced (seeded and ribs removed)
1 1/2 Cups Panko bread crumbs*
2 Tsp
taco seasoning
1/2 Tsp dry parsley*
1/4 Tsp dry oregano*
1/4 Tsp salt
Freshly ground black pepper
1 Egg
1 Tbsp milk
Non-stick cooking spray
Directions:
Preheat oven to 350. Line a baking sheet with a silicone baking mat (or spray with non-stick cooking spray) and set aside.
Place 1/2 tablespoon of olive oil in a medium skillet over medium heat and allow to heat. Place the sliced jalapenos in the skillet and cook until softened, about 5 minutes. Remove from pan.
Place the remaining olive oil in the skillet over medium heat. Add the panko and toast until golden brown, about 5 minutes. Remove from pan.
Combine the cream cheese, sour cream, jalapenos, and shredded cheeses and stir to combine. In a separate bowl, whisk together the milk and egg, set aside. In a shallow dish combine the bread crumbs, taco seasoning, parsely, oregano, salt and pepper and stir to combine.
Using a sharp knife, cut a pocket into each of the chicken breasts. Evenly stuff each piece of chicken with the cream cheese mixture. Dip each piece of chicken into the egg mixture, then roll in the panko mixture. Place on prepared baking sheet. Once all the chicken is stuffed and coated, lightly spray with olive oil then place in the preheated oven.
Bake chicken for 30 minutes, until cooked through and juices run clear.
*1/4 cup of seasoned bread crumbs can be substitued. Just combine1 1/4 cups of toasted Panko and 1/4 cups seasoned bread crumbs and eliminate the dried oregano and parsley.
Recipe source: slightly adapted from
Sunny Side Up
, originally from
Tiny Tyrants Kitchen
and
A Taste of Homecooking