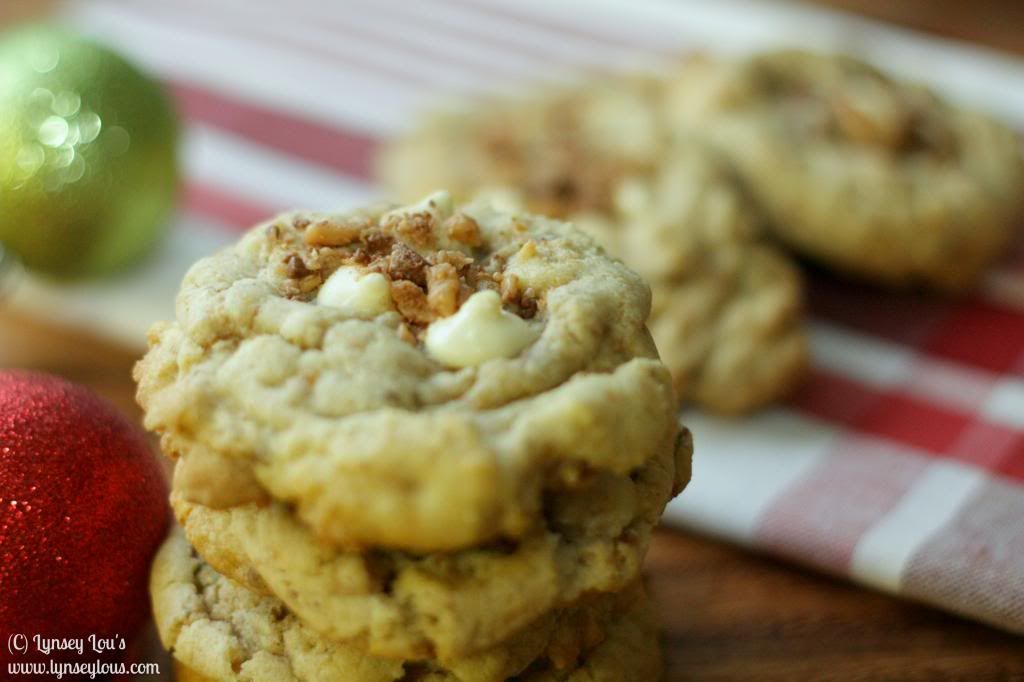 I must say this week has definitely been very interesting, maybe even one for the record books. It started out like any other holiday week; family was in and last minute preparations were being made for Christmas. The final presents wrapped, stockings stuffed, goodies baked. You know the drill. Tuesday, Christmas day, even started out normal. We woke up, my little man opened his stocking and then went to see what Santa had brought him. The events of Christmas morning transpired as normal. After we opened gifts we got ready, loaded up the car and headed to my in-laws to celebrate Christmas with them. It was chilly outside and rainy but no real weather to speak of. After we had been there a few hours the temperature started dropping, the rain started coming harder and harder and then the wintery mix. All the rain and mix started freezing on the trees and roads. It was amazing how quickly the weather changed. We eneded up having to load up and head back home before the weather and the roads got too bad.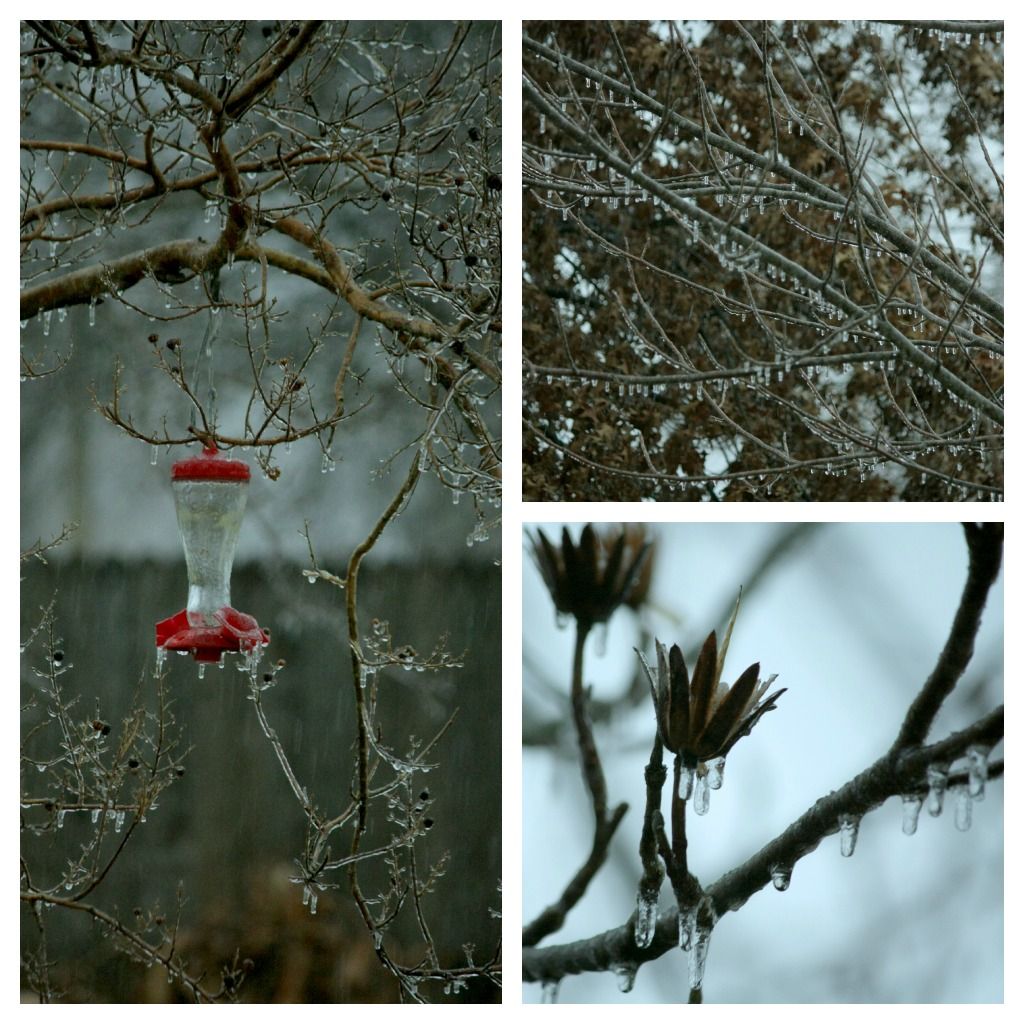 We made it home just in time. About the time we got the car unloaded the snow started coming down. We're not talking about a flurry here and there, we're talking tons of snow. I fixed our Christmas meal, we sat down, ate, got everything cleaned up and then sat down to relax. About an hour after that we lost power. Yup, powerless on Christmas day. We started our gas logs and made a pallet in the living room so we could stay warm. The next day we woke up and still no power, so we hung around the house for a while hoping and praying the power would be restored soon. Time went by and still no power. I checked the news on my phone and read that there were close to 200,000 people in our area without power and they were predicting people could be without power for upto 7 days...yikes. We toughed it out a little longer since we had seen the power trucks going up and down our street. Then a few hours later I looked up and saw a lamp come. I don't think I can explain just how happy we were! I turned our heat on, the gas logs off and a huge weight was lifted off my shoulders. We are definitely some of the fortunate ones in our area, there are still people without power. The crews are working continuously to get everyone's power restored ASAP.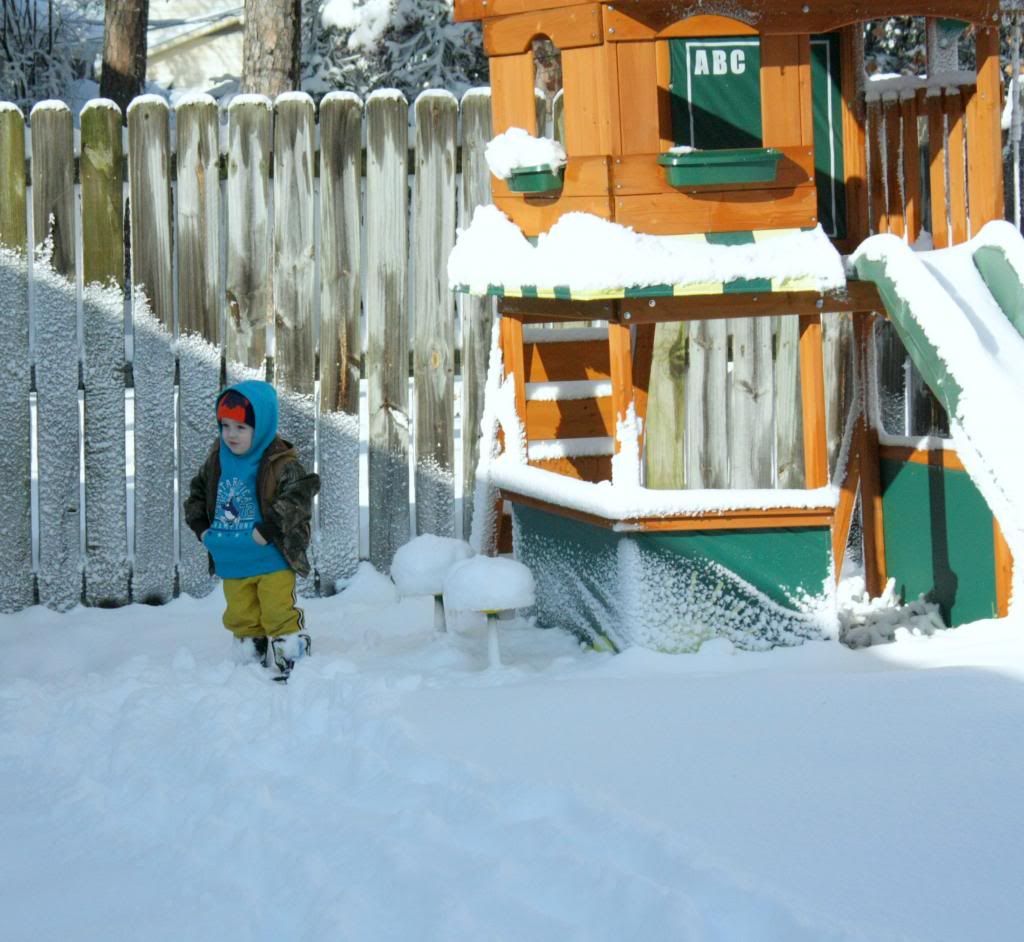 So since I had no power, I really had no way to update my blog, I couldn't even cook or bake or do anything else for that matter. I had every intention of sharing these with you earlier in the week but life happens and severe weather happens!
The holidays just have a way of making you want to get in the kitchen and bake. I don't think it really matters what, just as long as you get to bake something. Before Christmas I definitely had the baking fever, so that transpired into a baking marathon. Cookies, cakes, and candies. You name it, I made it! One of the goodies I made during this extravaganza were these cookies. The name alone was enough to draw me in; White Chocolate Toffee Crunch. How could that not be good? The first thing that popped into my head when I read the title was "sweet and salty", AKA my weakness.
You know me, I'm a sucker for the sweet and savory flavor profile. I'm not sure what it is that entices me so much but it does, and in a big way. These cookies were the perfect amount of sweet, salty, crunchy and chewy. They encompass everything a good cookie should. It starts out like any cookie; butter, sugar, eggs and flour. After all that is mixed together then comes the good stuff. Crunched up salty pretzles, smooth and creamy white chocolate chips, and then bits of chocolate and toffee. Yum, right? All of those goodies are then mixed in the batter and spoonfuls are dropped onto a prepared baking sheet. Then, if that's not enough they are then sprinkled with more white chocolate chips, pretzel pieces and toffee and chocolate bits. Put these puppies in the oven for a few minutes (but DO NOT) overbake, then allow to cool...if you can. If you must, enjoy one (or two...or three...or more) straight from the oven just use caution so you don't burn the rough of your mouth! I have my very own cookie monster, although he's not blue and furry, that must have a cookie or five right when they come out of the oven...so I promise no one over here is judging you for not having patience! Be sure to store whatever cookies you have left in an airtight container.
These cookies were delicious! They weren't my first
sweet and salty cookie
and they won't be my last!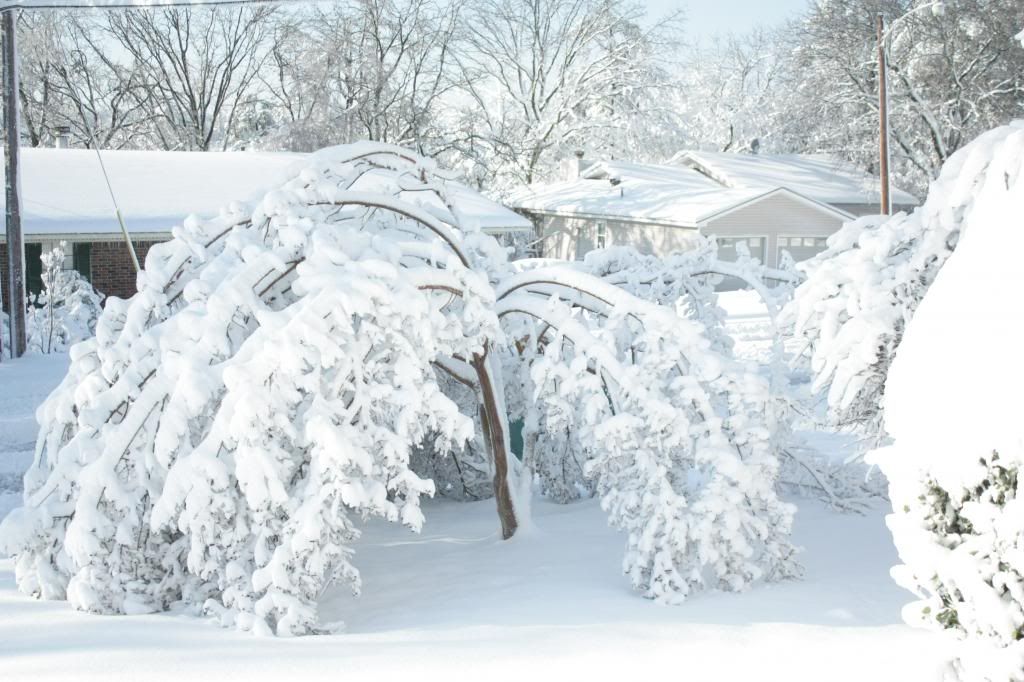 White Chocolate Toffee Crunch Cookies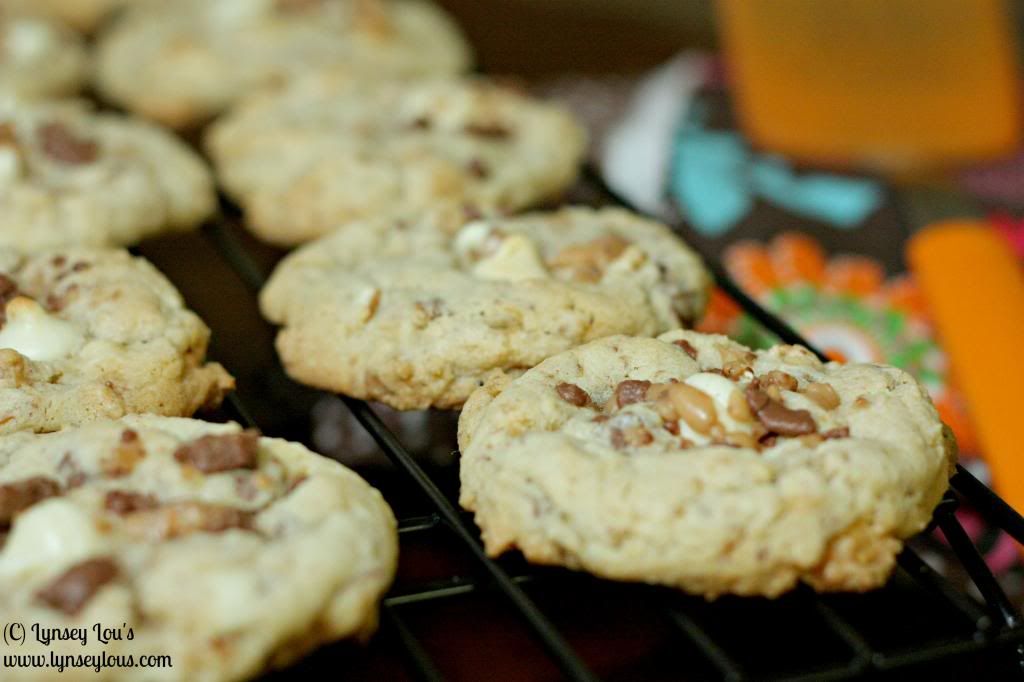 Ingredients:
1 Cup (2 sticks) unsalted butter, room temperature
1 1/2 Cups granulated sugar
2 Eggs, room temperature
2 1/2 Tsp vanilla extract
3 Cups all-purpose flour
1 1/4 Tsp baking soda
1 Tsp salt
1 3/4 Cups white chocolate chips, plus 3 tablespoons (divided)
1 1/4 Cups pretzels, crushed plus 3 tablespoons (divided)
1/2 Cup toffee and chocolate bits, plus 3 tablespoons (divided)
Directions:
Preheat oven to 350.
Line a baking sheet with a silicone baking mat (or spray with non-stick cooking spray) and set aside.
In a large bowl sift together flour, baking soda and salt and set aside.
Combine butter and sugar in a large bowl and beat on high until light and fluffy, about 3 minutes. Once the mixture is creamed, add the vanilla and eggs and beat to combine. Reduce mixing speed, and slowly add the flour mixture, 1 cup at a time, and beat to combine between each addition. Once all the flour is incorporated, turn off mixer. Using a wooden spoon (or spatula) stir in 1 3/4 cups white chocolate chips, 1 1/4 cups pretzels and 1/2 cup toffee bits until combined.
Using a cookie scoop (mine measures about 1 1/2 tablespoons), scoop dough onto prepared baking sheet leaving about 2 inches between each scoop. Top with 2-3 white chocolate chips and sprinkle with crushed pretzels and toffee bits. Place in oven and bake for 7-8 minutes. Remove from oven, allow to cool on baking sheet for about 5 minutes, then transfer to a cooling rack and allow to cool completely.
Store in an airtight container.