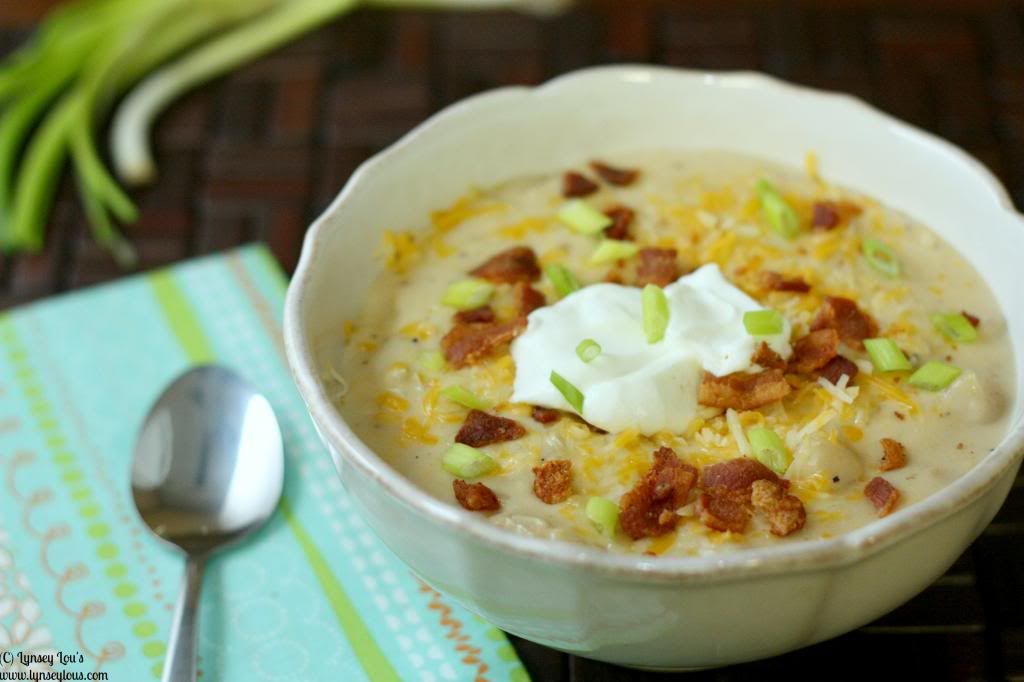 I am and always have been a sucker for potato soup. What's not to love; a starchy potato soup piled high with bacon and cheese. How could anyone not love it? When I was younger, I would always stay with my Grandma after school until my mom and dad got off work. Sometimes their schedules were so that I would end up eating supper at my Grandma's house. I can't tell you how much my heart pounded with joy when I would eat with my Grandma and she would make her delicious potato soup. Folks, her soup ruined me. I'm quite positive it turned me into a potato soup snob. If there is such a thing! It was thick, but not too thick, creamy, with chunks of potatoes, carrots and celery. It was truly out of this world.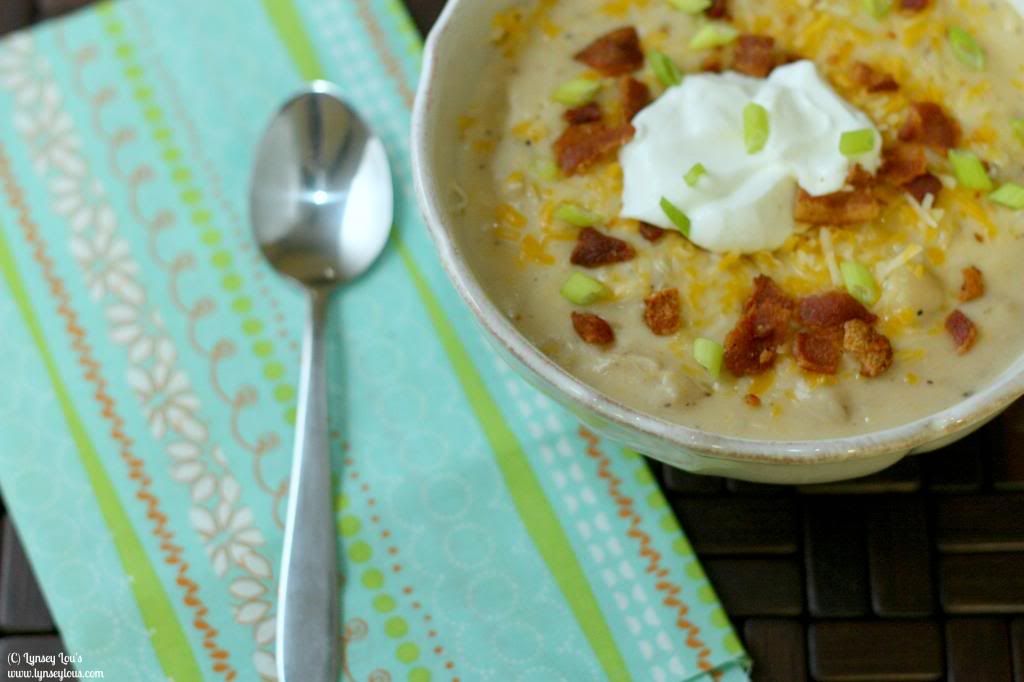 I've tried various potatoe soups, both at home and at restaurants and very few have come close to the goodness of my grandma's. Until now. When I saw the recipe for
loaded baked potato soup
on
Josie's
blog and read her description I knew I had to make this soup! And soon. This soup takes the basic potato soup and amps it up...oh, a few hundred notches. The base is still the same; potatoes and milk or cream, but then adds some bacon, cheese, chives, and sour cream. Now you've got a comforting soup that has all the goodness of a loaded baked potato.
This soup takes very little time to prep. After the chopping and cutting is done, simply combine everything in the slow cooker and allow to cook for a few hours. Remove some of the potatoes, puree them and add back to the mixture. Stir in all the extras; bacon, cheese, sour cream and chives and serve. This is the perfect soup to enjoy on a chilly fall or winter day.
Loaded Baked Potato Soup
Ingredients:
8 Slices thick cut bacon, roughly chopped
1 Large, white onion, minced
5 Clove garlic, minced
4 Cups low-sodium chicken broth
2 Tbsp all-purpose flour
3 Lbs Russett potatoes (approximately 6 medium potatoes) peeled and cut into 1/2inch cubes
1 Cup shredded sharp cheddar cheese, plus more for topping
1 1/2 Cups shredded monterey-jack cheese
1/2 Cup heavy cream
1/2 Cup sour cream
1/2 Cup milk
Salt and pepper, to taste
1/4 Cup sliced scallions
Directions:
Place bacon in a 12 inch skillet over medium heat, and cook until crispy, about 5-7 minutes. Transfer the cooked bacon to a paper towel lined plate and set aside. Reserve 2 tablespoons of the bacon drippings and discard the rest.
Place the minced onion in the pan with the bacon drippings and cook over low-medium heat until tender and translucent, about 6-7 minutes. Add the garlic, salt and pepper and cook until fragrarent, an additional 30 seconds to 1 minute. Add flour and stir to combine, cook for 1 minute stirring constantly. Once the ingredients are combined, slowly add 1 cup of chicken broth, whisking constantly. Cook until mixture begins to thicken then transfer to the slow cooker.
Add the potatoes and remaining chicken broth to the slow cooker, as well as 1/2 teaspoon salt and 1/2 teaspoon pepper and stir to combine. Turn slow cooker on low and cook for 5-7 hours, until potatoes are tender (I cooked mine for about 8 only because I was at work).
Transfer 3 cups of soup to a medium bowl, add cream and lightly puree using an immersion blender. Return the puree to the slow cooker, along with cheese and sour cream and stir to combine. Allow the soup to sit until heated through and cheese is melted, about 10 minutes.
Place bacon in the microwave and heat. Taste soup and adjust seasonings if necassary. Using a ladl, place the soup in bowls and top with bacon, sour cream, scallions and more cheese.
Recipe source: adapted from ATK's
Slow Cooker Revolution
via
Pink-Parsley