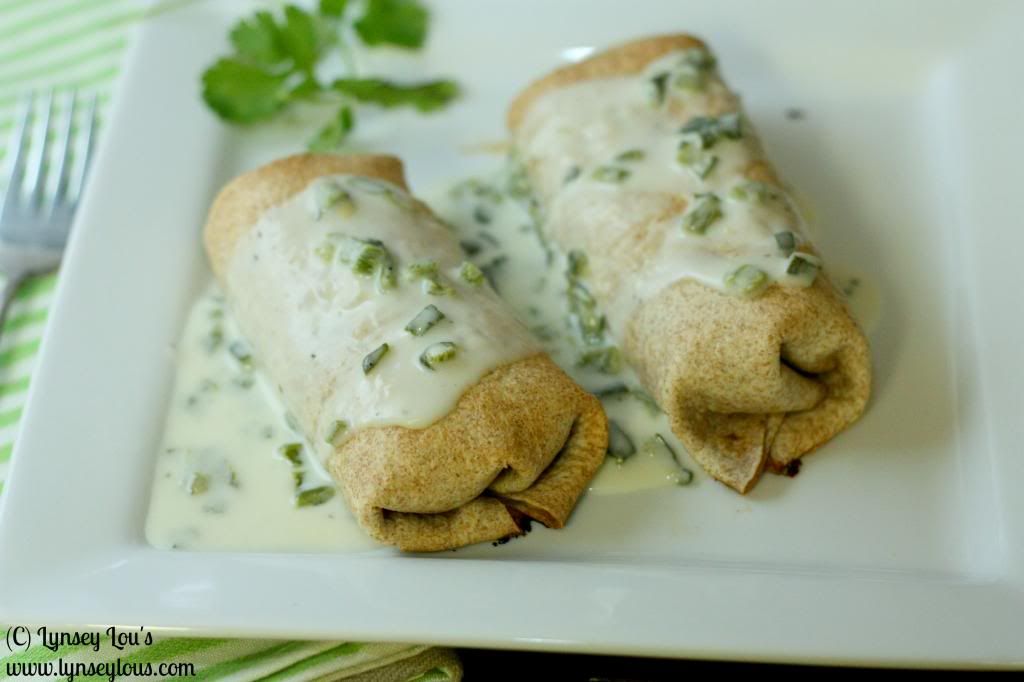 Mexican, Tex-Mex, anything along these lines is a weakness for me. I honestly think I could live on Mexican food of some sort every. single. day. So when I saw these burritos on
Elly's
blog I knew I had to make them. And soon. So...I did.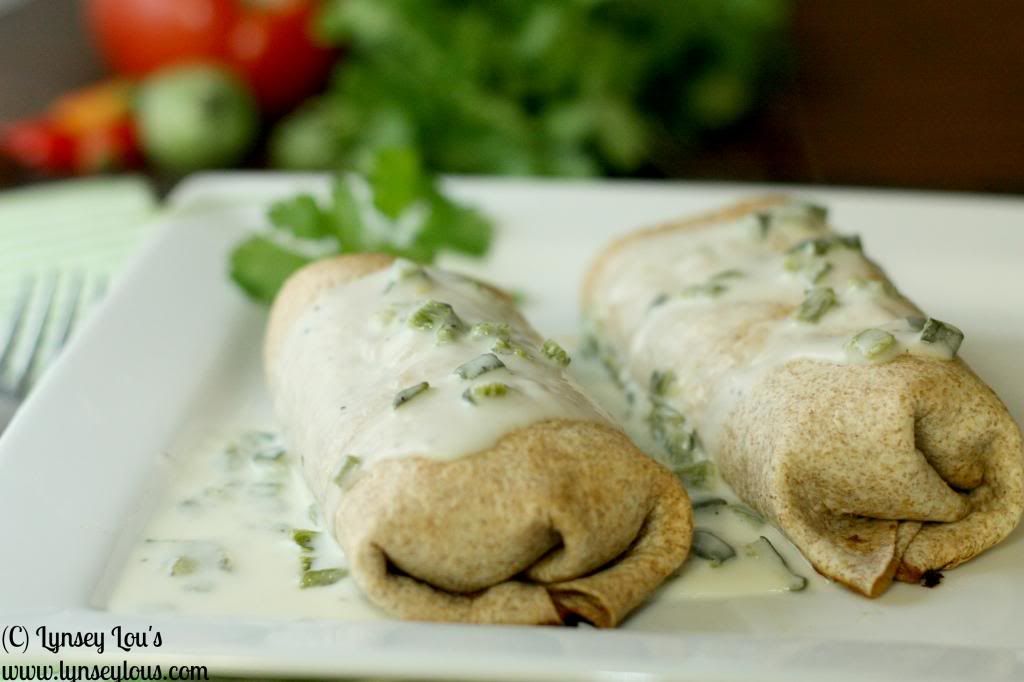 I love burritos. How could anything be bad when it's rolled up in a fluffy, flour-y tortilla? These burritos are incredible. A combination of spices, lean ground beef, beans and cheese rolled up in a whole-wheat tortilla and baked to crisp perfection is amazing on it's own. But to take it one step further, it's then topped with a poblano sauce that's thicky, creamy, with a hint of spice. Un-be-lieveable!
These burritos are perfect for a weeknight meal. A quick browning of the meat, accompanied by spices and beans then wrapped up in a tortilla. The burritos are baked to crisp up the tortillas and finally topped with a creamy poblano sauce. Serve these alone or with a side of beans and Mexican rice and you've got a perfectly quick and healthy meal.
Don't forget the
blogging event
going on this Friday, December 21 in honor of the victims, families and community of Newtown.

Friday, December 21, 2012
A tribute to the victims, families
and community of
Newtown, CT.
Baked Burritos with Creamy Poblano Sauce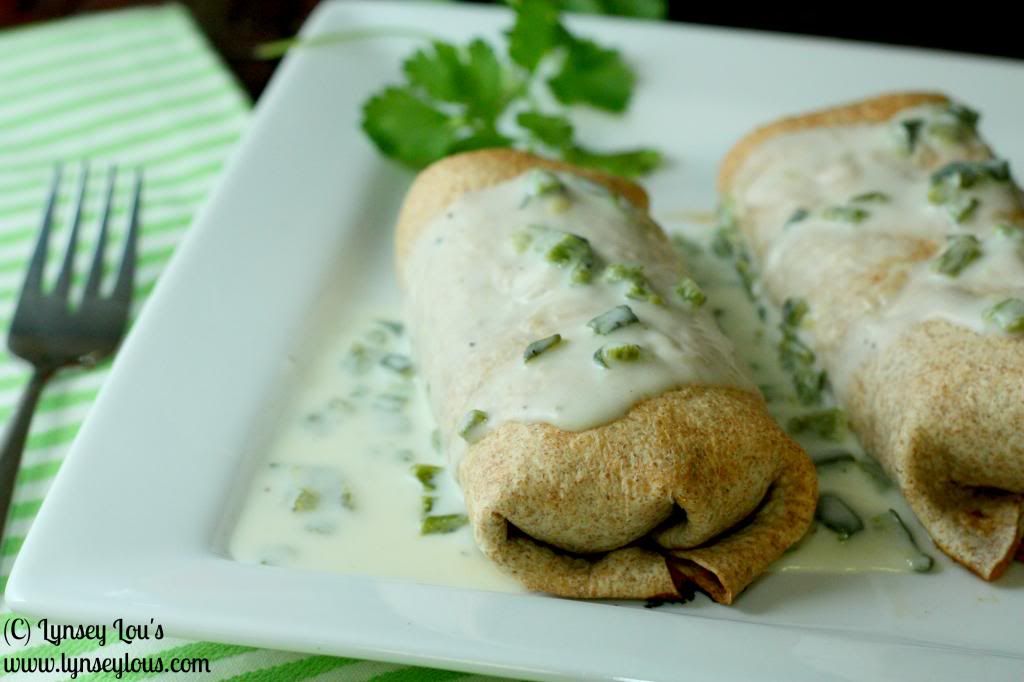 Ingredients:
For the burrito-
1 Tbsp oil
1 Large onion, diced
1 lb ground beef
4 Cloves garlic, minced
1 1/2 Tbsp tomato paste
1 Can black beans, drained and rinsed
1/4 cup water or beef stock
1/2 tsp cumin
1 1/2 Tsp chili powder
1/8 Tsp cayenne pepper
1 1/2 Tsp brown sugar
1/3 Cup chopped cilantro
1 Cup shredded Monterey Jack
4 (10in) whole wheat tortillas
For the creamy poblano sauce-
2 Poblano peppers
2 Tbsp butter
2 Tbsp flour
2/3 Cup chicken broth, room temperature
1/2 Cup sour cream
Salt and pepper, to taste
Directions:
Preheat oven to 400. Spray a rimmed baking sheet with non-stick cooking spray and set aside.
For the burritos-
Place a large skillet over medium-high heat and add oil. Add the onions and cook for 3-5 minutes, until onions begin to soften. Add the ground beef and cook, stirring occasionally, breaking up large pieces, until well browned.
Add the garlic and tomato paste, stir to combine and cook for an additional 30-60 seconds. Add beans along with broth, chili powder, cayenne pepper, salt, and sugar and stir to combine. Reduce heat and allow mixture to simmer until liquid is absorbed. Stir in cilantro. Remove from heat.
Sprinkle about 1/4 cup of cheese over each tortilla. Top cheese with bean and beef mixture. Fold in the left and right sides of the tortilla and then roll. Place seemed-side down on prepared baking sheet. Spray with cooking spray and place in oven. Bake for 20 minutes, until tortillas are golden-brown and crispy.
For the creamy poblano sauce-
Place poblanos directly over a gas burner. Using tongs, turn occasionally until the skin is blackened on all sides. Place in a bowl, cover with plastic wrap and set aside for 10 minutes.
Peel the poblano and rinse to ensure all the charred skin is removed. Remove the stems and seeds and dice.
Place a small saucepan over medium heat, add butter and allow to melt. Stir in flour and allow to cook for 1 minute. Slowly whisk in the chicken broth, followed by the diced poblanos. Continue to simmer mixture, stirring occasionally, until thickened.
Add the sour cream, stir to incorporate, and leave over heat utnil heated through. Season, to taste, with salt and pepper. Reduce heat and cover to keep warm until ready to serve.
Spoon the sauce over the burritos and serve.
Recipe source: slightly adapted from
Elly Says Opa