By now, you know that I'm a fan of everything homemade. If there is a storebought version, I try to figure out how to make it successfully at home. In my humble opinion, everything made at home is about 1000 times better that the stuff from the store. Not that I don't get help from time to time with the store bought stuff, because believe me, this busy girl can use help and time savers! But, I am saying that I do enjoy the homemade stuff better!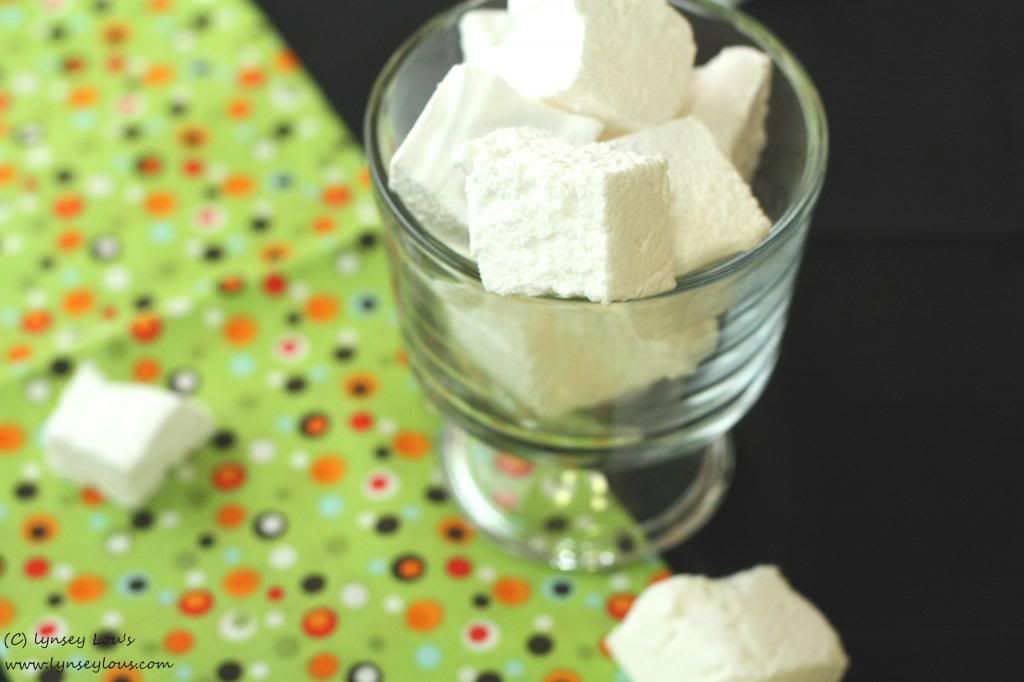 Enter these homemade marshmallows. Who doesn't love a good marshmallow? I have memories throughout my childhood of stuffing marshmallows in my mouth as fast as I possibly could...because they were just so good. And yes, there was the occassional game of "fuzzy bunny", you know the one where you stuffed a ton of marshmallows in your mouth, one by one, and tried to say fuzzy bunny and whoever had the most in their mouth and could still be understood was the winner? Yes, you know the one. That game, too, had a factor in my intake of marshmallows. And while those packaged marshmallows are good, I have something that's even better! Homemade marshmallows! But I have a feeling you won't want to play the fuzzy bunny game with these, you'll want to savor every last morsel.
These marshmallows are delicious, puffy and fluffy. Everything you want in a marshmallow, right? Right! They really weren't all that hard to make; just a few simple step, allow to chill then cut and enjoy. One thing I did have to do while making these was let go of my OCD, and the urge to get every. last. smidgen of marshmallow cream out of the bowl. I was warned by Deb of
Smitten Kitchen
through her own experience of making marshmallows and trying to get every bit of marshmallow out of the bowl. I did have a little laugh at her expense, the story was quite commical...but I do completely understand the frustration she had while making these the first time. So head on over, read her story and learn from her mistake before you make these. These are worth every moment of time...and possible frustration, they are that good. I had skeptics and yes, I brought them some of these marshmallows and immediately proved them wrong.
I can't tell you how many goodies we enjoyed while we had these homemade marshmallows. But I think the thing I enjoyed the most was one of the most simple treats we had, s'mores. I'm a sucker for s'mores and I really didn't think anything was better until I had a s'more with a homemade marshmallow. Man. Is it so good! I can't wait to make these again and enjoy some more s'mores as well as many other treats. How good will these be in hot chocolate? I see these going in my Christmas goodie baskets!
Homemade Marshmallows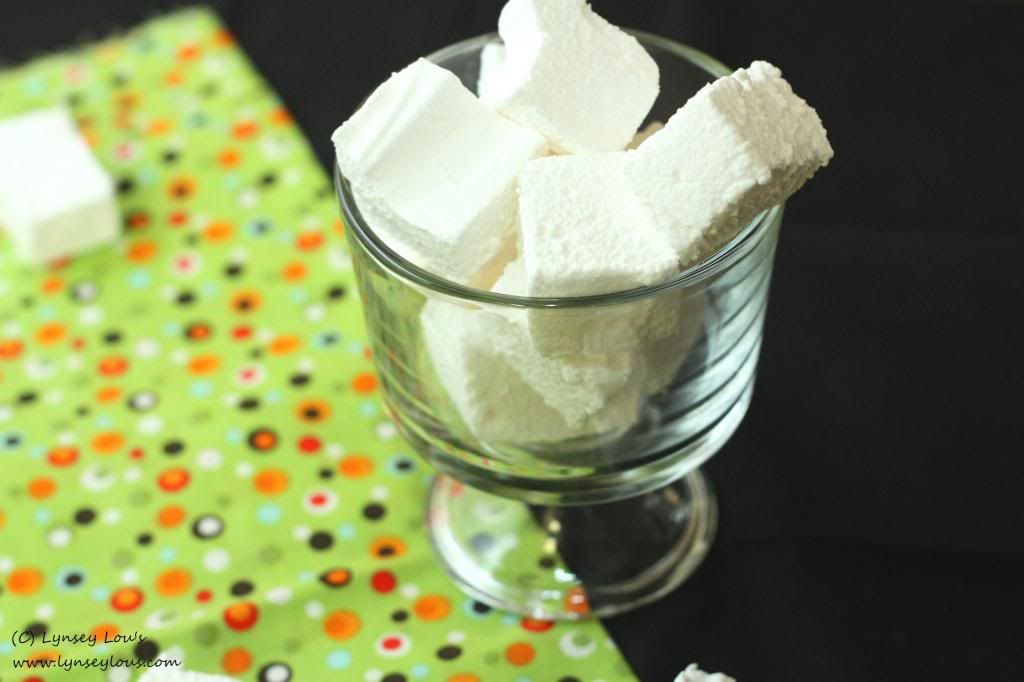 Ingredients:
1 Cup confectioner's sugar, plus extra for dusting
3 1/2 Envelopes (2 Tbsp + 2 1/2 Tsp) unflavored gelatin
1 Cup cold water, divided
2 Cups granulated sugar
1/2 Cup light corn syrup
1/4 Tsp salt
2 Large egg whites
1 Tbsp vanilla*
Directions:
Spray the bottom and sides of a 9x13x2 with non-stick cooking spray then dust with confectioner's sugar and set aside.
Pour 1/2 cup water in a bowl of a stand mixer then sprinkle with gelatin. Set aside and allow to soften.
Secure a candy thermometer to a 3 quart sauce pan and combine 1/2 cup water, sugar, salt and corn syrup and place over low heat. Stir continuously with a wooden spoon until sugar has dissolved. Once the sugar has dissolved increase heat to medium and allow mixture to come to a boil. Boil the mixture, without stirring, until candy thermometer reads 240 F, about 12 minutes. Remove pan from heat and carefully pour over gelatin mixture, stirring until gelatin is dissolved.
Secure bowl to stand mixer. Using the whisk attachment, beat mixture on high until the mixture is white, thick and nearly trippled in volume, about 6 minutes. In a separate bowl, using a clean whisk attachment beat egg whites on high until stiff peaks form and hold. Add egg whites and vanilla into the sugar mixture and beat until just combined. Pour mixture into the prepared pan (don't worry about getting all of the mixture from the bowl...it will result in a huge mess), spread mixture evenly into the pan. Sift 1/4 cup confectioner's sugar over evenly over the top of the marshmallows. Place in the refrigerator and chill at least 3 hours, or up to 1 day.
Once the marshmallows are set, remove from refrigerator and run a knife around the sides of the pan to loosen them up. Invert marshmallows into a cutting board. Dip a sharp knife into confectioner's sugar, then cut marshmallows into 1-inch cubes. (I actually used a well oiled pizza cutter and it worked well) Sift the remaining confectioner's sugar into the now empty pan, and roll all sides of the marshmallows in the sugar then shake off the excess. Store in an air tight container.
*Store in container for up to 1 week.
*Vanilla extract can be substituted for any desired flavor: scraped vanilla bean, almond, mint extract etc.
Recipe source:
Smitten Kitchen
originally from
Gourmet, December 1998