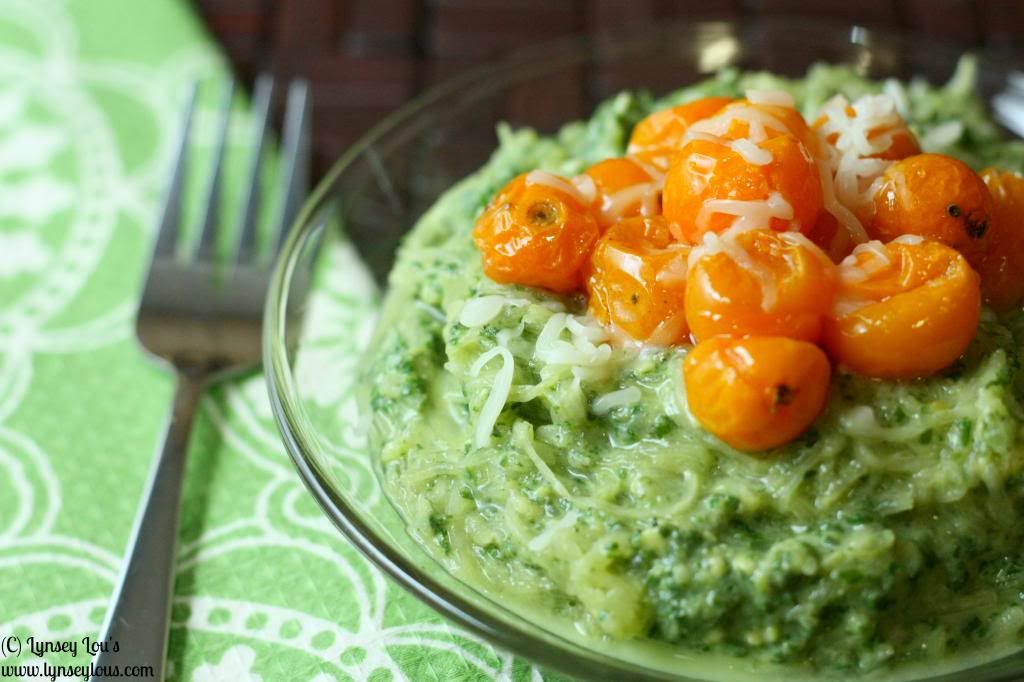 Here we are in the midst of fall, part of the country is being slammed with rain and snow but here in Arkansas we've had no such weather. We've had some chilly days but no frosts or severe weather, yet. So, unlike a lot of people, our garden is still in full bloom and we are still picking bell peppers, tomatoes, and jalapenos by the buckets. Believe it or not, my herbs are still in full bloom too; parsley, basil and even some cilantro. Wild, right? I plan to utilize every piece of fresh produce possible while I still have access to it.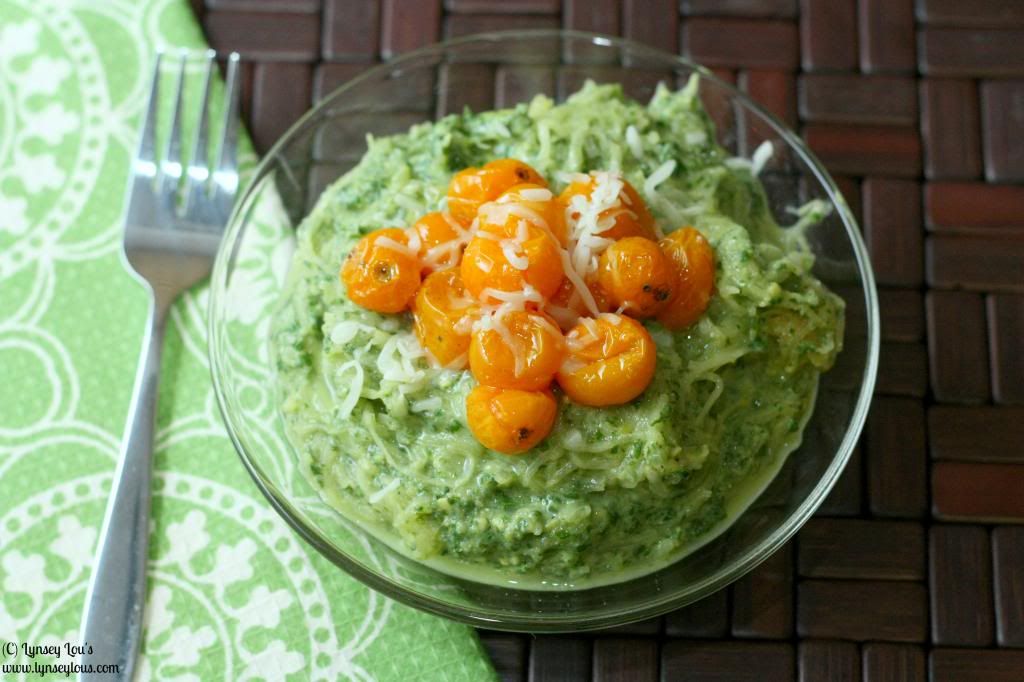 When I first saw
this
recipe on
Josie's
blog it wasn't a matter of wanting to make it, I knew I
had
to make it. And make it soon. I decided to change it up a tad, since it is fall and there's so much wonderful fall and winter produce available. I substituted spaghetti squash in place of the pasta and it was delicious. But if you are not a big fan of spaghetti squash you could easily use your favorite type of pasta. I also used a combination of spinach and arugula for the sauce. The arugula added a nice, peppery flavor that complimented the butteriness of the avocado and spaghetti squash perfectly.
I loved everything about this dish. The sauce was creamy and bursting with tons of flavor. But I think my favorite part of this dish was the roasted tomatoes. Oh. My. Goodness. Delicious! Slightly sweet, incredibly fresh and perfect. I even stole one, or two...or three or four, but who is counting, before I even put them on the pasta. I served this with a side of crusty bread and it make for a perfeclty satisfying meal that the entire family enjoyed.
Creamy Spinach and Arugula Spaghetti Squash with Roasted Tomatoes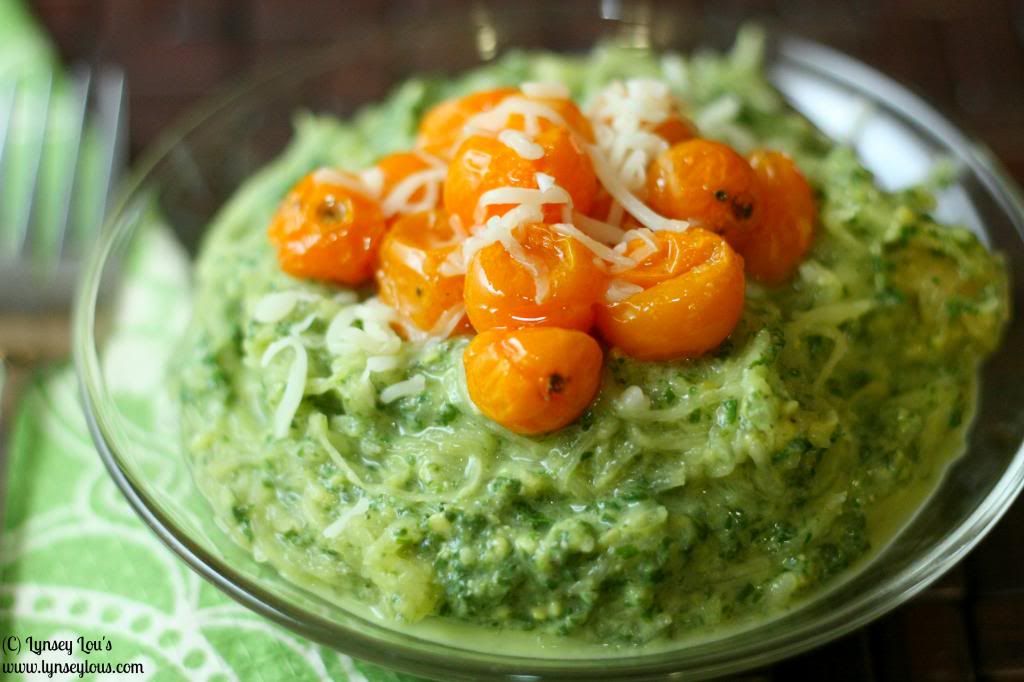 Ingredients:
1 1/2 Cups grape tomatoes, halved
Olive oil
Kosher salt
1/2 Tsp sugar
1
Baked spaghetti squash
*
2 Tbsp unsalted butter
1 Small white onion, diced
2 Cloves minced garlic
6 Oz baby spinach, washed
6 Oz arugula, washed
1/4 Cup Greek yogurt
1/4 Cup vegetable stock (or chicken stock)
1 Avocado, peeled, seeded and chopped
1/4 Cup fresh basil, chopped
1/2 Cup grated Pecorino Romano or Parmesan cheese, plus more for serving
Directions:
Preheat oven to 375.
Line a rimmed baking sheet with aluminum foil. Place tomatoes on the prepared baking sheet and toss with olive oil, slat and sugar. Spread tomatoes evenly onto baking sheet and place in the preheated oven. Roast the tomatoes for 20-25 minutes, tossing once half way through.
While the tomatoes are roasting, place butter in a large saute pan and allow to melt. Once the butter has melted place onions in the pan and saute until softened and translucent, about 5-6 minutes. Add the garlic and cook until fragarent, another 30 seconds to 1 minute. Add the spinach and arugula, a handful at a time and cook until wilted, about 5 minutes.
Add the yogurt and stir to combine. Remove pan from heat and carefully transfer ingredients to a food processor (an immersion blender may be used instead), pulse the ingredients until smooth, adding stock 1 tablespoon at a time until desired consistency is achieved. Transfer the puree back to the pan and add basil and cheese and stir to combine. Add the spaghetti squash and toss to coat.
Divide the "pasta" among plates, top with roasted tomatoes and additional cheese, if desired.
*
The baked spaghetti squash can be made a day or two in advance and placed in the refrigerator until ready to use.
Recipe source: adapted from
Pink-Parsley
originally from
Perry's Plate