I know Tucker is getting his list ready for Santa! Are you? If you're struggling with what to put on your list or to buy that special cook in your life, I have a few ideas to share with you that just might help you out!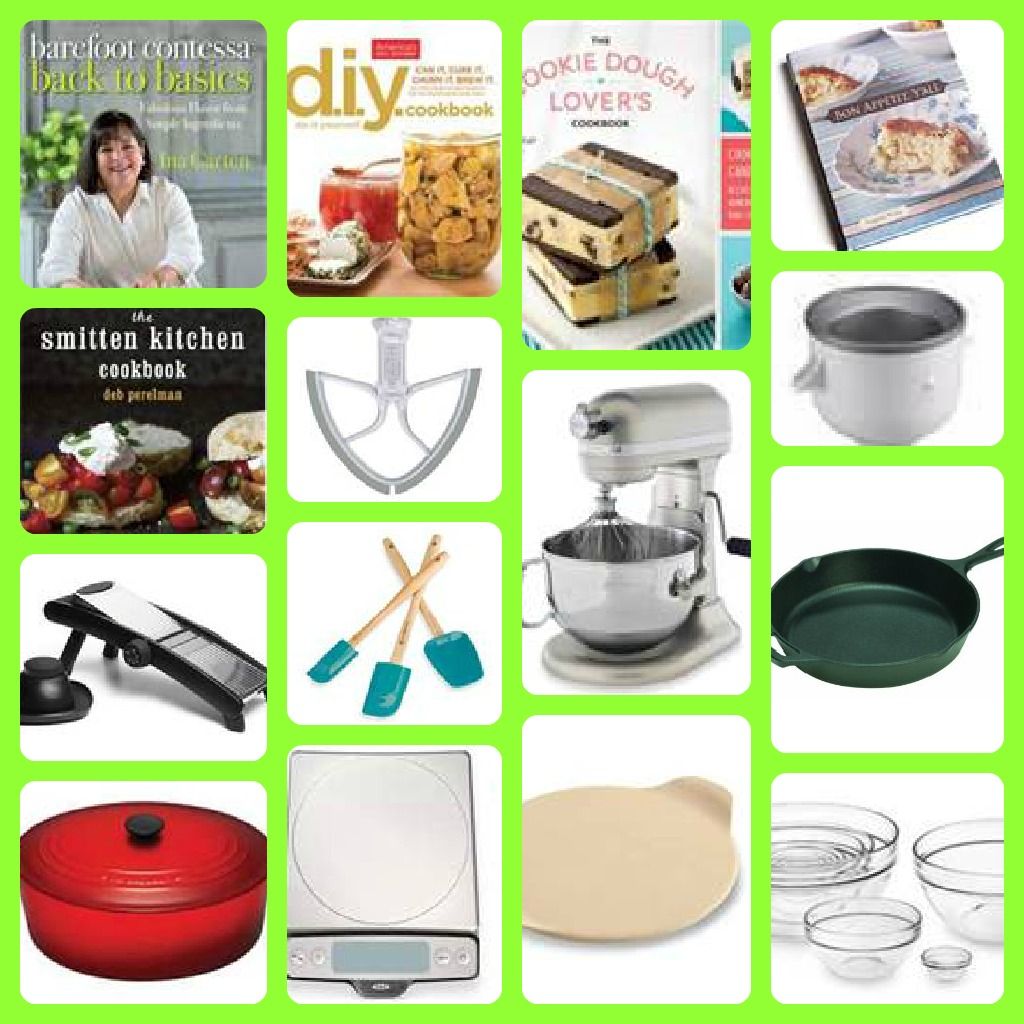 Cookbooks-
1.
Barefoot Contessa: Back to Basics-
I adore Ina Garten, she's incredibly inspiring and truly amazing. I adore all of her recipes and this cookbook is a staple in my collection.
2.
America's Test Kitchen: DIY Cookbook-
America's Test Kitchen has been around for years and is a trusted resource to all cooks. They continue to release amazing cookbooks that not only have pleasing and tasty recipes, but secrets behind the recipes and why they work. This DIY cookbook looks amazing and takes those everyday, storebough favorites and shows you how to make them at home.
*This is on my wishlist!
3.
The Cookie Dough Lover's Cookbook-
Lindsay Landis, one-half of the awesome cooks and creative minds behind
Love and Olive Oil,
has gone there. Yes, there! She's made a cookbook that has cookie dough in every. single. recipe. How crazy and exciting is that? This is the perfect present for that cookie (dough) lover in your life!
*I've been drooling over this since it's release, it's on my wishlist.
4.
Bon Appetit, Ya'll-
Doesn't the title of this book just mamke you smile? I don't know how you can be from the south and not have a cookbook in your collection that includes the word "ya'll" in the title. This book is another I've been lusting over; the recipes look incredible. A mix of classic, southern recipes with a slight French twist (and no, not the hairstyle!)
*Another that's on my wishlist.
5.
Smitten Kitchen Cookbook-
Words cannot even describe how excited I was when I learned that Deb Perelman, the creative genious and cook behind the ever-so-popular blog
Smitten Kitchen
was releasing a cookbook. I have followed her blog for I don't know how long, so needless to say, I was ecstatic when I heard about her cookbook. To say the recipes she's developed for her blog are incredible and delicious would be an understatement. And now, she's developed more original recipes to go inside this wonderful cookbook.
*Another one that is on my wishlist!
Kitchen Aid-
6.
Batter beater attachment
for Kitchen Aid stand mixers-this attachment is a staple in my kitchen. Any time my mixer is in use, it's a safe bet that this is the attachment that is at work. It's a life saver, it simply scrapes the bowl with each passing spin. It eliminates the need to stop the mixer, scrape the bowl and then proceed with mixing. Perfect for that baker in your life.
7.
Kitchen Aid professional stand mixer-
This was a splurge for me when Spencer and I got married. I used gift cards and registry completion discounts to get this baby, and I'm so glad I took the plunge. I LOVE my mixer. I've made countless cakes, frostings, cookies and breads using this mixer and it's withstood the load every. single. time.
8.
Kitchen Aid ice cream attachment-
This was the first attachment I "wished" for after I bought my mixer. I am an ice cream lover and I can't count the number of times I've whipped this baby out and made a batch of homemade ice cream. This is a must for your ice cream lover.
Kitchen essentials-
9.
OXO mandolin slicer
- Slice it thick, thin, in sticks or even waffle cuts. This slicer does it all! I received mine for a birthday present last year from my awesome brother-in-law and sister-in-lawe. I LOVE it. I use it all the time; and even better, every slice is exact and uniform. I'm not really sure how I survived without it, but I'm so glad I don't have to do without one now.
10.
Le Creuset Spatulas-
a good set of spatulas and scrapers is a must in any kitchen. I love my Le Creuset spatulas; they are durable, sturdy and get into the nooks to ensure every bowl, jar and bottle is scraped clean. I believe it's good to have a variety of sizes to accomodate your needs. I also believe it's a must to have spatulas that are heat resistant to a fairly high temperature, to ensure you don't melt your spatula while make the perfect sauce, dip or candy.
11.
Cast Iron Skillet
- every kitchen
needs
at least 1 seasoned cast iron skillet. I can't tell you how many times I use my cast iron skillets, and I use them for all sorts of things. If you're going to invest in just 1 I recommend buying a 12 inch skillet. I personally have one 12inch and two 8inch.
12.
Enamel coated cast iron dutch oven-
I use my dutch oven for so many things. Since I received mine last Christmas it truly has become an essential in my kitchen. Soups, stews, stove top to oven, roasting chicken, roast or briskett; the uses are endless.
13.
OXO kitchen scale
- Whether you're counting calories and servings or weighing ingredients for your perfect cookie or cake recipe, a kitchen scale is a must. After receiving this for a birthday present a few years ago, it's not only been my best friend in the kitchen but I immediately knew what I was getting a few friends for their upcoming birthdays.
14.
Pampered Chef pizza stone-
We love
pizza,
and we thoroughly enjoy making pizza at home. Sometimes we get creative, other times we stick to the more traditional toppings. No matter what type of pizza we make, we always use our pizza stone. It turns out the perfect crust, slightly crispy edges and fluffy middle, every single time.
15.
Nesting bowls-
A nice set of nested mixing bowls are a crutial piece of any kitchen. I find it nice to have a fairly large set with various sizes so I can accomodate the ingredients for whatever it is I'm making. I'm in love with this set from Williams-Sonoma, it has every size I could possibly need and they nest perfectly for easy storage.
I hope that this has given you some ideas for that special cook in your life! Christmas will be here before we know it!