Lately we have been on a big salad kick. Typically, when we have salads I offer to make chicken or some other protien to ensure Spencer gets enough. While I could fill up on salad alone, he sometimes needs a little bit more substinance to fill him up. So when I came across
this
recipe on
Skinny Taste
I had no doubt that this would be a winner; it has a salad which we've been enjoying a lot of lately and it has chicken so I knew it would be filling enough for Spencer.
Unlike most salads with meat in them, the chicken is actually the base of this dish. The chicken is cut in half, then lighty pounded to create an even thinner palate, and then it's breaded. The breading of this chicken is different than others; instead of milk or eggs, a combination of olive oil and lemon juice is used to dip the chicken in. Once the chicken is dipped in the lemon juice mixture, it's coated in breadcrumbs and parmesan cheese and then baked. While the chicken is baking a mixture of olive oil, balsamic vinegar (I LOVE this stuff), tomatoes, basil and onions is put together and allowed to marinate to allow all the flavors to combine. Once the chicken is baked it's removed from the oven, topped with fresh, peppery arugula and then finished with the balsamic marinated tomatoes and onions.
The end result is nothing less than amazing. The chicken is full of flavor; slighlty crispy on the outside and juicy and tender on the inside. The arugula salad it's incredible; peppery, earthy, slighty tart with a little tang and sweet. All of these elements combined make for a very satisfying meal; that's not only a pleasure to eat but a pleasure to look at, as well. This meal is perfect for a quick, weeknight meal and impressive enough to serve for guests. This was definitely a pleasing meal for our entire house; even Tucker thoroughly enjoyed it!
Baked Chicken Milanese with Arugula and Tomatoes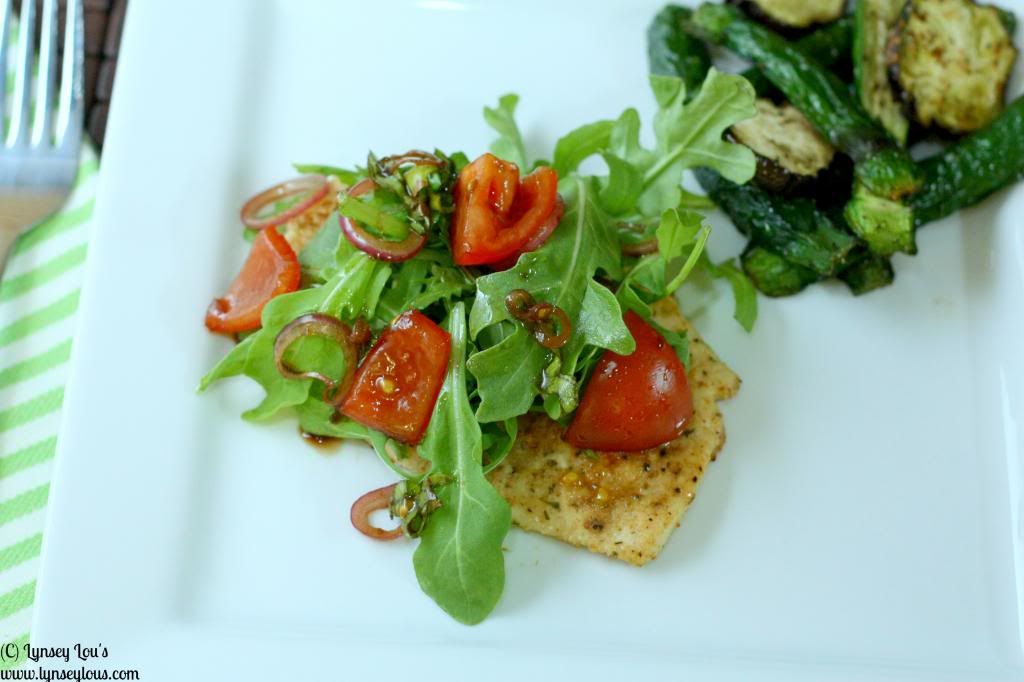 Ingredients:
For the salad-
1 Tbsp olive oil
2 Tbsp balsamic vinegar
5 Medium tomatoes, diced
1/4 Small red onion, thinly sliced
1 Tbsp fresh basil, chopped
Salt and fresh gound pepper, to taste
6 Cups baby arugula
For the chicken-
24 Oz (about 3) boneless, skinless chicken breast
3/4 Cup Italian breadcrumbs
1/3 Cup grated parmesan cheese
Juice of 1 lemon
1 Tbsp olive oil
Salt and fresh ground black pepper, to taste
Olive oil, for drizzling
Directions:
For the salad-
In a medium bowl combine olive oil and balsamic vinegar, whisk to combine. Add the diced tomatoes, red onion, basil and salt and pepper. Toss, or stir, to coat. Set aside and allow to marinate for about 10 minutes.
For the chicken-
Preheat oven to 450. Spray a baking pan with non-stick cooking spray and set aside.
Carefully slice the chicken breast in half, lengthwise. Place 1 piece of chicken at at time between 2 pieces of plastic wrap and gently pound the cutlets to about an 1/8 of an inch in thickness. Repeat process with remaining cutlets. Gently pat the chicken with a paper towel to get rid of any excess moisture, season with salt and pepper and set aside.
In a shallow bowl, or dish, combine breadcrumbs and parmesan cheese and stir to combine. In a separate shallow bowl, or dish, combine lemon juice, olive oil, and salt and pepper and stir to combine.
Place one chicken cutlet in the lemon-olive oil mixture, and coat each side with the mixture. Then transfer to the breadcrumb mixture, pressing firmly to ensure the breadcrumbs adhere, lift and gently shake to remove any excess crumbs and place on prepared baking sheet. Repeat with remaining chicken cutlets. Once all the chicken is coated, drizzle with olive oil and place in oven. Bake for 15 minutes, turning once half way through. Bake until chicken is cooked thoroughly and golden-brown, being sure not to overcook the chicken.
Remove the cooked chicken from the baking pan, and place on dinner plates. Top each piece of chicken, evenly, with arugula and the marinated tomatoes and onions. Serve immediately.
Recipe source:
Skinny Taste